---
2013: The Year in Coming Out
By Lucas Grindley
Originally published on Advocate.com December 31 2013 11:00 AM ET
COMING OUT TO PROTEST RUSSIA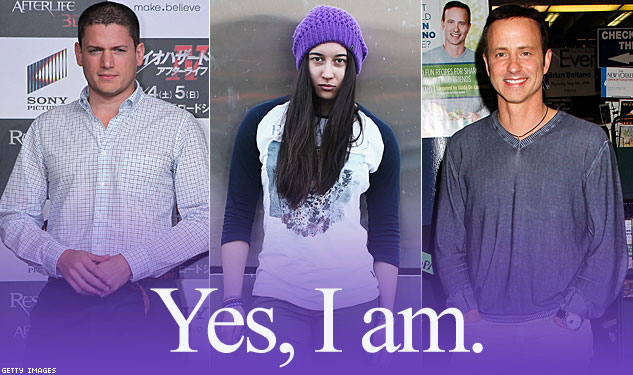 Above from left: Wentworth Miller, Belle Brockhoff, Brian Boitano
Wentworth Miller, actor
The former star of Prison Break broke out of the closet in August when he was invited to a film festival in Russia. "Thank you for your kind invitation," Miller wrote in a letter to the organizers publicized via GLAAD. "However, as a gay man, I must decline." Miller took the moment in the spotlight to condemn Russia's antigay laws. "I am deeply troubled by the current attitude toward and treatment of gay men and women by the Russian government," the 41-year-old actor continued. "The situation is in no way acceptable, and I cannot in good conscience participate in a celebratory occasion hosted by a country where people like myself are being systematically denied their basic right to live and love openly."
Anton Krasovsky, Russian TV anchor
As the Russian Parliament considered a ban on so-called gay propaganda, with President Vladimir Putin expected signed it into law, it was already dangerous to talk publicly about being gay. Yet Russian TV anchor Anton Krasovsky dared to challenge what was happening by coming out — live on air. In January, he looked into the camera and told viewers of Kontr TV, which was launched by the Kremlin, that he is gay and "as human as President Putin."
Belle Brockhoff, Australian snowboarder
Before heading to Russia for the Winter Olympics, Brockhoff told Australia's ABC TV in August that heading to Sochi gives her "a feeling that I would have to kinda go back into the closet a little bit, because I don't want to risk my, like, you know, safety, being arrested or deported." Brockhoff said "I want to be proud of who I am and be proud of all the work I've done to get into the Olympics and not have to deal with this law."

Brian Boitano, figure skater
The U.S. delegation to the Winter Olympics in Russia is sending a message about the country's antigay laws. As part of the group, Boitano announced in December that he is gay and hopes his example will inspire others. "I am many things: a son, a brother, and uncle, a friend, an athlete, a cook, an author, and being gay is just one part of who I am," Boitano said. "First and foremost I am an American athlete and I am proud to live in a country that encourages diversity, openness and tolerance. As an athlete, I hope we can remain focused on the Olympic spirit which celebrates achievement in sport by peoples of all nations."
Masha Bast, lawyer in Russia
Among those bravely coming out while faced with their country's antigay laws is this activist and lawyer. Bast is chairwoman for the Association of Russian Lawyers for Human Rights and told The Moscow Times in September that she is a bisexual transgender woman. "I couldn't just sit there and do nothing," she said.
COMING OUT IN SPORTS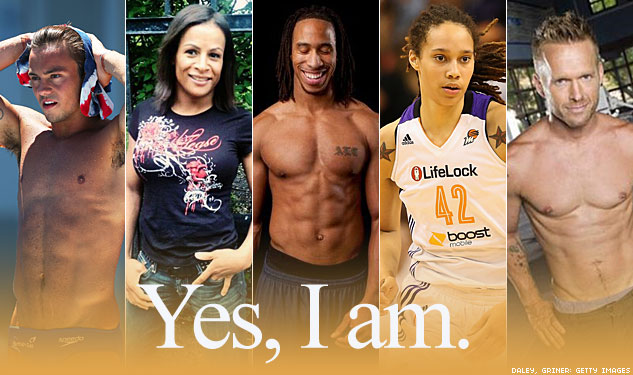 Above from left: Tom Daley, Fallon Fox, Kevin Grayson, Brittney Griner, Bob Harper
Tom Daley, British Olympic diver
When Daley came out in December via a YouTube video he recorded himself, it was in part to correct the record. He made headlines earlier in 2013 when a newspaper had quoted him as saying he isn't gay. "Recently I was misquoted in an interview, and it made me feel really angry and frustrated and emotions I have never felt before when reading something about myself," he said. "For me, honesty is something that I really do believe in. And I have always been honest. I may have been vague in some of my answers but I have always been honest." In the video, he is clear that he does "still fancy girls" but that a new mystery boyfriend inspired him to come out. That boyfriend turned out to be activist and screenwriter Dustin Lance Black — creating an instant celeb couple.
Robbie Rogers, MLS player for Los Angeles Galaxy
First, Rogers came out in February with a letter posted on his blog and immediately retired from professional soccer. Then he returned to the sport in May to a stadium's standing ovation. "I realized I could only truly enjoy my life once I was honest," he said in the blog post. Rogers is the first MLS athlete to come out, and he recently told ABC News that not a single other athlete anywhere in professional sports has contacted him to say they're in the closet.

Jason Collins, NBA center
The first active, openly gay player in major league sports came out in April in an essay published in Sports Illustrated. "I wish I wasn't the kid in the classroom raising his hand and saying, 'I'm different,'" he wrote. "If I had my way, someone else would have already done this. Nobody has, which is why I'm raising my hand." Collins, who has played for six pro teams, is a free agent and has yet to find a team this season despite looking. On his lasting impact, Collins wrote at the time, "Some people insist they've never met a gay person. But Three Degrees of Jason Collins dictates that no NBA player can claim that anymore."

Kevin Grayson, football star
The Italian Football League player from Virginia was named his league's MVP while playing for the Parma Panthers. In a television interview in May, after Collins came out, Grayson said, "Just because you're gay doesn't mean you can't be the athlete you want to be. Doesn't mean you can't be a star."

Darren Young, WWE wrestler
The first professional wrestler to ever come out did it when cameras from TMZ just happened to stop him in August at a Los Angeles airport to chat. Asked whether a wrestler could ever come out while still active, Young gave them the scoop. "Absolutely. Look at me. I'm a WWE superstar and, to be honest with you, I'll tell you right now, I'm gay. And I'm happy. I'm very happy."
Fallon Fox, MMA fighter
The elite-level mixed-martial-arts fighter told OutSports in March that she is a trans woman who has kept it a secret for six years in the MMA. "For years I've known at some point it's very likely the shoe would drop," Fox told Outsports. "Maybe someone would guess that I'm trans. Maybe they would know me from my life before I transitioned. I've been waiting for that phone call to happen. And Saturday night, it happened." A reporter had started asking questions, and so Fox came out on her own.
Brittney Griner, WNBA star
The WNBA's number one draft pick who plays center for the Phoenix Mercury capped her career at Baylor by coming out in several interviews in April. "Don't hide who you really are," she advised others in sports.
Abby Wambach, U.S. soccer star
The member of the U.S. women's national team came out in July when announcing her support for Athlete Ally. "I am excited to be an ally and stand up for people like me in the LGBT community," she said in a post on the group's website. She explained in an October interview with ESPN that she never considered herself closeted. "I can't speak for other people, but for me, I feel like gone are the days that you need to come out of a closet. I never felt like I was in a closet. I never did. I always felt comfortable with who I am and the decisions I made."
Bob Harper, reality star and personal trainer
The inspiring and tough personal trainer on NBC's The Biggest Loser came out during an episode of the reality show. Harper told one of the contestants, Bobby, about when he first came out to his father at age 17. "Being gay doesn't mean being weak," Harper told Bobby. "And being gay doesn't mean that you are less than anybody else. It's just who you are."
Sharnee Zoll-Norman, WNBA player
In an interview with the Windy City Times in June, the Chicago Sky guard said she planned to march in the Pride parade with her wife of four years. "If I was straight, I wouldn't have to come out and say that I was straight," she told the newspaper. "So I've never had an official coming out, or something where I felt I had to announce that I was gay. But everyone knows, I wear my wedding ring proudly."
COMING OUT IN HOLLYWOOD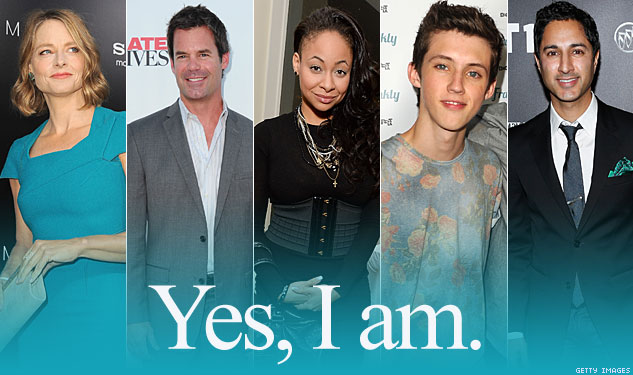 Above from left: Jodie Foster, Tuc Watkins, Raven Symone, Troye Sivan, Maulik Pancholy
Jodie Foster, actress
Easily one of the biggest headline making comings out of the year, Foster made her announcement during a worldwide broadcast of the Golden Globes in January. She was accepting the prestigious Cecil B. DeMille Award and her speech headed into unexpected territory. "So I'm here being all confessional and I guess I just have the sudden urge to say something that I've never really been able to air in public, so a declaration that I'm a little nervous about. But maybe not quite as nervous as my publicist right now, huh Jennifer? Um, but uh, you know, I'm just gonna put it out there, right? Loud and proud, right? So I'm gonna need your support on this — I am single. Yes I am, I am single. No, I'm kidding. But I mean I'm not really kidding, but I am kind of kidding." Eventually she stopped kidding and came out.
Lucas Cruikshank, Nickelodeon actor
Young teenagers will know Nickelodeon's Fred: The Movie franchise, and its star came out in a YouTube video in August. "It feels so weird saying it on camera," said the 19-year-old, laughing. "But my family and friends have known for like three years; I just haven't felt the need to announce it on the Internet."

Tuc Watkins, actor
While on Marie Osmond's talk show in April, Watkins came out as a single gay dad. He's a well known face to viewers of One Life to Live, or Desperate Housewives, on which he played one half of a gay couple living in the neighborhood. Here's a look at Watkins's careers so far.
Raven Symone, actress
The former Cosby kid and star of Disney's That's So Raven cheered when the Supreme Court struck down Proposition 8 in California and killed section 3 of the Defense of Marriage Act. "I can finally get married! Yay government! So proud of you," she wrote on Twitter in August, coming out for the first time after long being the subject of gossip news.

Maria Bello, actress
In a column in The New York Times in December, the actress wrote about "Coming Out as a Modern Family." She looked back on what it was like to tell her 12-year-old son that she's with a woman. "I was with someone romantically and I hadn't told him," Bello wrote. "I had become involved with a woman who was my best friend, and, as it happens, a person who is like a godmother to my son." After she finally told him, her son replied, "Love is love."
Andrew Scott, actor
In an interview with The Independent in November, the actor who plays Moriarty in Sherlock came out. The infamous villain needs a convincing Russian accent, and Scott said he'd been doing his research: "So I started looking at Vladimir Putin videos on YouTube. But then Putin introduced antigay legislation this summer—so, being a gay person, I switched to Rudolf Nureyev videos instead. It was another Nureyev defection of sorts!"

Matt Dallas, actor
The star of ABC Family's KyleXY came out via Twitter in January, sharing a photo of his new fiancé. "Starting off the year with a new fiancé," he wrote. "A great way to kick off 2013!"

Troye Sivan, actor
The actor who played young Wolverine in X-Men Origins: Wolverine used YouTube to come out. "It feels kind of weird to have to announce it like this on the Internet," said the 18-year-old, who came out to family three years earlier, "but I feel like a lot of you guys are genuine friends of mine. I share everything with the Internet."
Victor Garber, actor
When asked by a reporter in January about the veracity of a Wikipedia entry that claimed the actor — who starred in Titanic and the TV series Alias — was living in New York with his partner, Garber said "I don't really talk about it but everybody knows." Garber also played San Francisco mayor George Moscone in Milk, and has four Tony Award nominations and six Emmy nominations.

Sebastian Ligarde, actor
The former Mexican soap star is known as a villain on Quinceañera, and he came out in an interview in June with TVyNovelas magazine. "I'm gay and I say this with pride. No gay person should have to walk down the street with stigma stamped on his forehead," he said. "Sexual [orientation] is genetic... and if God and my family knows it, then let the world know it."

Ben Whishaw, actor
He delivered an impactful performance in Cloud Atlas playing gay, but Whishaw might be best known as the new Q in the latest from the James Bond series, Skyfall. Whishaw married his partner a year ago, he told the Daily Mail in August. A spokesman for the actor said Whishaw had "never hidden his sexuality."
Michelle Rodriguez, actress
In an interview with Entertainment Weekly in September, the Fast and Furious and Girlfight star said she's constantly the subject of speculation about her sexual orientation. "Eh, they're not too far off," she said of the media. "I've gone both ways. I do as I please. I am too f---ing curious to sit here and not try when I can. Men are intriguing. So are chicks."
Maulik Pancholy, actor
The fan favorite from 30 Rock and star of Nickelodeon's animated series Sanjay and Craig was part of this year's Out 100. In November, Pancholy told the magazine he'd just celebrated nine years with his partner. "It feels like a nice time to be celebrating something like that," he said, "especially on the heels of the DOMA and Prop 8 decisions."
COMING OUT IN MUSIC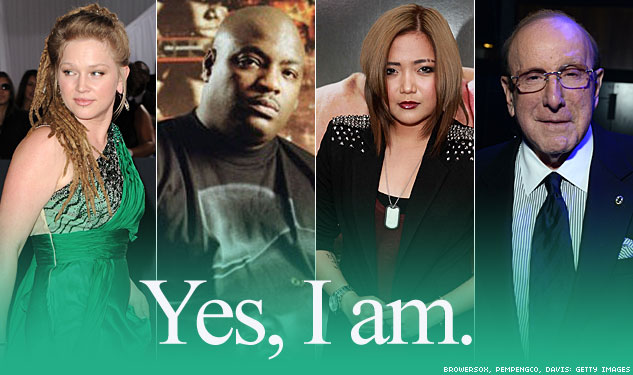 Above from left: Crystal Bowersox, Mister Cee, Charice Pempengco, Clive Davis
Crystal Bowersox, singer
This holiday season, the former American Idol contestant released a new song with a pretty straightforward message — "Coming Out For Christmas." Later she tweeted that, yes, she's bisexual. "The holidays are here, and it pains me to think that anyone would be left alone or be forbidden to be with their family over something as silly as their sexual orientation," she said about the song when it was released. "I hope it will serve as a holiday anthem for people who may finally have the courage to live their life as their true authentic self."

Mister Cee, DJ
The well known New York hip hop DJ for Hot 97 offered his resignation when gay rumors wouldn't stop — but it wasn't accepted. And Mister Cee came out, even recording a PSA for the AIDS Healthcare Foundation in which he tells viewers that "I got tired of lying and hiding," and "you don't have to lie and hide no more about your sexual freedom."

Charice Pempengco, singer and former Glee star
While doing an interview back in the Philippines, where she is a musical pop star, the former Glee star (she played Sunshine Corazon in the second season) was asked about gay rumors. "Yes, I am a lesbian," she said. Then she added, "Now I feel free."

Clive Davis, record producer
The music icon who helped launch the careers of Whitney Houston, Bruce Springsteen, Janis Joplin, and Kelly Clarkson came out as bisexual in his memoir and discussed it for the first time in interviews in February. The 80-year-old said he'd been in a relationship with a man for seven years and "Bisexuality is misunderstood; the adage is that you're either straight or gay or lying, but that's not my experience," he wrote. "To call me anything other than bisexual would be inaccurate."
COMING OUT IN MEDIA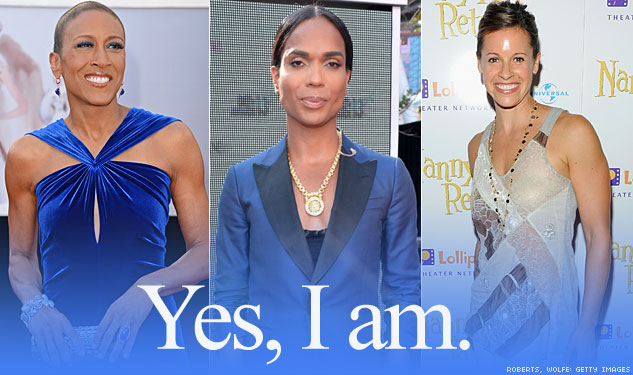 Above from left: Robin Roberts, B. Scott, Jenna Wolfe
B. Scott, entertainment personality
For the first time, Scott embraced the term "transgender" to describe himself in August when filing a lawsuit against Viacom over the now infamous incident when BET asked him to change into a more masculine outfit if he wanted to appear on camera to host the BET Awards red carpet. "As a society we've been conditioned to believe that a person has to be 'exactly' this or 'exactly' that," wrote Scott, who prefers masculine pronouns, on his blog. "Biologically, I am male — as my sex was determined at birth by my reproductive organs. However, my spirit truly lies somewhere in between."

Robin Roberts, GMA anchor
The co-anchor of Good Morning America was already a hero to so many for battling cancer and undergoing a bone marrow transplant with such dignity. Then Roberts inspired even more by coming out in a Facebook post in late December. She was looking back on 2013, grateful for her support system. "I am grateful for my entire family, my long time girlfriend, Amber, and friends as we prepare to celebrate a glorious new year together," she wrote.
Jenna Wolfe, Today show anchor
The weekend anchor for the Today show came out and announced she's pregnant during a segment on air in March. She told People magazine that she's excited about getting married to partner, Stephanie Gosk, a fellow NBC journalist, "But I don't want to bring my daughter into a world where I'm not comfortable telling everyone who I am and who her mother is."
COMING OUT IN POLITICS

Above from left: Mike Michaud, Chelsea Manning, Kristin Beck
Mike Michaud, congressman
The six-term congressman from Maine never said a word about being gay until he became the subject of a whisper campaign in November trying to derail his run for governor. "I wasn't surprised to learn about the whisper campaigns, insinuations and push-polls some of the people opposed to my candidacy have been using to raise questions about my personal life," he wrote in a column published by the Bangor Daily News, the Portland Press Herald, and the Associated Press. "They want people to question whether I am gay. Allow me to save them the trouble with a simple, honest answer: 'Yes, I am. But why should it matter?'"

Chelsea Manning, government transparency activist
After being sentenced to 35 years in prison, Manning came out as transgender in a statement to the media. "As I transition into this next phase of my life, I want everyone to know the real me. I am Chelsea Manning," wrote the former private, who was convicted of leaking classified government documents to the website WikiLeaks. "I am female. Given the way that I feel, and have felt since childhood, I want to begin hormone therapy as soon as possible."

Jennifer Natalya Pritzker, billionaire
The Army and National Guard veteran and noted philanthropist has a net worth of $1.5 billion, according to Forbes. She came out in August via an announcement sent to employees of the Pritzker Military Library and Pritzker's company, Tawani Enterprises. It read, according to a report by Crain's Chicago Business, "As of Aug. 16, 2013, J.N. Pritzker will undergo an official legal name change, will now be known as Jennifer Natalya Pritzker. This change will reflect the beliefs of her true identity that she has held privately and will now share publicly. Pritzker now identifies herself as a woman for all business and personal undertakings."

Kristin Beck, Navy SEAL
A retired Navy SEAL and member of the elite Team 6 — the one that killed Osama Bin Laden — revealed that she's transgender in a new memoir in June. An excerpt of the book, Warrior Princess, was published by The Atlantic and included a laundry list of positive responses from fellow SEALs.
Will Portman, son of Sen. Rob Portman
After his Republican father did a television interview in March explaining his support for marriage equality and revealed that he has a gay son, Will Portman spoke with his university newspaper. Portman said he'd written his parents a letter two years ago when first coming out. "They were surprised to learn I was gay, and full of questions, but absolutely rock-solid supportive," he told the Yale Daily News. "That was the beginning of the end of feeling ashamed about who I was."
---
Links:
[1] http://www.advocate.com/
[2] http://www.advocate.com/society/coming-out/2013/08/21/wentworth-miller-comes-out-blasts-russias-antigay-laws
[3] http://www.out.com/entertainment/sports/2013/08/22/australian-olympic-hopeful-belle-brockhoff-comes-out-ahead-sochi
[4] http://www.advocate.com/sports/2013/12/19/figure-skater-brian-boitano-comes-out
[5] http://www.advocate.com/politics/transgender/2013/09/16/watch-russian-lawyer-comes-out-trans-protest-anti-lgbt-laws
[6] http://www.advocate.com/sports/2013/12/02/transcript-and-video-olympic-diver-tom-daley-comes-out
[7] http://www.advocate.com/sports/2013/02/15/soccer-player-robbie-rogers-comes-out-retires
[8] http://www.advocate.com/sports/2013/05/27/watch-robbie-rogers-takes-field-gets-standing-ovation
[9] http://www.advocate.com/sports/2013/04/29/nba-star-becomes-first-openly-gay-player-major-league-sports
[10] http://www.advocate.com/sports/2013/05/08/former-college-football-star-kevin-grayson-comes-out-gay
[11] http://www.out.com/entertainment/popnography/2013/08/15/watch-wwe-wrestler-darren-young-comes-out-tmz
[12] http://www.advocate.com/sports/2013/03/06/pro-mma-fighter-fallon-fox-comes-out-transgender
[13] http://www.advocate.com/sports/2013/04/18/college-hoops-star-brittney-griner-comes-out
[14] http://www.shewired.com/sports/2013/10/08/abby-wambach-sarah-huffman-reported-wed-hawaii
[15] http://www.shewired.com/sports/2013/10/22/us-soccer-star-abby-wambach-why-she-never-officially-came-out
[16] http://www.advocate.com/arts-entertainment/people/2013/11/27/biggest-loser-trainer-bob-harper-comes-out-gay
[17] http://www.shewired.com/sports/2013/06/28/wnba-chicago-sky%E2%80%99s-sharnee-zoll-norman-comes-out-publicly
[18] http://www.advocate.com/arts-entertainment/television/2013/01/13/jodie-foster-comes-out-and-maybe-retires
[19] http://www.gay.net/celebrities/2013/08/20/right-said-fred-nickelodeon-star-lucas-cruikshank-comes-out-gay
[20] http://www.gay.net/entertainment/celebrities/2013/04/30/tuc-and-role-top-10-career-highlights-tuc-watkins#slide-1
[21] http://www.shewired.com/box-office/2013/08/02/raven-symon%C3%A9-tweets-thank-you-government-allowing-her-get-married
[22] http://www.shewired.com/entertainment/2013/12/01/maria-bello-comes-out-about-her-modern-family-new-york-times-column
[23] http://www.out.com/entertainment/popnography/2013/11/18/%E2%80%98sherlock%E2%80%99-star-andrew-scott-came-out
[24] http://www.out.com/entertainment/popnography/2013/01/07/matt-dallas-comes-out-and-engaged
[25] http://www.out.com/entertainment/popnography/2013/08/08/young-wolverine-troye-sivan-actor-comes-out
[26] http://www.advocate.com/arts-entertainment/people/2013/01/14/actor-victor-garber-confirms-yep-hes-gay
[27] http://www.out.com/entertainment/popnography/2013/06/04/sebastian-ligarde-gay-mexican-soap-star-quinceanera
[28] http://www.out.com/entertainment/popnography/2013/08/05/ben-whishaw-comes-out-again
[29] http://www.shewired.com/box-office/2013/09/27/michelle-rodriguez-speaks-openly-about-having-gone-both-ways
[30] http://style.out.com/out-exclusives/out100-2013/2013/11/11/out100-maulik-pancholy
[31] http://www.shewired.com/music/2013/12/03/crystal-bowersox-confirms-shes-bisexual-tweet-about-her-single-coming-out-christmas
[32] http://www.out.com/news-opinion/2013/09/16/mister-cee-and-steve-young-are-equality-movts-next-wave
[33] http://www.out.com/news-opinion/2013/09/19/watch-mister-cee-discusses-coming-out-staying-safe
[34] http://www.shewired.com/box-office/2013/06/03/watch-former-glee-star-charice-comes-out-native-philippines
[35] http://www.advocate.com/arts-entertainment/music/2013/02/19/watch-music-icon-clive-davis-talks-first-time-about-being
[36] http://www.advocate.com/politics/transgender/2013/09/19/breaking-binaries-b-scott
[37] http://www.advocate.com/arts-entertainment/people/2013/12/29/good-morning-america-anchor-robin-roberts-comes-out
[38] http://www.shewired.com/box-office/2013/03/27/watch-today-weekend-anchor-jenna-wolfe-comes-out-expecting-baby-partner
[39] http://www.advocate.com/politics/election/2013/11/04/congressman-confronts-whisper-campaign-coming-out
[40] http://www.advocate.com/politics/transgender/2013/08/22/watch-wikileaks-source-comes-out-transgender
[41] http://www.advocate.com/politics/transgender/2013/08/23/billionaire-philanthropist-comes-out-transgender
[42] http://www.advocate.com/politics/transgender/2013/06/04/retired-navy-seal-comes-out-transgender
[43] http://www.advocate.com/politics/marriage-equality/2013/03/15/rob-portman-becomes-first-senate-republican-support-marriage
[44] http://election2008.advocate.com/society/coming-out/2013/03/25/will-portmans-coming-out-his-own-words
[45] http://www.advocate.com/athlete-ally