---
Give Homeless LGBT Youth a 'Shred of Hope'
By Advocate.com Editors
Originally published on Advocate.com June 20 2013 6:00 AM ET
Trailblazing menswear label Nasty Pig might sound frivolous, but the clothing company is serious about helping homeless LGBT youth. Today, Nasty Pig launched Shred of Hope, an auction of one-of-a-kind "Shredder" T-shirts designed by celebrities, with 100% of the proceeds from the weeklong online auction going to New York City's Ali Forney Center for homeless and runaway LGBT youth. Custom shirts were designed by A-listers like Adam Lambert, Oscar-winning screenwriter Dustin Lance Black, actor Alan Cumming, Bravo TV host Andy Cohen, R.E.M. front man Michael Stipe, author and activist Dan Savage and husband Terry Miller, actor Ally Sheedy, her daughter Rebecca Lansbury, New York-based rapper Njena Redd Foxxx, author and activist Keith Boykin, and many more.
The shirts, which play on the retro-inspired theme of artistically torn but high-style frocks, will be available for auction online from today through June 27. Keep reading to find a sampling of the goods available for auction — and place your bid at ShredOfHope.com.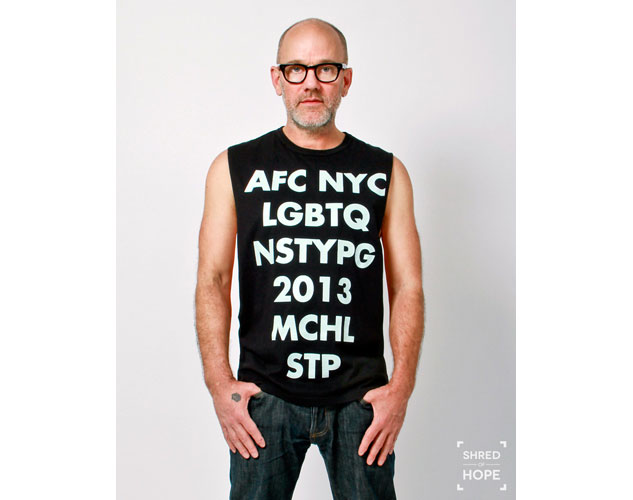 MICHAEL STIPE
"I participated in Shred of Hope because I had always wanted to work with the Ali Forney Center and Nasty Pig gave me the perfect opportunity to do so."

Michael Stipe is an artist, producer, and singer-songwriter. He fronted the band R.E.M. for 31 years, selling more than 100 million records and touring the world. As a film producer since 1987, he has made more than 25 feature films, including Spike Jonze's Being John Malkovich and Todd Haynes's Velvet Goldmine. In the past seven years, Stipe has focused on sculpture and cross-medium work, recently including bronze, plastic, cardboard, and digital imagery. His book Fear of the Empty will be released in spring 2014 by Rizzoli. He lives in New York City.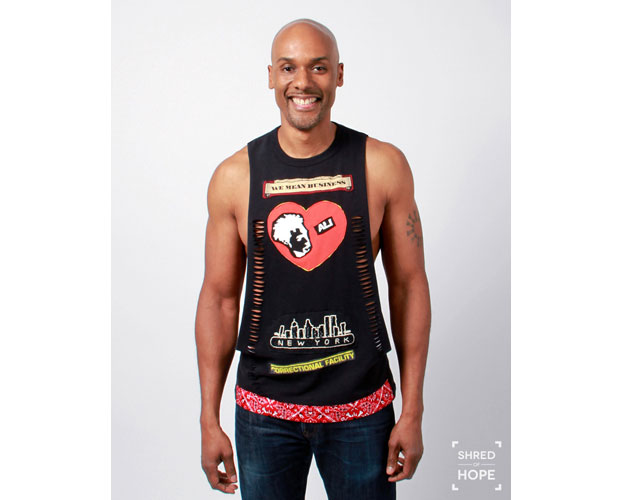 KEITH BOYKIN
"I wanted to participate in the Shred of Hope project for the Ali Forney Center to help raise awareness about the needs of LGBT homeless youth in New York City. I remember when I first moved to New York in 2001 and I used to see hundreds of LGBT youth on Christopher Street in Greenwich Village, and then over time they mostly disappeared. Many of those young people didn't have homes or supportive families and communities to help them, and so I'm glad the Ali Forney Center exists to provide services for them. As a writer, my last book, For Colored Boys Who Have Considered Suicide When the Rainbow Is Still Not Enough, deals with the crises facing LGBT youth of color. Supporting Ali Forney seemed like a great way to continue the outreach of the book and help raise money for a worthy cause."

Keith Boykin is a CNBC contributor, MSNBC commentator, BET columnist, and New York Times best-selling author. Each of Boykin's four books has been nominated for a Lambda Literary Award, including his most recent book, For Colored Boys..., which also won the American Library Association Stonewall Award for Nonfiction this year.

Educated at Dartmouth and Harvard, Boykin attended law school with President Barack Obama and served in the White House as a special assistant to President Bill Clinton, being at one time the highest-ranking openly gay person in the Clinton White House. He also helped organize and participated in the nation's first meeting between a sitting president and LGBT leaders.

Boykin has been actively involved in progressive causes since he worked on his first congressional campaign while still a student in high school. He is a veteran of six political campaigns, including two presidential campaigns, and he was named one of the top instructors when he taught political science at American University in Washington.

Boykin has traveled extensively across four continents, and in 1997 President Clinton appointed him, along with Coretta Scott King and the Reverend Jesse Jackson, to the U.S. presidential trade delegation to Zimbabwe.

After starring on the 2004 Showtime television series American Candidate, Boykin has since appeared on numerous national media programs, including Anderson Cooper 360, The O'Reilly Factor, The Tyra Banks Show, The Montel Williams Show, Judge Hatchett, and The Tom Joyner Morning Show.

A founder and first board president of the National Black Justice Coalition, Boykin has spoken to audiences large and small all across the world. He delivered a landmark speech to 200,000 people at the Millennium March on Washington, and he gave a stirring speech about the AIDS epidemic in front of 40,000 people in Chicago's Soldier Field in July 2006.

Boykin was an associate producer of the 2007 feature film Dirty Laundry and has recently taped a television appearance in an upcoming BET drama series.

His third book, Beyond the Down Low: Sex, Lies and Denial in Black America, spent four weeks on the New York Times best seller list. Boykin won the Lambda Literary Award for his second book, Respecting the Soul, and his first book, One More River to Cross, is taught in colleges and universities throughout the country.

Born and raised in St. Louis, Boykin now lives in New York City and Miami.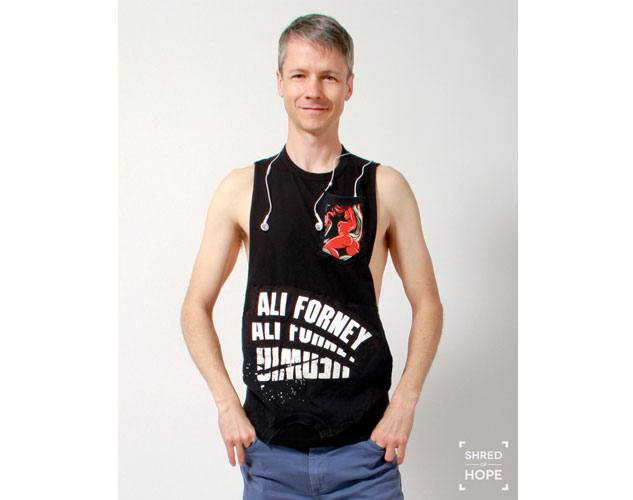 JOHN CAMERON MITCHELL
"I wanted my shirt to celebrate Ali Forney with a little Hedwig thrown in, cuz if she was real she would've been welcome there."

John Cameron Mitchell directed, wrote, and starred in the film Hedwig and the Angry Inch (2001), for which he was honored as best director at the Sundance Film Festival and nominated for a Golden Globe as best actor. He was executive producer of Jonathan Caouette's documentary Tarnation (2004). His sexually frank improv-based film Shortbus was released in 2006. He directed Rabbit Hole (2011), adapted from the Pulitzer Prize-winning play and starring Nicole Kidman in an Oscar-nominated performance.

He's presently working on a stage sequel to Hedwig as well as appearing on HBO's Girls.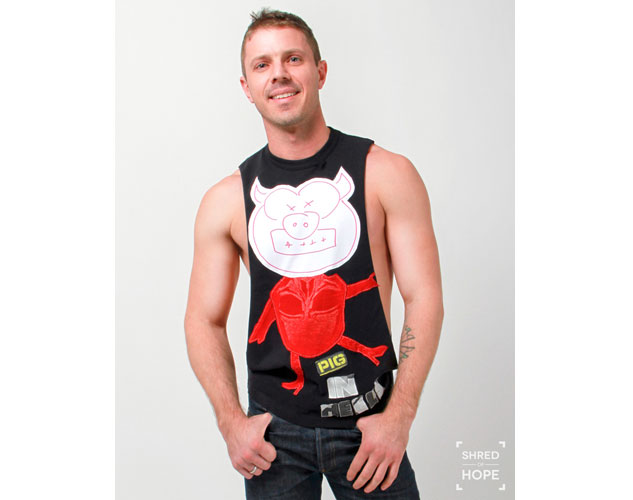 JAKE SHEARS
"LGBT youth need us now more than ever. The more visibility we have in the world, the more LGBT youth are going to come out and be in possible vulnerable situations. As adults, we must not forget those that are coming after us; we must take care of our own."

Jake Shears is a singer and songwriter for Scissor Sisters. He has written, performed, and recorded with artists including Mark Ronson, Cher, Paul Williams, and Kylie Minogue. He can currently be heard singing on the new Queens of the Stone Age album ...Like Clockwork. He lives in Los Angeles with his husband and dog Toby and occasionally DJ's under the name Krystal Pepsi.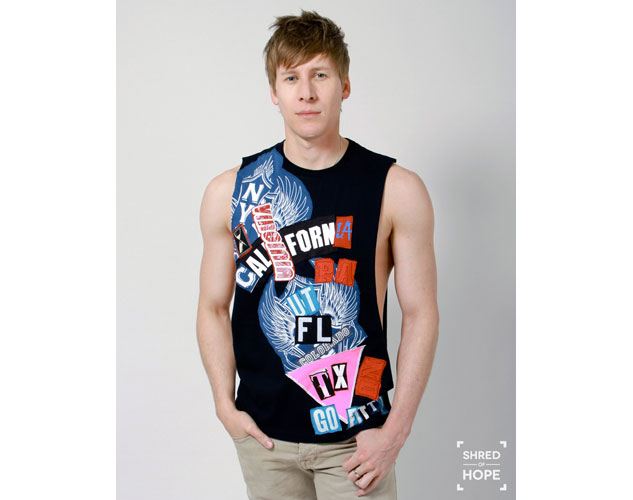 DUSTIN LANCE BLACK
"Every day I work hard to fulfill the promise I made to the young people in all 50 states — that they will soon enjoy full federal equality. But I know that until we reach that bright tomorrow, we must support programs like Ali Forney, to catch the young people who are suffering from intolerance, bullying and discrimination today. As Harvey Milk said, 'We gotta give 'em 'Hope.'"

Dustin Lance Black is a screenwriter, producer, director, and social activist, who won an Academy Award and two WGA Awards for best original screenplay for Milk, the biopic of the late civil rights activist Harvey Milk, starring Sean Penn. He is also a founding member of the board of the American Foundation for Equal Rights, which is leading the federal case against California's Proposition 8 with lawyers David Boies and Ted Olson.

In 2012, Black merged his passions with 8, a new play based on the federal Prop. 8 trial. Black's L.A. cast included George Clooney, Brad Pitt, Martin Sheen, Kevin Bacon, and John C. Reilly. The play was broadcast live and continues to break viewership records online. Hundreds of original productions are now scheduled across the United States.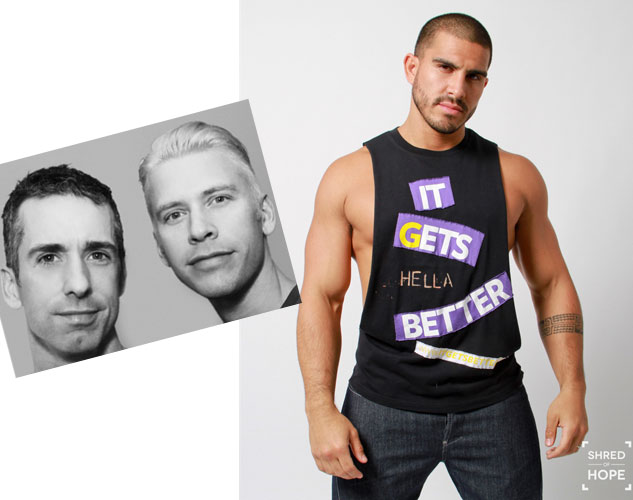 DAN SAVAGE & TERRY MILLER
"I totally support the work Ali Forney has done and continues to do to support young LGBT people, giving them the means to stand up for themselves and on their own two feet." — Terry Miller
Terry Miller is an event promoter, musician and DJ. He has produced events for artists including satirical L.A. pop duo Garfunkel and Oates, J.D. Twitch, and NPR's Ira Glass.
Terry grew up in Spokane, Wash.; with his husband, Dan Savage, he cofounded the It Gets Better Project in 2010, beginning with a YouTube video they created to offer hope to bullied LGBTQ youth. The It Gets Better Project has become a global movement, inspiring more than 50,000 videos. Savage and Miller coedited the It Gets Better book, published in March 2011. In 2012, the It Gets Better Project received the Governors Award from the Academy of Television Arts and Sciences for demonstrating the extraordinary use of television.
Dan Savage is a writer, activist, and TV personality best known for his political and social commentary as well as his honest approach to sex, love, and relationships.
Savage is the author of American Savage: Insights, Slights, and Fights on Faith, Sex, Love, and Politics; The Commitment: Love, Sex, Marriage and My Family; Skipping Towards Gomorrah: The Seven Deadly Sins and the Pursuit of Happiness in America (Lambda Literary Award for nonfiction); The Kid: What Happened When My Boyfriend and I Decided to Get Pregnant (PEN West Award for Creative Nonfiction); and Savage Love. He coauthored How to Be a Person.
Savage is the editorial director of The Stranger, Seattle's weekly alternative newspaper, and his writing has appeared widely in publications including The New York Times, The New York Times Magazine, GQ, Rolling Stone, The Onion, and Salon.com. Savage is also a contributor to Ira Glass's This American Life. His sex advice column, Savage Love, is syndicated in newspapers and websites throughout the United States, Canada, Europe, and Asia.
Savage grew up in Chicago and now lives in Seattle with his husband and their son, DJ.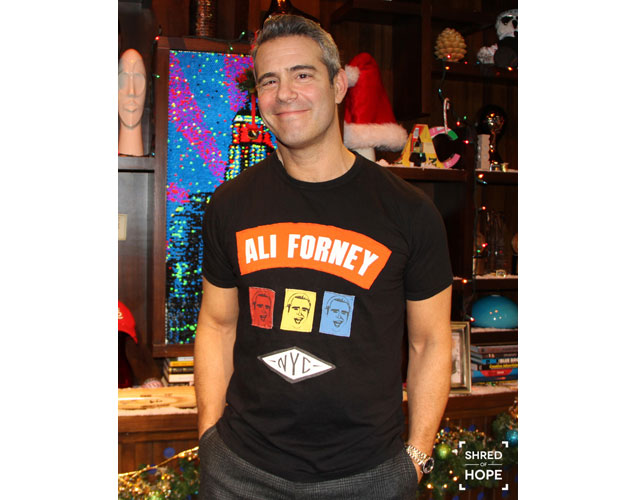 ANDY COHEN
"When I learned that 40% of all homeless youth are LGBTQ, I was shocked. These kids are among the most vulnerable members of our community and they need our help. I am glad to have the opportunity to help spread awareness of this ongoing tragedy and raise money for Ali Forney Center, who are doing such good work to get these kids back on their feet."
Andy Cohen is Bravo's executive vice president of development and talent, a position he has held since November 2011. He is responsible for overseeing the network's current development slate, creating original content, developing innovative formats and identifying new talent. He also serves as executive producer on Emmy- and James Beard award-winning Top Chef and the Real Housewives franchise.
In addition, Cohen is the host and executive producer of Watch What Happens Live, Bravo's late-night interactive talk show that features guests from some of Bravo's most popular series as well as from the worlds of entertainment, politics, and pop culture. The series includes lively discussions on everything from fashion to the latest on fans' favorite "Bravolebrities" to what celebrity is making headlines that week. Past guests have included Sarah Jessica Parker, Tina Fey, Liam Neeson, Jerry Seinfeld, Jimmy Fallon, Patti LaBelle, Molly Shannon, Kristen Chenoweth, Tracey Ullman, Anderson Cooper, Ellen Barkin, Kelly Ripa, Mark Consuelos, Diane Von Furstenberg, and Lance Bass as well as several Bravolebrities. Cohen also hosts the network's highly rated reunion specials and writes Andy's Blog, posted daily on BravoTV.com, where he covers pop culture, television, media, and his daily life.
Last December, GQ Magazine named Cohen one of the 25 best dressed men of the year, and in June 2012 Cohen became a New York Times best-selling author with the release of his first book, Most Talkative: Stories From the Frontlines of Pop Culture, published by Henry Holt.
Cohen received an Emmy Award when season six of Top Chef won outstanding reality competition program at the 2010 prime-time Emmy Awards, and has been nominated for 12 additional Emmys as executive producer of Project Greenlight, Project Runway, Top Chef, and Queer Eye for the Straight Guy.
Born in St. Louis, Cohen is a graduate of Boston University, where he received a BA degree in broadcast journalism. Cohen is currently on the board of directors for charity Friends in Deed and resides in New York City.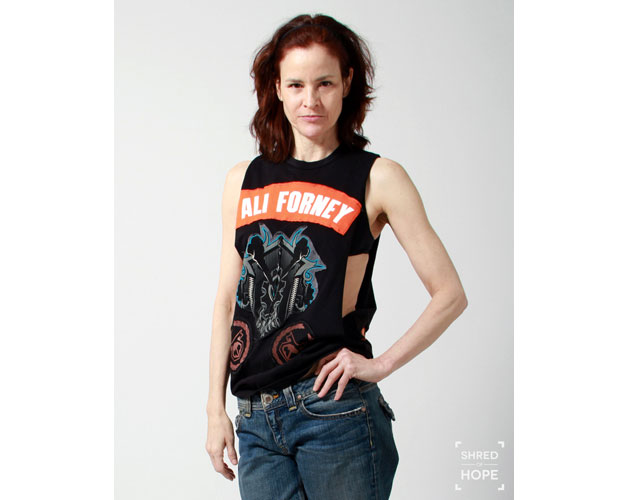 ALLY SHEEDY
"I first became involved with the Ali Forney Center when a board member, Neil Koenigsberg, invited me to a benefit. Because I am the blessed mother of a beautiful queer daughter, the plight of homeless LGBTQ teens is close to my heart. I'm committed to doing anything I can with the center in order to ease the lives of these valuable but abandoned young people in our community."

Ally Sheedy is a mother, actor, and writer. She has appeared in dozens of movies and television shows, notably War Games, The Breakfast Club, St. Elmo's Fire, Short Circuit, Maid to Order, and High Art, for which she received several awards, including the Independent Spirit Award for best actress. Sheedy holds a recurring role on the TV series Psych for four seasons, playing Yang. She has also appeared off-Broadway in Hedwig and the Angry Inch. Upcoming films include Fugly with Jon Leguizamo and Full Circle, written by Neil LaBute. Sheedy has been teaching drama students at La Guardia High School part-time over the past year.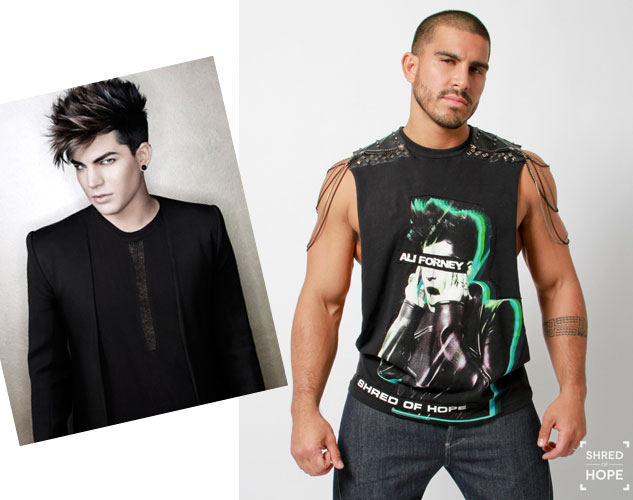 ADAM LAMBERT
Adam Lambert was already a seasoned theatrical performer before competing on American Idol, where his stunning performances are still widely regarded as some of the most riveting moments in Idol history.
When the show ended, he toured the U.S. with the other Top 10 finalists while working on For Your Entertainment, which debuted at number three on the Billboard Top 200 chart, and earned Lambert a Grammy Award nomination for best male pop vocal performance, in addition to scores of international awards and honors. He graced the covers of Rolling Stone, Details, Entertainment Weekly, The Advocate, and Out, appeared on every major late night and daytime talk show, and became the first openly gay mainstream pop artist to launch a career on a major record label in the United States.
Lambert channeled his newfound fame into raising awareness about issues close to his heart, advocating on behalf of LGBT causes the Trevor Project, Equality California, and GLAAD as well as for charity organizations MusiCares, charity water, and DonorsChoose.org.
Other achievements include becoming the first American Idol finalist to tour the world in support of a debut album in the year following their season — a thrilling spectacle documented on Lambert's 2011 DVD Glam Nation Live, which bowed at number one on SoundScan's Top Music Videos chart and became the best-selling debut of any release on the Music Videos chart last year. His most recent album, Trespassing, debuted at number one on the Billboard 200 album chart.
"I'm a firm believer that life doesn't just happen to you," Lambert says. "We are all on a journey that we have the ability to affect and change. Sometimes we have to trespass out of our comfort zone in order to evolve. Trespassing was written about the push and pull that we all go through on our quest for happiness, allowing the listener to find their own balance within my world."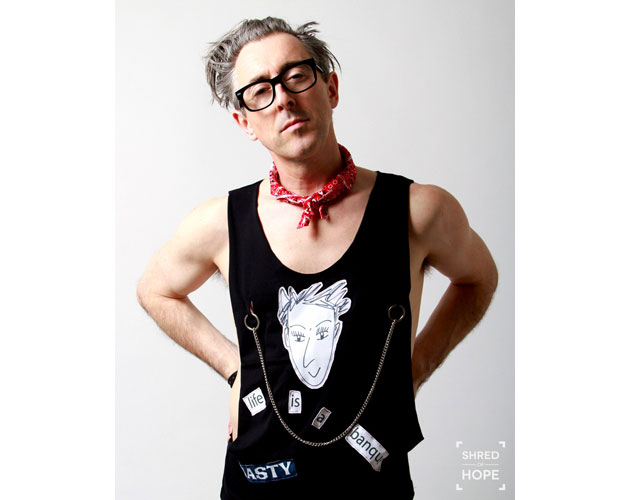 ALAN CUMMING
Alan Cumming is an actor-writer-director-producer-photographer-adventurer and has been a fan of both Nasty Pig and the Ali Forney Center for many years. Finally the cosmos allowed him to collaborate with both.
Cumming is beyond eclectic.
Right now, he is the political maverick Eli Gold on CBS's The Good Wife, for which he has received Emmy, SAG, and Satellite award nominations, but over the last couple of years he also sang at venues around the globe, including the Sydney Opera House; appeared in films opposite Helen Mirren, Cher, James Franco, and Christina Aguilera; voiced a Smurf, a goat, and Hitler; entered upside down and suspended by his ankles in a Greek tragedy and sparred with Dianne Wiest in Chekhov; directed and starred in a musical condom commercial; wrote articles for Newsweek, Harper's Bazaar, and Out; recorded an award-winning album of songs and a dance remix; made three documentaries; released a second fragrance (naturally named Second Cumming); and hosted PBS's Masterpiece Mystery as well as speaking out for LGBT equality and civil rights, and going to Buckingham Palace to receive an OBE for all of the above. Oh, and Time magazine also called him one of the most fun people in show business. Duh!

He was an award-winning Hamlet and has had his own talk show. He shot a video portrait with Robert Wilson and recorded a duet with Liza Minnelli. He made films back-to-back with Stanley Kubrick and the Spice Girls. He wrote a Sunday Times bestselling novel and has an award-winning signature fragrance. He has played Dionysus, the devil, and the pope, and was shot by Herb Ritts for Vanity Fair as Pan. He was a teleporting superhero, a Lee Jeans model, and hosted Saturday Night Live. He is an Independent Spirit Award-winning producer and National Board of Review-winning director. He has sung at Carnegie Hall, the Hollywood Bowl, the London Palladium, and San Francisco's Castro Theatre. He was named Icon of Scotland. He designed wallpaper. He was the voice of Black Beauty. He isn't nearly done yet.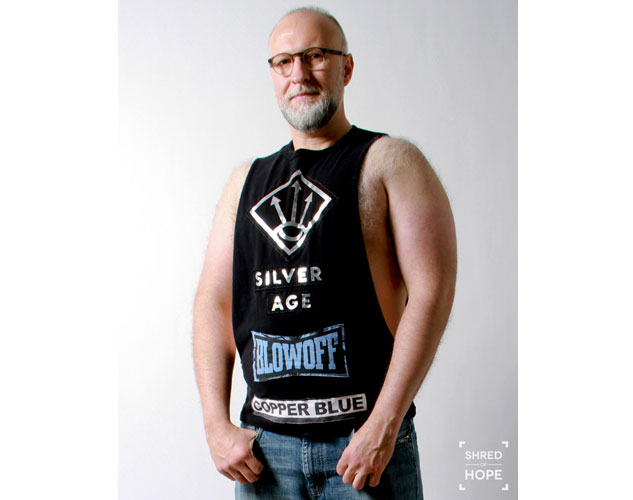 BOB MOULD
"I lived in New York City in the 1990s. I remember seeing homeless kids hanging out along the Hudson River near the Christopher Street PATH station. New York City can be a rough place, but growing up in a violent home is even tougher for LGBTQ teens.

"We need places like Ali Forney Center to help homeless youth safely find their way. When I heard about the terrible damage to the center due to Hurricane Sandy, I wanted to help. Blowoff helped to raise initial funds in November 2012. And now, with Shred of Hope, Nasty Pig is bringing greater awareness to Ali Forney Center.

"I am humbled and honored to be part of this campaign."

Bob Mould is an American guitarist, singer, and songwriter. Mould was the leader of influential 1980s hardcore punk group Hüsker Dü and has released several solo albums including 1989's acclaimed Workbook. In 1992, Mould created the alternative rock trio Sugar, yielding three Top 10 albums as well as several music videos that were featured on MTV.
Mould cofounded Blowoff, a D.C.-based DJ event, in 2003. After moving to San Francisco in 2009, Mould was part of the Zoo and Distortion+ parties. Mould was the DJ at Milton Keynes National Bowl outside London for 65,000 Foo Fighters fans. Mould also toured America with the Foos as both a DJ and guest vocalist-guitarist.

Mould's autobiography, See A Little Light: The Trail of Rage and Melody, was published by Little, Brown in June 2011. In late 2011, Mould's three-decade-plus songbook was honored at Walt Disney Concert Hall in Los Angeles, and the concert documentary was released in 2012.
September 2012 saw the release of rock album Silver Age, followed by worldwide touring as well as appearances on Late Show With David Letterman, Conan, and Late Night With Jimmy Fallon. Mould also performed on the world-famous PBS series Austin City Limits.
Mould and his band are currently performing at festivals, theaters, and clubs in Europe and North America.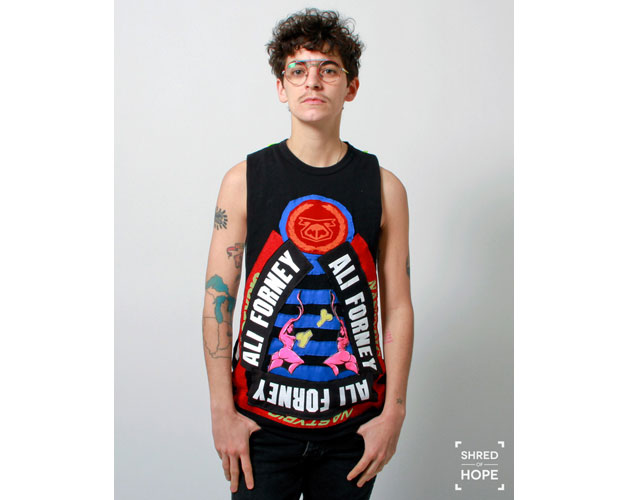 JD SAMSON
"I wanted to be a part of the Shred of Hope program because I am a big supporter of the Ali Forney Center and wanted to contribute anything I could for the process of building their organization back after Hurricane Sandy and helping to fund the continued support they give to the LGBTQI community."

JD Samson is best known as leader of the band MEN, and for being one third of the electronic-feminist-punk band and performance project, Le Tigre. For more than a decade, JD's career as a singer, producer and DJ has landed her at the intersection of music, art, activism, and fashion.

In 2007, MEN began as a DJ-remix-production team featuring JD. Eventually, MEN became a live band and art collective.

Throughout the years, JD has been photographed and featured in a near-endless stream of magazines, publications and fine art projects, as an androgynous sex symbol and "icon of nerdy-cool," according to the New York Times. Most recently, JD was photographed for a seven-page spread in Vogue Hommes International, profiled by Interview Magazine, and wrote a widely quoted piece on the economics of being an artist for The Huffington Post.
She is, in short, one of the most engaging and forward-thinking DJ-producer-singer-activists working today. As her influence continues to grow, her music and perspective ripples ever outward.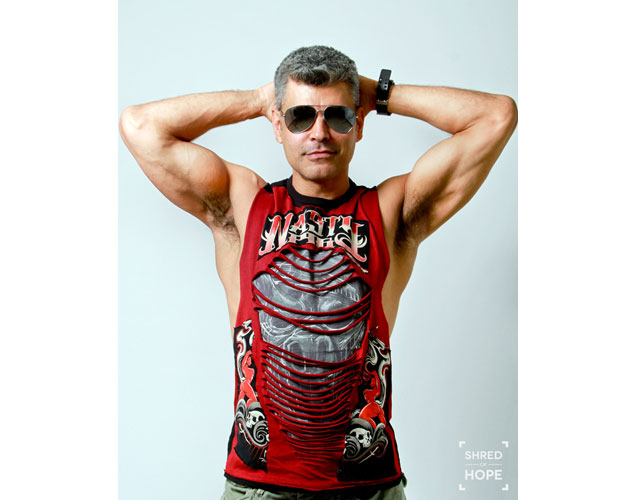 MIKE RUIZ
"It is an honor and thrill to be able to combine my love for fashion and my support of The Ali Forney Center into the Shred of Hope project. I was pleasantly surprised at my ability to whip up a Shredder design!"

Mike Ruiz is a world-renowned photographer who also happens to be a TV personality, former model, actor, and director. Ruiz's lens has done a whole lot of zooming in and zooming out on such subjects as Nicki Minaj, Katy Perry, Kelly Clarkson, Prince, Kim Kardashian, Betty White, and Beyoncé. His latest creation is a convergence of photography and technology in the form of an app called Pretty Masculine.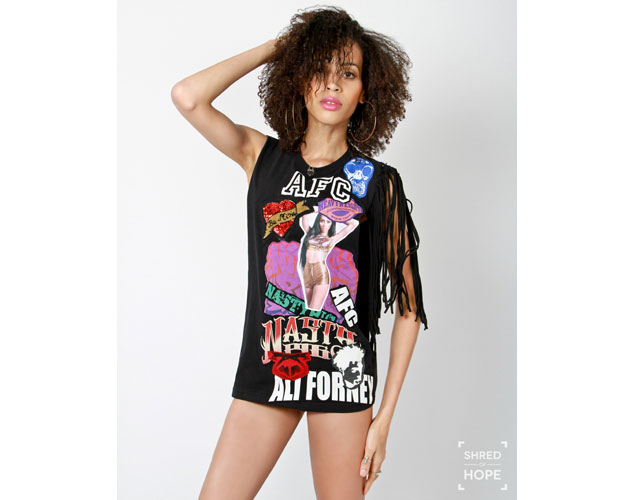 ISIS KING
"I'm so excited to be a part of this project! As a graduate of Ali Forney myself, it touches way closer then most would know. I'm in the middle of searching for design jobs so being hands-on making my Shredder tee in the studio was great timing and inspirational for me. I hope Shred of Hope raises a ton, and Ali Forney can continue to grow so we can get more of these young adults a bed to sleep in."

Isis King is a graduate of the Art Institute of Philadelphia with a degree in fashion design, who later become one of the most recognized models from America's Next Top Model. Isis was the face of American Apparel's Pride campaign in 2012, and has been in countless magazines like Seventeen, Us Weekly, and Swerv. She is a model, designer, and actress whose latest project, Hello Forever, filmed in the Philippines, was just submitted to film festivals including Toronto.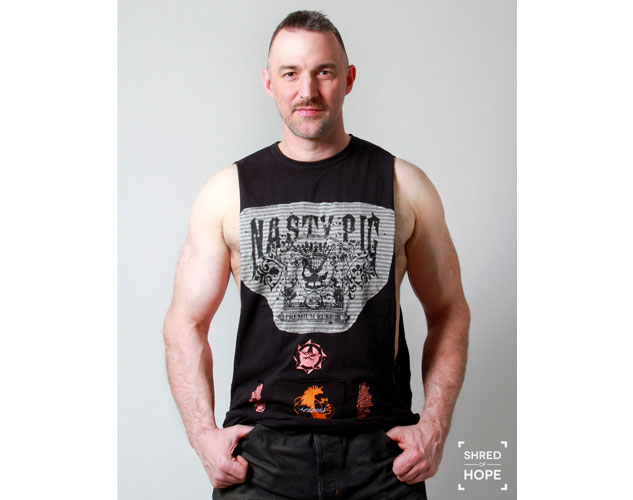 CARL SICILIANO
"I was honored to be asked to design a shredder, and to be in the company of so many amazingly talented people. And it means the world to me that Nasty Pig gathered so many wonderful people together in such a compassionate and generous show of support for our kids!"

Carl Siciliano has directed programs serving New York City's homeless youth since 1994, first managing the homeless youth programs of SafeSpace from 1994 until 2001, where he oversaw shelters, a drop-in center, and the nation's first residential program for homeless HIV-positive teens.
In 2002 he founded the Ali Forney Center, which has grown to become the nation's largest and most comprehensive organization dedicated to homeless LGBT youth, providing emergency and long-term housing, HIV prevention and treatment, medical care, mental health services, and substance abuse services to more than 1,000 homeless LGBT youths per year. Siciliano is nationally recognized as a leading advocate for LGBT youth and has been the recipient of numerous honors and awards, including being named one of the Out 100 in 2002, receiving the prestigious Brooke Astor Award in 2007, and being named a Champion of Change by the White House in 2012.
---
Links:
[1] http://www.advocate.com/
[2] http://www.aliforneycenter.org/
[3] http://shredofhope.com/
[4] http://DonorsChoose.org
[5] http://www.advocate.com/youth