Reasons For Pride 2013
BY

Advocate.com Editors
May 23 2013 7:30 PM ET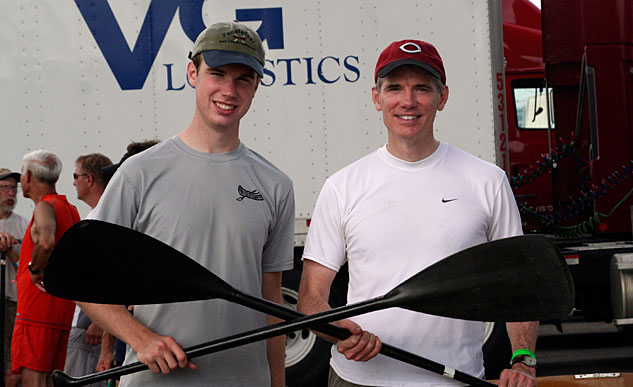 Will (left) and Sen. Rob Portman
Because everyone has a gay, bi, or trans family member
As more people come out, straight folks realize that LGBT rights are more than just some abstract issue. It's about their cousins, siblings, and children. This helps legitimize LGBT rights, especially for conservatives like Supreme Court chief justice John Roberts, whose lesbian cousin Jean Podrasky had a seat waiting for her during this spring's hearings on Proposition 8. Republican U.S. senator Rob Portman, who had opposed marriage equality, now says his son Will Portman, who's gay, led him to become the first sitting GOP senator to support equal marriage rights. And we can tell that Republican congressman Matt Salmon's gay son, Matt R. Salmon, who endured years of reparative therapy, is working on getting his father on board.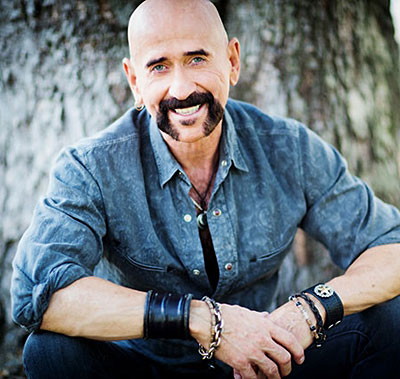 Because HIV is no longer something to hide in the closet
Both country singer-songwriter Jimbeau Hinson (pictured left) and John Grant, formerly of the alternative band the Czars and now a solo performer, sing openly about being HIV-positive. It's a part of life now, not death.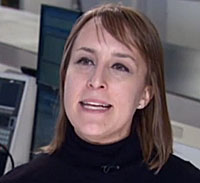 Because a straight ally designed our defining viral campaign
The blue-and-yellow equal sign has been the Human Rights Campaign's logo for decades, but HRC marketing director Anastasia Khoo came up with the red-and-pink version that spread like wildfire across Facebook. Though her standing rule has been not to mess with the HRC's famous logo, she had the instinct that changing it to the color of love would be the right way to break the rule.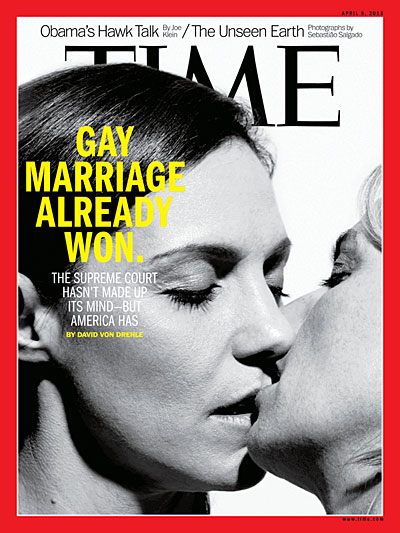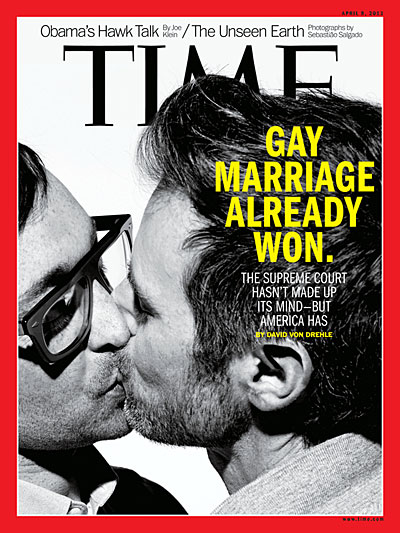 Because ƒthese two Time covers were in almost every supermarket in the country for an entire week
By the way, that's Antigone Rising's Kristen Ellis-Henderson and her wife, Sarah Kate, who, after struggling to conceive a while back, both became pregnant at the same time and gave birth to kids they call the "wonder twins," which they wrote about in their book Times Two. The men are Russell Hart and Eric LaBonté.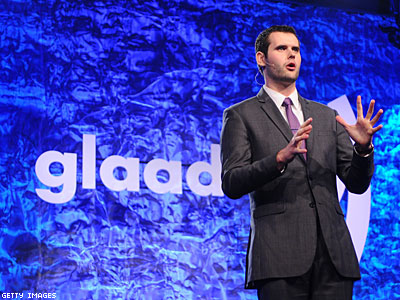 Because children of LGBT parents get it
In 2011, Zach Wahls's (pictured left) testimony before the Iowa legislature, extolling the virtues of his two loving mothers, captivated the nation. Now other offspring of gay parents are following his lead with letters, videos and testimony, proving that they grow up just as normal as any other child in America with loving parents. Daniel Martinez, 12, of California, wrote a letter to Supreme Court chief justice John Roberts about being adopted by his two dads. Another 12-year-old, Rhode Islander Matthew Lannon, told his state's Senate Judiciary Committee that his family was just like any other, but unlike families with straight parents, "they have to come here again year after year and explain over and over why their love is equal to yours." And President Obama wrote back to 10-year-old Sophia Bailey-Klugh, who had told the commander in chief, "I am so glad that you agree two men can love each other because I have two dads and they love each other, but at school kids think that it's gross and weird, but it really hurts my heart and feelings." Obama replied, "Our differences unite us. You and I are blessed to live in a country where we are born equal no matter what we look like on the outside, where we grow up, or who our parents are. A good rule is to treat others the way you hope they will treat you. Remind your friends at school about this rule if they say something that hurts your feelings."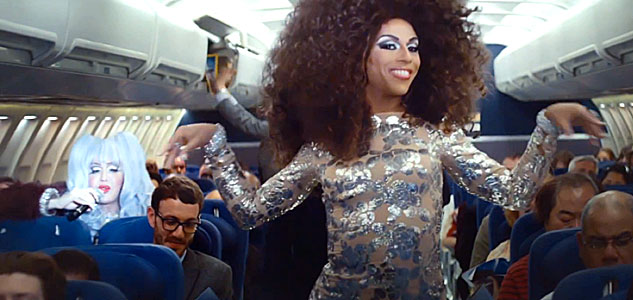 Because Facebook's ads are truly inclusive
Kudos to Facebook Home for including a cast of transgender and gender noncomforming characters in one of its recent advertisements. In the commercial, a seemingly straight-laced traveler encounters a number of unexpected surprises while boarding an airplane. Shirtless men are lying in the overhead compartments, the drag queen Shangela bursts from the refreshment cart to wild applause (a tactic she used more than once on Logo's RuPaul's Drag Race), and transgender performer Calpernia Addams croons a Marilyn Monroe song in the seat behind him. When the traveler glances down at his Android phone to see a photo of his nephew in a birthday hat, the child materializes on the plane, revealing to the viewer that social media can be a powerful and inclusive tool for keeping up with family and friends — both in and out of drag.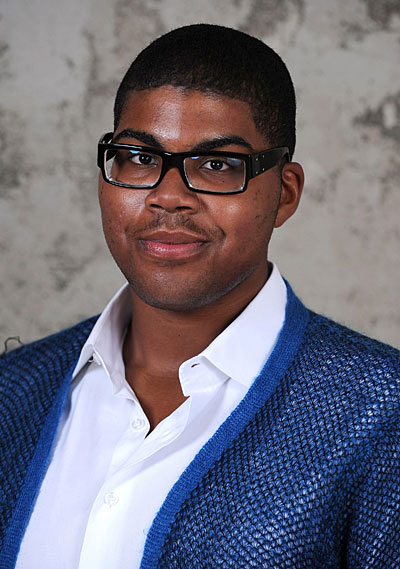 Because basketball legend Magic Johnson; his wife, Cookie; and their out son, E.J., make up a real modern family
Earvin "E.J." Johnson III, 20, had tongues wagging in April when he waltzed down L.A.'s Sunset Boulevard holding his boyfriend's hand. Speaking to TMZ, E.J. displayed not only a keen knowledge of sports but also an impressive confidence. He owes much of that to his kind and supportive parents, who've spent the last two decades advocating for minority communities and HIV funding. But when it comes to E.J., Magic would tell TMZ, "I love E.J. so much, that's my main man.… I think he really wanted to be out. But he was torn.… And I said, 'Go, E.J., go.' "