Leaders of Change
BY

Advocate.com Editors
August 13 2013 5:00 AM ET
From tackling issues like bullying and economic justice to blazing trails in the battle for same-sex marriage and transgender equality, nonprofit organizations have been effecting positive change for LGBT people for decades.
The Advocate spoke with leaders from several LGBT nonprofits about the groundbreaking work thier organizations are doing on behalf of our community and how each one of us can help make a difference in the pursuit of justice for all.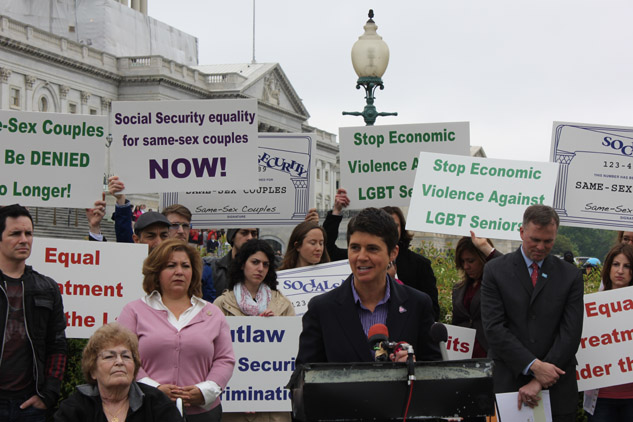 Rea Carey
Executive Director, National Gay and Lesbian Task Force
Presiding over one of the oldest LGBT organizations in the country, Rea Carey knows the world is vastly different since her organization, the National Gay and Lesbian Task Force, launched 40 years ago. But Carey is also aware that even with "don't ask, don't tell" fading into memory and marriage equality gaining traction, her work is far from over.
"Every day I know there are still so many people in our community getting knocked down, who don't have physical or emotional safety or any semblance of equality in their lives — people who can't be out at work, at church, or in the families," Carey says from her home base in Washington, D.C. "We must not slow down."
Carey's advocacy began when she cofounded the organization Gay Men and Lesbian Opposing Violence in the '90s. When Carey became the Task Force's executive director in 2008, she used her background battling hate crimes to lobby the government for LGBT-inclusive legislation that provided federal resources to investigate and prosecute violence against queer people. The Matthew Shepard and James Byrd, Jr. Hate Crimes Prevention Act passed in October 2009, becoming the nation's first federal law to protect transgender people and the start of a grand slam of LGBT rights wins — from the death of "don't ask, don't tell," a key portion of the Defense of Marriage Act, and Proposition 8 to voter-approved marriage equality in several states.
The Task Force is now working to stem continuing violence against LGBT people, pass the Employment Non-Discrimination Act, provide funding for HIV-positive people and LGBT seniors, and prepare and train a new generation of LGBT leaders. Everyone who has a passion for social justice should get involved, Carey says, by giving their time or donations to groups like hers that work to level the playing field.
"Believe that you can make a difference," she says. "That your voice counts. That your action counts. That as a lesbian, gay, bisexual, or transgender person you have value and that society would be less dynamic without you."