Leaders of Change
BY

Advocate.com Editors
August 13 2013 5:00 AM ET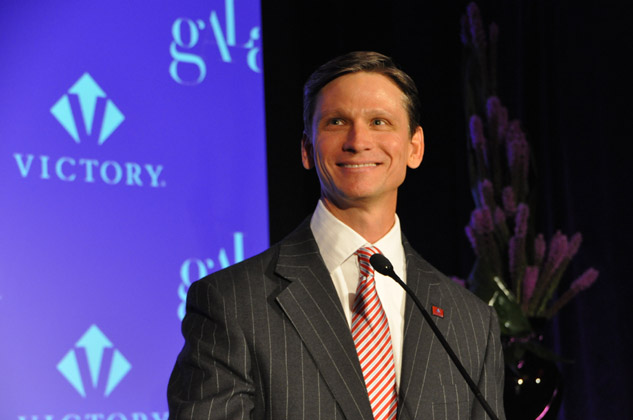 Chuck Wolfe
President and CEO, Victory Fund
Photo: Michael Key
When Chuck Wolfe took over as head of the Victory Fund, an organization that works to train and elect LGBT politicians, there were 13 states that never had one out elected official. Now, 10 years later, all 50 states have had at least one openly LGBT person in office.
Wolfe was involved in some very high-profile elections, including Houston's lesbian mayor Annise Parker; the first out U.S. senator, Tammy Baldwin of Wisconsin; and the election of four new LGBT members of the U.S. House of Representatives last year. The Victory Fund not only provides funds for political campaigns, it advises candidates on how to win, through twice-a-year candidate training. The Victory Fund's help has also pushed hundreds of candidates for local and state office over the top, and that's very important, Wolfe says.
"Victory Fund has worked for years to grow the number of LGBT officeholders at all levels of government, and in particular in state legislators," he says. "It's really been gratifying for us to now see states with some of the largest groups of out lawmakers passing marriage equality bills, but also working to protect transgender people, curb bullying in schools, and make sure health insurers cover the unique needs of LGBT people."
Not everyone aspires to be a politician, but everyone should realize how politics affects their daily life, Wolfe says. When a conservative politician is blocking a bill that would require schools to teach LGBT tolerance, for example, it can take an out legislator to show why that curriculum is necessary.
"Supporting our work financially is another way to make sure LGBT voices are in the room when elected officials are debating our lives, our relationships, and our rights," he says.