Hudson Taylor Takes His Training on the Road
BY

David Duran
September 06 2012 5:00 AM ET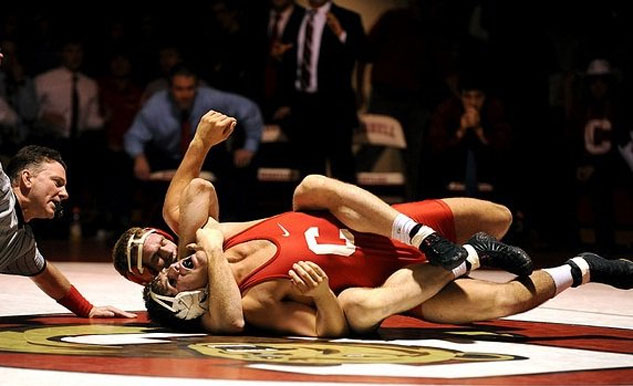 Hudson Taylor wrestles last year's NCAA national champion from Cornell, Cam Simaz.
Athlete Ally has received support from numerous athletes. Can you elaborate?
One of the ways that we work with athletes is through our Athlete Ally Ambassador Program. To date, we have Athlete Ally ambassadors at almost 40 different universities who are helping us make a difference on their campus. The primary way we have done this is through the Athlete Ally Pledge. By helping our ambassador with talking points and scheduling meetings with the right individuals on campus, they can then work to get entire teams to sign the pledge. After teams agree to sign the pledge, we then work to get the school newspaper to cover the pledge signing.
The result is an athletic community that has raised awareness and accountability for the words and actions of their athletes and coaches through a proactive statement of LGBT allyship. Also, with an article written on the progress of one campus, we can then use that coverage to start advocating for other universities to do the same.
Tell us about the new partnership with, GLAAD, Athlete Ally and the NBA.
Earlier this summer, Athlete Ally partnered with GLAAD to begin providing ally trainings for all professional sports leagues and teams. The NBA was the first to sign on. Increasingly, professional leagues have made strong statements against the use of homophobic slurs on and off the field. Unfortunately, these incidents continue to occur on a fairly regular basis. Our hope with these trainings is to provide proactive education and resources to ensure that the next generation of professional athletes not only don't use homophobic slurs, but that they have the confidence and means to actively speak out against it.
When will this training be launching and what does the training with the NBA involve?
I am happy to say that this training was presented for the first time … to the incoming NBA rookie classes! A 20-minute video that we made was presented to the rookie camp. Each year, the NBA takes about four days out for their incoming players to talk about contracts, media, training and other items which I am not sure about. We took the opportunity to show the video during the four days.
Are there plans to possibly provide the training to the already established NBA players or other sports leagues?
Currently, it's just the rookie players. It's a good place to try and break the cycle. The veteran NBA players may not be as inclined to listen. When you first transition from college to pro, that is the opportune time to do these types of trainings. We obviously would like to do it with every player on every team, in every league, but for now, the rookies are a good place to start. That being said, we are going to work together with as many professional sports team as interested.
What's next for Athlete Ally and for Hudson Taylor?
The background stuff is next on the agenda; building the board of directors and applying for grants. Up until now, there has been a lot of great momentum. Now, we need to make an organization that is going to be here five years from now. Fundraising to institutionalize Athlete Ally is of top priority. Our next major initiative involves having athletic teams wear an ally symbol on their uniforms during a game. If you look at college sports teams, a lot of them wear breast cancer support symbols on their uniforms. There is no reason that there should not be an equivalent for LGBT allyship. We are currently working on getting them designed and hoping to get teams to wear the patch in the upcoming year.
The NBA's 2011-2012 and 2012-2013 classes of rookies were shown a video presentation by Athlete Ally founder Hudson Taylor and Aaron McQuade, GLAAD Director of News and Field Media. They discussed what it means to be an ally to the LGBT community in the context of sports, the importance of being an ally, and how professional athletes can go about being allies. Moderators were there to take questions from the players, and both GLAAD and Athlete Ally offered an "open-door policy" for any pro sports player who has questions, comments or concerns about LGBT issues to contact us anytime, on or off the record.