Jason Collins Comes Out, Twitter Reacts
BY

Sunnivie Brydum
April 29 2013 3:53 PM ET
UPDATED:
April 29 2013 4:26 PM ET
But not everyone was celebrating Collins's announcement.
Deadspin captured this tweet from Miami Dolphins wide receiver Mike Wallace before the NFL player deleted the tweet below, and replaced it with an apology (following the screengrab below).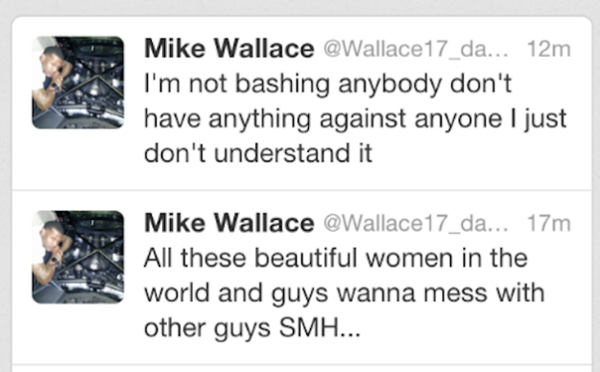 Never said anything was right or wrong I just said I don't understand!! Deeply sorry for anyone that I offended

— Mike Wallace (@Wallace17_daKid) April 29, 2013
And infamous homophobe Peter LaBarbera, who serves as president of the antigay Americans for Truth About Homosexuality, of course sees Collins's statement as evidence of the irreparable moral decline of a nation of sinners:
Wow, an NBA player has a sexual- & sin problem (practicing homosexuality). Now THAT'S major news + worthy of White House praise! #tcot
— Peter LaBarbera (@PeterLaBarbera) April 29, 2013
Outside of Twitter, some antigay words came from sportscaster Chris Broussard on ESPN's Outside the Lines program today. "If you're openly living that type of lifestyle, then the Bible says you know them by their fruits," Broussard said. "It says that, you know, that's a sin. If you're openly living in unrepentant sin, whatever it may be, not just homosexuality … I believe that's walking in open rebellion to God and to Jesus Christ. So I would not characterize that person as a Christian." Broussard went so far as to make the statement in front of a gay colleague, commentator LZ Granderson. Watch video below, courtesy of ThinkProgress.