From Glenn Burke to Brittney Griner: The State of Pride in Sports
BY

Michelle Garcia
July 03 2013 5:00 AM ET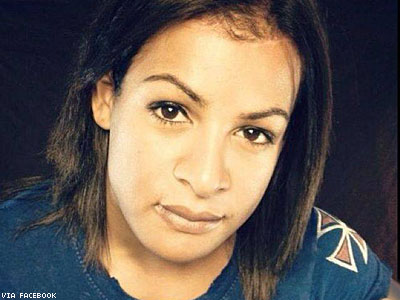 At left: Fallon Fox
The Vocal Allies
The coming-out process may be easier than it was in Glenn Burke's time, because of allies who realize how integral acceptance is toward building a better team. According to Nike, the growing coalition of athletes who have pledged to help with their big goal is made up mostly of allies — about 400, with 100 LGBT athletes.
Fallon Fox, a transgender MMA fighter, was recently forced to come out after a reporter heard a rumor. She said she was buoyed by LGBT people, and allies who reached out to offer their support.
"Non-LGBT people have the ability to be our friends, give us support, and empathize with us," she said.
Collins said his coming-out process was also softened by former teammates who he either notified before issuing his big announcement or called him with congratulations when they heard the news.
"Because I had been a good teammate through the majority of my career, I knew my teammates would support me," he said.
Patrick Burke seems to have been born to be an ally. Burke — no relation to Glenn — comes from a serious hockey family (his father, Brian Burke, has been an NHL general manager for years). And his family happened to have a gay member, Brendan, a student who was also the hockey operations assistant for Miami University's men's hockey team. Brendan died in a car accident in 2010, months after coming out publicly, but his family, especially his brother Patrick, has carried on his legacy with the You Can Play Project, which encourages gay athletes to play sports and their teammates to become allies.
Now major sports universities like Duke, Ohio State, and the University of California, Los Angeles, have joined You Can Play, pledging better environments for all athletes. Interestingly, the National Hockey League and Major League Soccer, Robbie Rogers's league, are the only American professional partners for You Can Play so far.
More and more allies are finding ways to show their support by letting their teammates know that they would welcome them on the field and in the locker room. Coaches are learning how to make sure their office is a safe space for athletes of all types to speak openly about their experience. And media people are learning how to properly and respectfully report on LGBT athletes, while organizations are popping up to help LGBT athletes and allies improve the field of athleticism.

The Next Frontier: Transgender Athletes
As sexual minorities are slowly being welcomed into the sports in which they already compete, it seems as though sports regulators are still figuring out how to work with transgender and intersex athletes. California became the first state to legally guarantee access to transgender high school athletes, and about a dozen others have a range of policies to support transgender athletes in some form. But the rest of the states, and many international governing bodies of sport, are still grappling with this issue.
Clearly this was the case with Caster Semenya, the South African runner, who turned out to be intersex. It was only discovered that Semenya is intersex after she turned in a stunning performance at the track and field world championships in 2009. The question became, Does her gender status give her an unfair advantage? The International Association of Athletics Federations ruled, after a nearly year-long investigation, that being intersex doesn't give her an unfair advantage. She was cleared to run, and won the silver medal at the 2012 London Olympics in the 800-meter run.
(RELATED: Meet 55 Inspiring LGBT Figures in Sports)
Then there's Fallon Fox, the MMA fighter, who had been known only as a female fighter until forced out of the closet earlier this year. She's become a role model for younger transgender athletes rising through the ranks, but her validity in the league was on the line simply because she was outed. The Association of Boxing Commissions eventually decided that Fox would continue to be classified as a female fighter. And while she beat Allana Jones in the third round of her first fight, Jones entered the ring to the Aerosmith song "Dude Looks Like a Lady," and spectators booed Fox's entrance.
Some proactive figures in sports are trying to help major governing bodies like the NCAA determine how to help transgender athletes. National Center for Lesbian Rights sports project director Helen Carroll and Pat Griffin, former director of It Takes a Team!, compiled a report in October 2010 to provide a comprehensive guide to integrating transgender student athletes. Mainly, the NCAA adapted a policy to allow transgender male students to compete on men's teams as long as they have undergone testosterone hormone therapy. Female transgender athletes who have taken medication to suppress testosterone for a year can compete on a women's team.
This is a start, and because of these policy changes, George Washington University basketball player Kye Allums was able to graduate as a pioneer. Allums came out as transgender during his junior year, and may have been the first openly transgender student to play on an NCAA Division I basketball team. Now a beaming, dynamic Allums has so much in front of him — training and speaking at colleges, mentoring other transgender athletes, and a master's degree at New York University. But at the time of his coming out, right as he was about to step on the court for the first time as an openly transgender male athlete, he simply said his university's acceptance "means a lot."
For Glenn Burke, that kind of acceptace would have made a world of difference. For the countless LGBT athletes that follow him, it already has.
CORRECTION: An earlier version of this story cited MLS as the only professional American league involved with You Can Play. The NHL annoucned their partnership with You Can Play in April.