Canada's WinterPRIDE; Luge, Love, and Late Nights
BY

Neal Broverman
January 31 2013 12:43 PM ET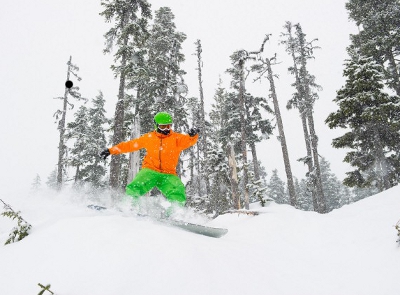 - Act European
By that we mean, take the Peak to Peak Gondola, built in 2008 to transport skiiers and snowboarders between the Whistler and Blackcomb mountains (which both hug Whistler village). The gondola is the highest of its kind, nearly two miles up, and it takes 11 minutes to get from peak to peak. Staring over the edge at the winter wonderland below is both beautiful and unnerving (especially if the gondola decides to stop moving and dangle for a bit).
- Just Dance
There are tea dances and enormous rave-like events spread throughout WinterPRIDE. The closing night dance is an epic party; last year's closer was held at the Village's huge conference center, which was decorated like a winter wonderland. A fierce lesbian playing violin kicked off the party, which managed to still be fun even though the sad news of Whitney Houston's death just broke.
- A Quieter Celebration
If you're not into large dance parties, the Apres-ski tradition is alive and well at Whistler. The term refers to eating, drinking, and socializing after sweating it out at the slopes. Nearly every day features an early evening cocktail party, where attendees from around the world, men and women, meet and greet. There's usually a roaring fire at these events, FYI.
- Getting Out There
Like we said before, WinterPRIDE is not just about drinking. Planned events next week include a snowshoe tour, a zipline event, a debate about the meaning and future of Pride, and, of course, organized dinners at some of Whistler's best restaurants.
- Filling Your Stomach
Skiing and snowboarding burns a lot of calories, so eating well is a must. One of Whistler's best restaurants is The Barefoot Bistro, Melissa Craig's take on Canadian and West Coast food. The restaurant is a favorite of WinterPRIDE attendees. If you can, check out the 20,000 bottle wine cellar below, where you can practice the French art of champagne sabering.