Hard Rock Hotel: Wedding Destination?
BY

Sunnivie Brydum
February 08 2013 12:25 PM ET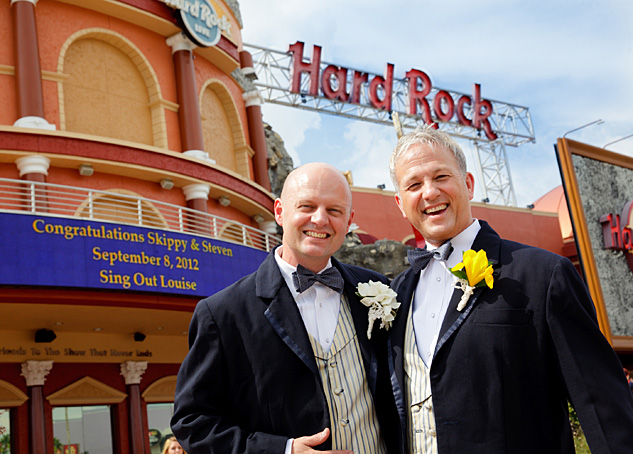 Gay couples eager to find inspiration for their special day may want to take a cue from Stephen Williamson and Skippy Jacob (pictured above), who hosted an elaborate Broadway-themed wedding at the Hard Rock Live in Orlando, Fla., last September. Die-hard fans of musical theater, the entire event was decked in show tunes. The grooms exited the church to the sounds of "Perfect Day" from Legally Blonde after exchanging rings delivered by their beloved dog, a three-legged Chinese crested powder puff.

The grooms made a grand entrance at the reception, flanked by 25 singing, dancing performers and guests in a choreographed rendition of "It's Your Wedding Day" from stage musical The Wedding Singer. The newlyweds wrapped the celebration with a live performance of several songs from Hairspray, performed by the best man and a close friend, in full drag as Edna and Tracy Turnblad.

Although the couple can't legally marry in Florida, they are optimistic that marriage equality nationwide is inevitable.
"Our union was never a legal matter, but rather a spiritual one," says Williamson. "I was not going to let society take away one of my dreams and tell me when I could marry the man I love. With 168 friends, family, and three pastors to guide us, it was an example of nothing but pure love in one another."