2013: The Year in Coming Out
BY Lucas Grindley
December 31 2013 12:00 PM ET
COMING OUT IN MEDIA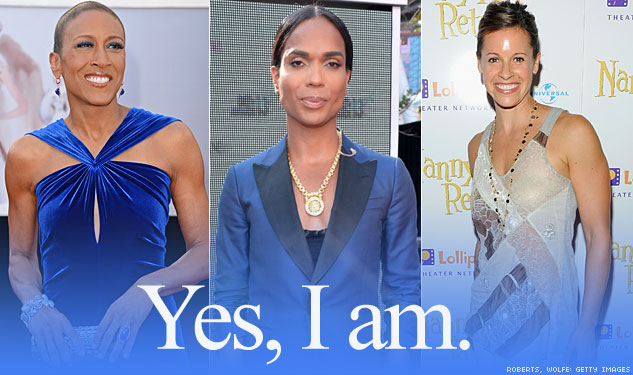 Above from left: Robin Roberts, B. Scott, Jenna Wolfe
B. Scott, entertainment personality
For the first time, Scott embraced the term "transgender" to describe himself in August when filing a lawsuit against Viacom over the now infamous incident when BET asked him to change into a more masculine outfit if he wanted to appear on camera to host the BET Awards red carpet. "As a society we've been conditioned to believe that a person has to be 'exactly' this or 'exactly' that," wrote Scott, who prefers masculine pronouns, on his blog. "Biologically, I am male — as my sex was determined at birth by my reproductive organs. However, my spirit truly lies somewhere in between."

Robin Roberts, GMA anchor
The co-anchor of Good Morning America was already a hero to so many for battling cancer and undergoing a bone marrow transplant with such dignity. Then Roberts inspired even more by coming out in a Facebook post in late December. She was looking back on 2013, grateful for her support system. "I am grateful for my entire family, my long time girlfriend, Amber, and friends as we prepare to celebrate a glorious new year together," she wrote.
Jenna Wolfe, Today show anchor
The weekend anchor for the Today show came out and announced she's pregnant during a segment on air in March. She told People magazine that she's excited about getting married to partner, Stephanie Gosk, a fellow NBC journalist, "But I don't want to bring my daughter into a world where I'm not comfortable telling everyone who I am and who her mother is."
COMING OUT IN POLITICS

Above from left: Mike Michaud, Chelsea Manning, Kristin Beck
Mike Michaud, congressman
The six-term congressman from Maine never said a word about being gay until he became the subject of a whisper campaign in November trying to derail his run for governor. "I wasn't surprised to learn about the whisper campaigns, insinuations and push-polls some of the people opposed to my candidacy have been using to raise questions about my personal life," he wrote in a column published by the Bangor Daily News, the Portland Press Herald, and the Associated Press. "They want people to question whether I am gay. Allow me to save them the trouble with a simple, honest answer: 'Yes, I am. But why should it matter?'"

Chelsea Manning, government transparency activist
After being sentenced to 35 years in prison, Manning came out as transgender in a statement to the media. "As I transition into this next phase of my life, I want everyone to know the real me. I am Chelsea Manning," wrote the former private, who was convicted of leaking classified government documents to the website WikiLeaks. "I am female. Given the way that I feel, and have felt since childhood, I want to begin hormone therapy as soon as possible."

Jennifer Natalya Pritzker, billionaire
The Army and National Guard veteran and noted philanthropist has a net worth of $1.5 billion, according to Forbes. She came out in August via an announcement sent to employees of the Pritzker Military Library and Pritzker's company, Tawani Enterprises. It read, according to a report by Crain's Chicago Business, "As of Aug. 16, 2013, J.N. Pritzker will undergo an official legal name change, will now be known as Jennifer Natalya Pritzker. This change will reflect the beliefs of her true identity that she has held privately and will now share publicly. Pritzker now identifies herself as a woman for all business and personal undertakings."

Kristin Beck, Navy SEAL
A retired Navy SEAL and member of the elite Team 6 — the one that killed Osama Bin Laden — revealed that she's transgender in a new memoir in June. An excerpt of the book, Warrior Princess, was published by The Atlantic and included a laundry list of positive responses from fellow SEALs.
Will Portman, son of Sen. Rob Portman
After his Republican father did a television interview in March explaining his support for marriage equality and revealed that he has a gay son, Will Portman spoke with his university newspaper. Portman said he'd written his parents a letter two years ago when first coming out. "They were surprised to learn I was gay, and full of questions, but absolutely rock-solid supportive," he told the Yale Daily News. "That was the beginning of the end of feeling ashamed about who I was."