Celebs, Administration, and Family Shine at National Educator Conference
BY

Sunnivie Brydum
February 22 2013 9:30 PM ET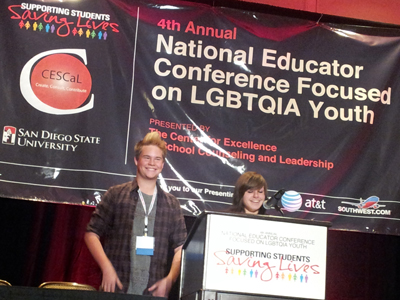 The three-day conference featured numerous break-out sessions designed to empower educators with the legal, social, and educational knowledge they need to support their LGBTQ students. Sessions were facilitated by experts in trans inclusion, several upper-level Administration officials, representatives from the ACLU, Matthew Shepard Project, the Transgender Law Center, Faith in America, GLSEN, and the Southern Poverty Law Center, among others.
The conference's closing plenary on Sunday was the most emotional gathering of the weekend, featuring speeches from bullied LGBT teen Johan Mowry (pictured, above left, with Alyssa Rodemeyer), whose wordless YouTube video, "What's Goin On," describing the bullying he's been subjected to, has more than 10 million views. Stepping on stage to a standing ovation, Mowry told attendees that he has made it to high school, where he has found a support network of friends, family, and faculty.
Mowry was followed by Alyssa Rodemeyer, a bisexual high schooler whose 14-year-old brother Jamey was gay and committed suicide in 2011 after filming an It Gets Better video, yet continuing to be relentlessly bullied by schoolmates. Rodemeyer opened her touching, eloquent speech by telling attendees that she "left a beautiful girl at home to be here, so you know this is important." Rodemeyer drove home a message of inclusion, urging that she and her fellow LGBTQ youth are not different from their straight peers. Rather, Rodemeyer challenged her friends, and everyone in the room, to join her fight to "spread the knowledge that will break the ignorance of generations."
After a well-earned standing ovation, Rodemeyer's parents took the stage, to talk about their late son. As Tim and Tracy Rodemeyer alternated speaking at the podium, a montage of digital images Jamey produced scrolled across screens flanking the stage. By the end of the Rodemeyers' turn on stage, there was not a dry eye in the house, including those of project director and conference chair Vincent Pompei, who took the stage noting that he was unashamed of his puffy eyes since he knew nearly all attendees were in the same emotional place.
Pompei and the entire CESCaL team hosted a wildly successful, entertaining conference that was chock-full of relevant information for educators, and appropriately peppered with entertainment endeavors like Saturday night's "Urban Plunge" into San Diego's gayborhood, known as Hillcrest, and Friday's hugely popular photo shoot for the NOH8 Campaign.
For more information about CESCaL or the Supporting Students, Saving Lives Conference, click here. Presenting sponsors included AT&T and Southwest Airlines.