Give Homeless LGBT Youth a 'Shred of Hope'
BY

Advocate.com Editors
June 20 2013 6:00 AM ET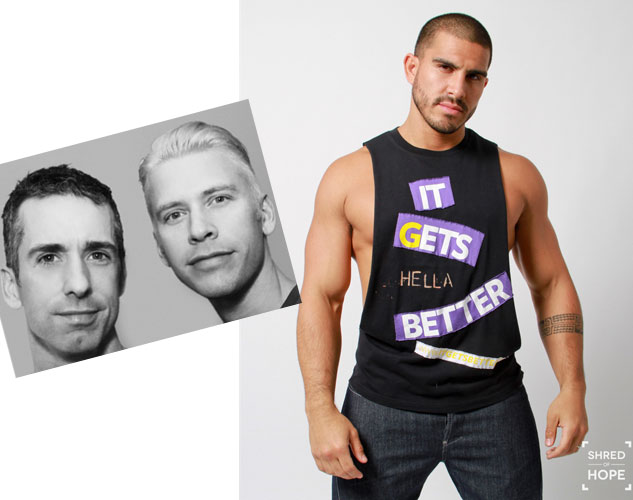 DAN SAVAGE & TERRY MILLER
"I totally support the work Ali Forney has done and continues to do to support young LGBT people, giving them the means to stand up for themselves and on their own two feet." — Terry Miller
Terry Miller is an event promoter, musician and DJ. He has produced events for artists including satirical L.A. pop duo Garfunkel and Oates, J.D. Twitch, and NPR's Ira Glass.
Terry grew up in Spokane, Wash.; with his husband, Dan Savage, he cofounded the It Gets Better Project in 2010, beginning with a YouTube video they created to offer hope to bullied LGBTQ youth. The It Gets Better Project has become a global movement, inspiring more than 50,000 videos. Savage and Miller coedited the It Gets Better book, published in March 2011. In 2012, the It Gets Better Project received the Governors Award from the Academy of Television Arts and Sciences for demonstrating the extraordinary use of television.
Dan Savage is a writer, activist, and TV personality best known for his political and social commentary as well as his honest approach to sex, love, and relationships.
Savage is the author of American Savage: Insights, Slights, and Fights on Faith, Sex, Love, and Politics; The Commitment: Love, Sex, Marriage and My Family; Skipping Towards Gomorrah: The Seven Deadly Sins and the Pursuit of Happiness in America (Lambda Literary Award for nonfiction); The Kid: What Happened When My Boyfriend and I Decided to Get Pregnant (PEN West Award for Creative Nonfiction); and Savage Love. He coauthored How to Be a Person.
Savage is the editorial director of The Stranger, Seattle's weekly alternative newspaper, and his writing has appeared widely in publications including The New York Times, The New York Times Magazine, GQ, Rolling Stone, The Onion, and Salon.com. Savage is also a contributor to Ira Glass's This American Life. His sex advice column, Savage Love, is syndicated in newspapers and websites throughout the United States, Canada, Europe, and Asia.
Savage grew up in Chicago and now lives in Seattle with his husband and their son, DJ.