Meet the 2013 Point Foundation Scholars
BY

Advocate.com Editors
June 19 2013 6:00 AM ET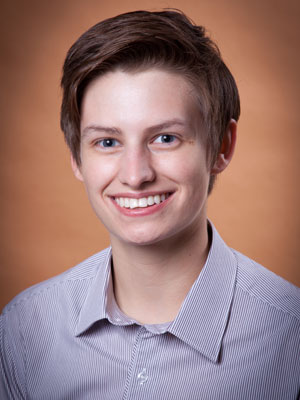 Laura Karnoski
Laura Karnoski was born and raised in Edmonds, Wash. Having identified as a queer female from an early age, she's had many experiences with the intersections of queerness, disability, and poverty that have shaped her identity as a proponent for advocacy and social justice. Her involvement with the LGBTQ community began when she was in high school, where she led her school's Gay-Straight Alliance and served on the Queer Youth Space board of directors. At the same time, as a board member for the Washington Association of Student Councils, Laura began volunteering with Special Olympics Washington, working to initiate a Unified Soccer program in her school district, and helping to create a merger in the programming of the two organizations. Excelling academically, Laura was active in many student organizations, including her high school's National Honor Society, Interhigh, and Project Lead the Way Pre-Engineering program, where she was awarded a Certificate of Merit from the Society of Women Engineers.
She is currently studying Spanish and social welfare at the University of Washington, and hopes to use this interdisciplinary educational background to serve as an advocate for LGBTQ people and those with disabilities in her future career endeavors.
What Laura hopes her scholarship will help her accomplish:
I hope it will help me be successful in achieving my educational goals.
What Laura is most excited about in being named a 2013 Point Scholar:
I am most excited about joining a community of people who are deeply invested in personal growth through education and progress for the LGBTQ community, which are two major parts of my life.
Laura's words of advice to LGBT youth struggling with familial rejection, educational difficulties, or other hardships:
No matter how discouraging it may be to repeatedly face obstacles and adversity, there are people out there who want you to succeed and to be happy. Surround yourself with these people.