Meet the 2013 Point Foundation Scholars
BY

Advocate.com Editors
June 19 2013 6:00 AM ET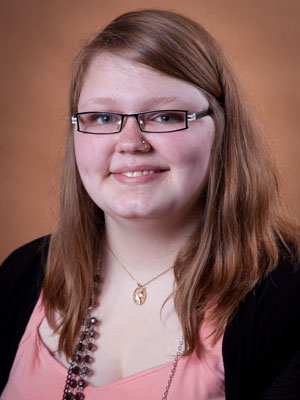 Dee Moore
Dee Moore spent most of her childhood moving all over the Southern states, including Alabama and Mississippi, and her family eventually settled in Arkansas. Growing up in the South, Dee was exposed to many different types of discrimination. She became the president of her high school's gay-straight alliance and worked to provide a safe educational space for her peers throughout her junior and senior years. She worked closely with the local LGBTQ organization's youth program to help schools in northwest Arkansas establish their own gay-straight alliances. After graduating from high school, Dee spent the summer helping run the local LGBTQ youth program. Her biggest concern for LGBTQ youth was the lack of adequate resources for homeless LGBTQ youth in Arkansas.
In the fall of 2012, Dee started school at Simmons College to pursue a bachelor's degree in social work and a bachelor's of communication in a graphic design track. She believes a social work degree will give her the tools and knowledge necessary to make changes for LGBTQ youth, especially in the South, and a graphic design degree will give her the skills to "make social justice look appealing."
Dee is a part of many organizations at Simmons, with her primary focus being on diversity, inclusion, and intersectional activism. She works as an intern for Class Action, an organization dedicated to addressing issues of class and classism. Dee hopes to better educate herself so that she may stop the cycle of discrimination that she was raised in, and promote the dignity and worth of every human being.
What Dee hopes her scholarship will help her accomplish:
Going away to college never really seemed possible to me, but I was able to move from Arkansas to attend school in Boston. While at Simmons, I really came into my own. I really developed a passion for learning and making myself a better person. Without Simmons, I don't know if that could have happened. My Point scholarship will allow me to stay at Simmons and continue to grow and learn. Point has already given me the gift of incredible connections with people I would have never known before, and there is a lot to be learned from other people. Point will give me opportunity to become the best person that I can be.
What Dee is most excited about in being named a 2013 Point Scholar:
I think I am most excited about the other Point Scholars. Already Point has introduced me to some of the most inspirational people I could have ever hoped to meet. I know that as a Point Scholar, I will be a part of a community of inspiring leaders. It is so nice to think about all of the Point Scholars in the Boston area that I would never have known before, but that I will now be connected to. I am excited to be a part of this group and learn from all of these incredible people.
Dee's words of advice to LGBT youth struggling with familial rejection, educational difficulties, or other hardships:
My advice is that you can only do the best that you can do. I know it's hard to let go of relationships and family members, and I would never ask anyone to do that if that is not right for them, but do what is best for you. As far as education goes, there is much more to life than grades and tests. Most of my learning in college has happened outside of the classrooms and in a way that cannot be measured by grades. We should strive to do the best that we can do, but always realize that as long as you are trying and learning, that is all that matters.