Meet the 2013 Point Foundation Scholars
BY

Advocate.com Editors
June 19 2013 6:00 AM ET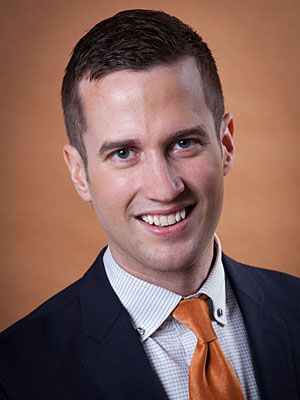 M. Bryan Blaise
Bryan Blaise was 25 years old the first time he truly felt the sting of discrimination. Calling conservative and religious central Florida home, he had largely survived years of bullying for his being different thanks to the inherent privileges of being a white Christian male in the South. Yet while he was out and serving as a volunteer at the Chicago area's Willow Creek church, suddenly even those unearned privileges could not keep him from being marginalized to the back pews. While he had worked tirelessly since coming out to help his family, heterosexual communities, and LGBT friends understand his reconciled faith and innate sexuality, this transformative event opened Bryan's eyes to the urgent need for greater inclusivity and equality within all organizations. With a deeper understanding of what colleagues of different races, gender, and gender expression had experienced for years, Bryan narrowed his career and civic efforts to building bridges between opposing communities — joining the us and the others.
Bryan's journey led him to expand the membership and mission of Urban Village Church and the Marin Foundation in Chicago. Now he is studying global leadership and management at Columbia Business School, with a research concentration on organizational change and intersectional inclusivity models. He is an active leader of the school's leadership and LGBT clubs, the latter of which boasts more than 400 straight allies. With his MBA and passion for social justice, Bryan plans to help organizations structure greater inclusivity and equity into their operations, while advancing the opportunities of all marginalized groups.
What Bryan hopes his scholarship will help him accomplish:
With the professional mentorship and financial support of Point Foundation, I plan to add greater legitimacy, visibility, and momentum to the work I have begun in reconciling faith and LGBTQ communities as well as bringing greater inclusivity and equality models to the field of organizational transformation.
What Bryan is most excited about in being named a 2013 Point Scholar:
The utmost honor of being named a Point Scholar is joining this passionate family of change agents and advocates that will continue to improve the lives of LGBTQ individuals for many generations to come. I am equally as excited by the mentorship I will receive this next year from out successful professionals as well as the many future opportunities I will get to mentor a brilliant LGBTQ scholar and advance the work of Point.
Bryan's words of advice to LGBT youth struggling with familial rejection, educational difficulties, or other hardships:
While it really does get better, it can become very easy to give up — on your dreams of an education, partner, and family, on the systems of authority and safety in your community, on yourself — in those times of pain, marginalization, and loneliness. No matter how alone and powerless to change the oppression you may feel, remember these great words from Charlie Chaplin: "You need power only when you want to do something harmful; otherwise love is enough to get everything done." Despite the power our culture generally praises, genuine love and empathy for yourself and others are transformative forces that can truly bring about critical change.