Meet the 2013 Point Foundation Scholars
BY

Advocate.com Editors
June 19 2013 6:00 AM ET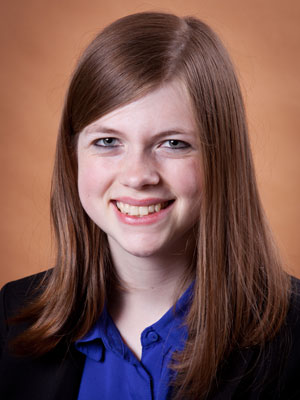 Ashley Burnside
Ashley was born with cerebral palsy, and much of her youth involved adapting to her disability and dealing with bullying because of her disabilitity. Later, after realizing she also identified as a lesbian and coming out to her accepting family, she had to once again face the feeling of being different from her peers. During high school in Ann Arbor, Mich., through her involvement in a program called Riot Youth, Ashley presented to school boards and to the Michigan House of Representatives on creating a statewide antibullying policy with enumeration so all students would be protected from bullying. She also facilitated workshops with hundreds of students in schools throughout Michigan on how to be allies to LGBTQ youth and how to prevent bullying. As a result of her volunteer and social justice work, Ashley was a finalist for Ann Arbor's Youth Citizen of the Year. Ashley is attending the University of Michigan, where she is a chair on a branch of the Central Student Government, the LGBT Issues Commission, helping to address LGBT issues on campus and create an inclusive environment. Additionally, Ashley dedicates her time to Dance Marathon, raising money and awareness for children with disabilities, allowing them to receive therapies their families otherwise could not afford. Ashley plans to major in social theory and practice and minor in community action and social change, and hopes to someday work for Equality Michigan to help make her state an accepting place for those who identify as LGBTQ and any other identity.
What Ashley hopes her scholarship will help her accomplish:
Ultimately, I hope that this scholarship will help me to accomplish my goal of helping to eliminate discrimination based on social identities, especially LGBTQ and disability identities, through legislative policies. One day I want to work with an organization such as Equality Michigan or even national campaigns to help gain working, housing, and family rights and more for people in the LGBTQ community and also in other communities, especially for those with disabilities. This scholarship will help to pay for my college education, so that I will not have to worry so much about paying off post-graduation loans. The Point Foundation will also give me resources that will help me decide which organization in particular I want to work for one day, and which legislative policy issues are the most important to me.
What Ashley is most excited about in being named a 2013 Point Scholar:
What excites me the most about being named a Point Scholar is all of the doors that being a part of the Point Foundation will open for me. Not only are there financial benefits to this title, but I also know that I am a part of the network in the Point Foundation. This means that I am now connected to some of the most inspiring and influential members of the LGBTQA community that I have ever had the honor of meeting. These members all hold different jobs and have different career paths, and all come from different parts of the world. I am excited to learn about all of the different opportunities that are available to me and of all of the unique ways that I can help to create change for the LGBTQ community.
Ashley's words of advice to LGBT youth struggling with familial rejection, educational difficulties, or other hardships:
Remember that there are organizations and people out there who want to and can help you through your conflicts and hardships. Throughout my educational career, I not only struggled with coming to terms with my sexuality and losing friendships as a result of this, but also with my disability and the learning challenges that it created for me. Through the support of many loved ones in my life, such as my family, the new friendships that I found, my teachers, and LGBTQ support and activism groups, I was able to face a lot of these struggles more easily. Other people in your life may already have faced the challenges you have faced, or understand how to help you. Try to find the people and groups who want to support you, and use their support. I also advise that you remember that no matter what hardships your sexuality, gender identity, or any part of you may cause, that those parts of you still make you who you are, and every piece of you together is what gives you your own perspectives, skills, and passions. These unique aspects of yourself will just make you that much stronger and that much more inspiring as a person. Try to love who you are and the communities that you are a part of.