Meet the 2013 Point Foundation Scholars
BY

Advocate.com Editors
June 19 2013 6:00 AM ET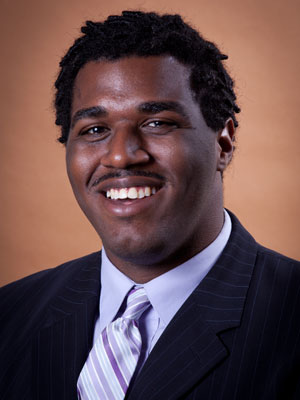 Gregory Davis
Gregory Davis is a JD-MA joint-degree candidate in Afro-American studies and law at the University of California, Los Angeles. Raised in Detroit, a city in perpetual (identity) crisis, he has focused on how African-American LGBTQ youth find, confirm, and fortify their identities in the face of possible social discrimination and prejudice based on their race and/or sexual orientation.
Additionally, Gregory writes on the unique benefits a "queer" approach can have to rehabilitate black families and communities throughout the nation in the areas of law, sociology, social psychology, and public policy. These efforts spring from Gregory's upbringing in a nontraditional home, reared with his brother by his mother, older sister, grandmother, and uncle.
As a student, Gregory has maintained an emphasis on the LGBTQ experience both within and outside of the racial context. At Morehouse College in Atlanta, Gregory studied psychology and saw firsthand the makings of queer identity in the urban Baptist black South. In Los Angeles, Gregory has flourished, devoting much time and effort to understanding the queer experience. Much of this work has been in collaboration with the Williams Institute for Sexual Orientation and Gender Identity Law and Public Policy, housed at the UCLA School of Law. Through Williams, Gregory has been the student director of the nation's only LGBT moot court competition, served as the editor in chief of the Dukeminier Awards Journal of Sexual Orientation and Gender Identity Law, and, as the Gleason-Kettel Summer Fellow, worked on HIV/AIDS public policy. In the future, Gregory plans to enter legal academia, writing and teaching on race, sexuality, and law.
What Gregory hopes his scholarship will help him accomplish:
With this scholarship, I will be able to complete my last year of school without having to worry about student loans, ballooning interest rates, or how I will pay back all this money I owe. I will be able to walk into this school year with the entirety of my focus on making a name for myself within the LGBT community.
What Gregory is most excited about in being named a 2013 Point Scholar:
I am most excited about joining a large group of Point Scholars, alumni, and LGBT leaders nationwide and having the notoriety needed to be a true leader for social causes here and Los Angeles and throughout the country.
Gregory's words of advice to LGBT youth struggling with familial rejection, educational difficulties, or other hardships:
Being an "LGBT youth" is incredibly hard — the gays and lesbians on television and the Internet all seem to have their lives together and live in an open, free environment. What isn't shown is that the struggle and isolation of being young and LGBT make us work extra hard to find a place and a family that loves us, and to love ourselves for who we are. And it's worth every second.