7 Queer Poets You Should Know
BY

Daniel Reynolds
November 18 2013 7:00 AM ET
Excerpt from "Trans Figures" by Tim Trace Peterson
The voice wants to turn itself into a body.
It can't, though it tries hard —
it brings you flowers, to engender a meaningful
relationship. It makes you coffee in the morning.
Here, have a cup.
See? It likes you. It makes your bed
and shows you this mountain vista out the window
a field of jupiters beard and beyond it
the dying fields. It shows you things like the sun
going down, and then here it is coming up in the hollyhocks.
Don't look, you'll hurt your eyes. I want
to be there for you, you never respond
in those moments we touch (but they are not enough).
Let me stroke your hair once more, here,
and again here. The voice is growing distant
now, it is fading like the sun fades
and explodes in strands of parti-colored fibers
you will never be able to see.
Let there be breasts! (and there were breasts)
Let there be a penis! (and there was a penis)
or at least it looked like it from the viewer's perspective,
under those clothes. If only it were slim,
with wide hips! (and it was slim with wide hips)
Let there be taffeta, muslin, silk, velvet,
velour, or crinoline: and there were all these things,
in abundance. Let there be hard hats, biceps
bulging out of their shirts, buttocks like boulders
in tight jeans, and there were all these things,
across the landscape. The people looked around
and saw the abundances that language had given them.
The voice envied them. It could have none of this
to keep, but wanted you to think it did.
Smoothed my hand over the plush
Slipping my arms into the sheer
deep sound in my throat
my big breasts filling both my hands
Muscles rippling under my thin cotton shirt
Cleared my throat and began
Trailed blue smoke from my nostrils, like a lazy
Around my shoulders and across
To a party. Forget my hair for now
Clearing my throat, I glanced over
hips were small, and I wondered
Watching my cheeks flex as I suckled
felt hot against my almost naked
Riveted on the full, soft curve
Look around, my gray eyes unreadable.
In heels and a skirt, an elegant gesture of the arm
like this, a certain sweep of the neck
into necklace, the voice is trying to manifest
itself. It leaves its apartment after dark,
wondering if its neighbors will see it passing,
crossing the lawn, the tap of its heels
the only sound in the parking lot.
Excerpted from Since I Moved In by Tim Trace Robinson. Copyright 2007. Excerpted with permission from the author.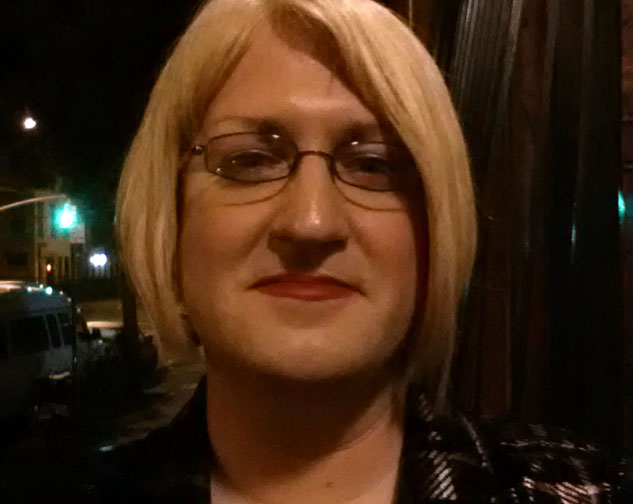 Tim Trace Peterson is a poet, editor, and scholar. Author of the poetry book Since I Moved In (Chax Press) and numerous chapbooks, Peterson is also editor and publisher of EOAGH and co-editor of the new anthology Troubling the Line: Trans and Genderqueer Poetry and Poetics (Nightboat Books). New poetry and criticism are forthcoming in Vanitas, TSQ, and Original Plumbing.