Tegan & Sara: Leaving a Political Record
BY

Matthew Breen
April 02 2013 7:00 AM ET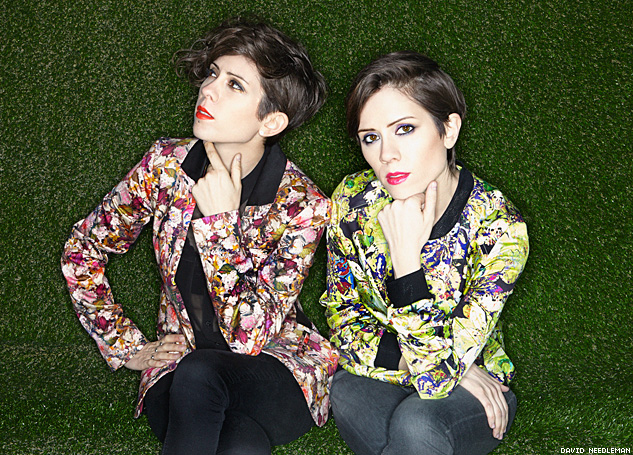 Then came a very illuminating conversation with Roberts. Tegan says, "We were almost asking for permission from him, like 'Is it OK? Are we going to hurt our career?' " She says Roberts's advice was formative. "It's so significant to me now to look back at that moment because what Elliot said to us could have steered us in a very different direction. He just said, 'Be yourselves. If you're gay, you should be comfortable, you should talk about yourselves. These are your experiences and your stories and your songs. And being authentic and being transparent with people is what's going to connect them to you.' And so off we went.… I'm so glad that Elliot said that, because if he had said, 'Let's play that down, let's get you on dates with Tobey Maguire and Leonardo DiCaprio,' I actually probably would have been straight then, if he'd said that."

The duo fully embraced the advice and have been out since that early point in their careers. Tegan continues, "I hate when [journalists] start a conversation with me where they say, 'People are always talking about you being gay, get over it already!' And I'm like, 'No, I don't want to get over it! You get over it yourself!' I want to be able to be gay and be a girl, and this shouldn't mean that I'm marginalized. I should be able to be a universal musician and appeal to both men and women, straight and gay."
(RELATED: Watch The Complete Interview With Tegan & Sara)

Still, the stage is for music, they insist. "Our job is to get up and play music," Tegan says. "That's why people pay to come and see us. At the same time our band is unique. People do come to hear us talk about things. There's never ever been a [political] agenda onstage, but there's also no rules. It's not like Sara and I got together and said, 'Only one gay comment tonight.' "

"As a political person who makes popular music that has nothing to do with politics," Sara says, "I think it's important to be visible and have my politics be visible in appropriate ways offstage. I don't want to make a political record, but I'm going to leave a political record offstage. That's the world that I want to live in. I don't do it all the time and I would never be reckless about my opinions, and we don't necessarily give ourselves rules, but when something's important to us we talk about it."

The band's most recent album, Sainthood (2009), was a firmly indie rock work, characterized by their plaintive vocals, lean arrangements, lots of guitar, and tons of their signature perfect hooks. "We really had found our stride in the indie rock community," Tegan says. "We were having a very gradual trajectory." But the compulsion to do something new and different was insistent.