The A-List Interview: Kerry Washington
BY

Brandon Voss
October 31 2013 4:00 AM ET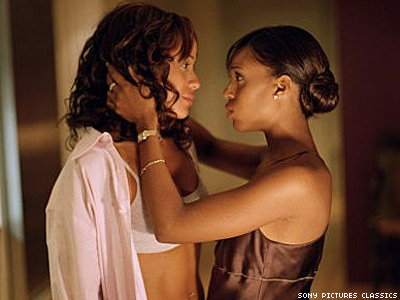 Dania Ramirez with Washington in She Hate Me
You've spoken about how director Spike Lee sent you and some of your costars to a "lesbian boot camp" to help prepare you for She Hate Me. Did you learn any valuable lesbian lessons?
Well, I definitely had a leg up — no pun intended — over most of the other women in the movie. Because of my experience with NiteStar, I went into it with a lot more information. The best part for me was when we would just go hang out together in lesbian clubs. I always approach a role like an anthropologist, so I like to lose myself in a culture and an identity. It was amazing to spend time in that world.
You played the prostitute lover of Brittany Murphy's prostitute character in The Dead Girl. Did you see them as lesbians, or was that just a codependent relationship rooted in loneliness and desperation?
Brittany and I talked about that. We felt that neither one of them were politicized enough to identify as lesbians, but they did have a deep commitment and love for each other. It was a lesbian relationship, but they probably would've identified as bisexual.
You also played Marybeth, a heroin-addicted transgender prostitute, in Life is Hot in Cracktown. Did you receive positive feedback from the trans community?
Yeah, I did. I had an amazing coach on that film, a phenomenal trans woman named Valerie Spencer. I spent a lot of time with her at home, at work, just hanging out. We also had a lot of trans women in the film, so we really wanted the community to feel present both on set and on screen.
There was some buzz a few years ago that you might play Kristin Chenoweth's lover in a Dusty Springfield biopic, but the project seems to have stalled. Now there are rumors of another Dusty biopic starring Adele. Could you see yourself opposite Adele?
Sure! Listen, I'm still a little partial to Kristin because she's so amazing, but I'd be honored to play the lover of either one of those gorgeous, talented women.
Presenting alongside you at the Emmys this year, Miss Diahann Carroll noted, "The men are much more beautiful than when I was doing television." Who has been your most distractingly beautiful leading man?
Oh, gosh! I can't compare! It's like asking a mother to pick her favorite child. I have been so lucky to work with the most amazing leading men in Hollywood, from James McAvoy to Jamie Foxx to Tony Goldwyn. How do you even begin to choose?
Can you choose a leading lady?
I will say that part of what's so wonderful about being on Scandal is that all the women in the cast, who are so different but so uniquely beautiful, are ridiculously supportive of each other. There's no backstabbing or weird competitiveness, like, "I don't want her to look as pretty as me!" We truly want each other to shine. They're more beautiful to me every day.