Destination: Berlin
BY

Matthew Breen
November 01 2013 4:20 PM ET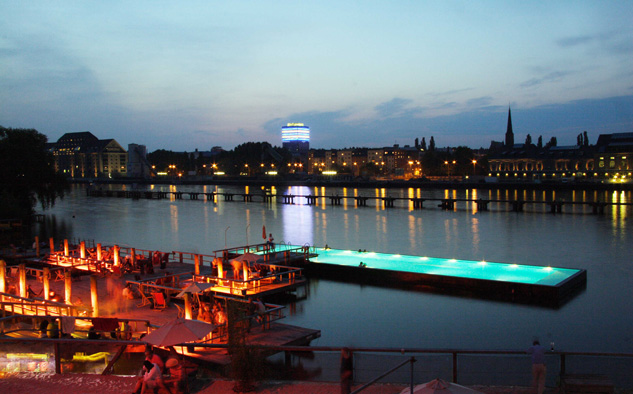 Germans gather at one of the outdoor bars facing the Spree River
KREUZBERG
Students, Turkish immigrants, and artists drive the gay scene in Kreuzberg. The district was a longtime hub for squatters and is marked by graffiti and street art—some of it gorgeous—and the notions of refinement and luxury are anathema to residents. The bars are often extremely packed and very casual, and stay open until the sun rises. Möbel Olfe (Moebel-Olfe.de) was once a furniture store, and on weekend nights is packed beard-to-beard with hirsute 20-somethings (don't go if some spilt beer will ruin your night or your outfit). The pink shag-carpeted kitsch jewel box of a bar Roses (Oranienstraße 187) is truly a must-see, and Schwuz (Schwuz.de) caters to under-21s with pop-themed nights. In summertime, Badeschiff (Arena-Berlin.de/Badeschiff) is a beach and pool that floats on the river Spree; it's men-only on Monday nights, and in winter it's covered and converted into a sauna.
Club Berghain (Berghain.de), located in a former 1950s power plant near the Ostbahnhof train station, is Europe's 800-pound gorilla of techno. Its name is a portmanteau of the names of the neighborhoods it straddles: Kreuzberg and Friedrichshain. The cavernous dance floor's ceiling is about 60 feet high, and the room has space for 1,500 guests of all stripes, but the provocative permanent exhibit of giant works by gay artist Wolfgang Tillmans and the labyrinthine space peppered with dark rooms make it clear that gays—and hedonism—rule this space. There's also Lab.Oratory (Lab-Oratory.de), a sex club in the basement.

PRENZLAUER BERG
This area has seen more changes than any district. A neighborhood populated by the working class and the very poor in the GDR days, Prenzlauer Berg became a site for illegal pop-up parties in abandoned or derelict buildings in the 1990s. Gentrification brought organic supermarkets, designer shops, galleries, families with children, and lots of money. But jabs at the modern moneyed in Prenzlauer Berg can be felt at flea markets, as well as at Pasternak (Restaurant-Pasternak.de), which offers delicious Russian dishes with menu names like "Proletariat" and "Peasantry" and features Soviet-style propaganda art on the walls. Kastanienallee is a see-and-be-seen avenue peopled with trendy shoppers, with plenty of sunny brunch spots in good weather. The beautiful Kollwitz Square is always busy, but especially so on Saturdays, when a large farmers' market takes over and organic butchers, fishmongers, and clothiers sell alongside vendors of flowers, fruit and vegetables, boutique chocolates, and folk art.