ONE Archives Exhibit Highlights Queer L.A. Mags Dating Back to the 1940s
BY

Neal Broverman
February 02 2013 2:06 PM ET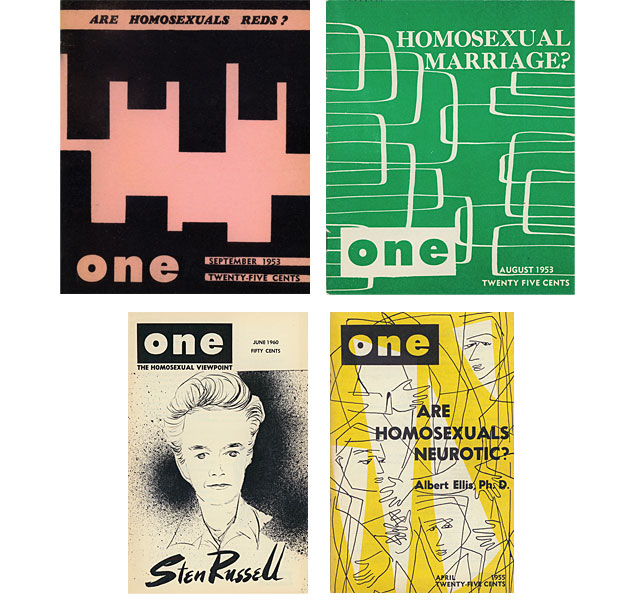 (Upper left) ONE magazine, Vol. 1, No. 9 (September 1953)
Early issues of ONE featured woodblock designs by the magazine's art director Joan Corbin, who used the pseudonym Eve Elloree to protect herself from being publicly identified as a homosexual.

(Upper right) ONE magazine, Vol. 1, No. 8 (August 1953)
The first widely circulated publication for homosexuals in the United States, ONE magazine was a vital progressive voice during the repressive McCarthy era, pioneering what was then called the "homophile movement." While initially sold hand-to-hand, by the mid-'50s ONE was available at select bookstores and newsstands throughout the United States, Mexico and Europe, as well as through subscription.

(Lower right) ONE Magazine, Vol. 3, No. 4 (April 1955)

(Lower left) ONE Magazine, Vol. 8, No. 6 (June 1960)
This cover of ONE Magazine features of portrait editor and writer Stella Rush, who used the pseudonym Sten Russell.