Beth Ditto Interview: Diamonds Are Forever
BY

Diane Anderson-Minshall
December 03 2012 3:45 AM ET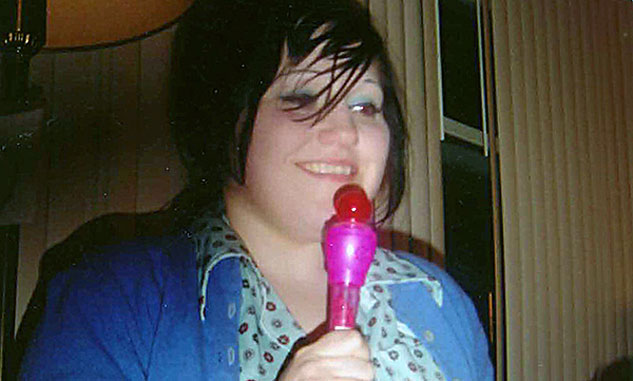 Above: Ditto in the 90s.

Battling the sarcoidosis wasn't the only issue at play, and as her health began to improve, Ditto had to deal with a "backed-up lifetime of festering sadness" that plunged her into a serious depression. So a band mate's then-girlfriend drove her to a psychiatric hospital and Ditto checked herself in to prevent her own suicide. "I needed babysitting," she says, and that's where adults go to make sure they aren't alone. Just as doctors had saved her body, therapists, she says, saved her mind.

Ditto is en route to her therapist's office today, in fact, sporting pants she got at Walmart and stopping to say hello to her neighbors — a nursing home attendant, a couple who live off disability — like any other Portlander, fame be damned. In fact, Ditto is able to remain nearly invisible in her adopted hometown of Portland, Ore. She thinks sexism keeps Gossip from getting much media attention there, even when the band wins awards or break records. But it helps when she wants to live an ordinary queer life, like today.

Her therapist has helped her get control over the figurative negative voices in her head, something she says all LGBT people should do. "Don't judge them, don't discard them necessarily, don't fight them off. Just know what you're thinking."

What Ditto had to confront in that psychiatric hospital wasn't your usual quarter-life crisis. She had to deal with having been molested by her uncle as a child and being disappointed that nobody, including her mother, stepped in to stop it. Ditto says it took the sarcoidosis to push her to reconcile her abuse and disillusionment.

"I woke up and I was 24 one day and I was having a really hard time. I was really sick. And I just called her. I was like, 'Look, I need to talk to you about something. I need you to listen. I need you to apologize to me. And we'll never have to talk about it again.' And I did. And she did. And we got super emotional. We were on the phone for a couple of hours. I could hear it in her voice just how small it made her feel."

Ditto says being a feminist and understanding the cycles of abuse that women go through, it wouldn't "be any good for me to harbor those resentments toward my mother when she in fact was a victim of it herself. She did the best that she could. I think when I put all of that into perspective it becomes really easy for me to just forgive."

Her mother — who, as an abused 12-year-old, found herself in court while attorneys debated whether she had in fact been raped — never had access to therapy. "She wasn't reading The Courage to Heal, she wasn't reading these books. I mean, Courage to Heal saved my fucking life. And my mom didn't have that. My mom was raising babies. And she didn't have time to contemplate life."

Smart, giggly, surprisingly unassuming and friendly, Ditto in person is much more approachable than the bold, brash, and larger-than-life persona she presents on the world stage. Singing since she was 6 years old, Ditto believes her mom cast "weird spells" over her that have protected her through the years. One of them came just after Ditto began to realize she was queer during high school — she immediately tried to get pregnant, to disprove the lesbianism, with her then-boyfriend Anthony.

"I always think about how much of a struggle that would be, where I would be in my life. I feel like I'd be pretty miserable. I definitely don't think I'd be a singer in a band. I think I'd probably be a hairdresser. Maybe I'd work at Walmart."

Anthony put the kibosh on Ditto's teen baby-making plans. "Thank God I had a really smart boyfriend who was like, Are you fucking crazy? Well, I'm not ruining our lives. To this day, I can't speak of him highly enough and how wonderful he was," she says. "He had so much to do with that, with me coming out and stuff like that. I could talk to him about it.