A List: Busy Philipps Is as Awesome as She Seems
BY

Brandon Voss
January 07 2013 5:00 AM ET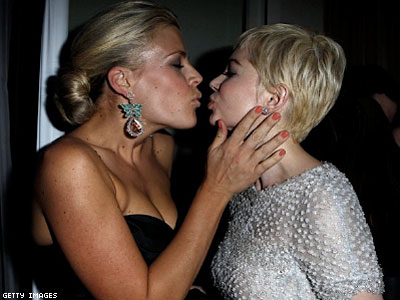 At left: Philipps and Michelle Williams
Is there room for a regular gay character on Cougar Town?
I hope so, and I want them to be my character's best friend. I will want every scene with them. I'm so happy that network television on the whole is embracing more gay characters now than it did when we had Jack on Dawson's Creek, which was a huge deal at the time. I love that we've chipped away at the celluloid closet and have wonderful programs that feature gay and lesbian characters in really rich, fully developed ways.

You recently shot a video for HRC's Americans for Marriage Equality campaign. Why did you get involved?
It's ludicrous that my friends in California aren't able to legally get married. It's a civil rights issue. In 20 years we're going to look back at tapes of these antigay people saying ridiculous things on the news and it's going to sound as antiquated as the newsreels of horrible racists from the '50s. Why is marriage equality important to me? Because I'm a decent human being.

You mention in the clip that you're raising your daughter Birdie to live by the Golden Rule. How's that working out?
We try to stay away from fast food, but my daughter loves Chick-fil-A. One day she overheard me talking to my mother about the whole antigay debacle. Days later, my husband was with her in the car — she was almost 4 at the time — and she said, "Daddy, we can't eat Chick-fil-A anymore. The guy who owns it is so weird. He thinks a guy can't marry a guy and a girl can't marry a girl. But we know better!" She doesn't get that she's making a statement. She just thinks the Chick-fil-A man is confused or crazy.

Were you raised with similar values?
I grew up in a liberal family. I was a theater kid in high school, so some of my earliest friends were gay boys. After one of my best friends came out to his parents, there was discussion as to whether or not he'd be allowed to go to church with his family on Easter. I remember that my dad said to me, "I want you to tell him that I would be proud for him to come to church and sit with us." Both of my parents clearly sent the message to me that a different sexuality doesn't make someone scary or less than. One of my mom's best friends growing up was also gay — I think she found out after they went to prom together — and he passed away of AIDS in the early '80s. It deeply affected my mom, and I think that informed how she raised my sister and me. Now my world is populated with gay people.

Michelle Williams, your BFF, took you as her date to big events during last year's awards season. How did you react when you heard the lesbian rumor?
Honestly, this is the first I'm hearing it! I get why people would say that about us, though. It does seem plausible. It's like Oprah and Gayle or Dolly Parton and her best friend. I believe sexuality is fluid, and women can have a deep love and affection for other women. My friendship with Michelle has stood the test of time, and we've been together through many different versions of our lives. I love her as deeply as I love almost anyone. But we don't do it. The gay rumors for me actually started in high school with my best friend Kate. For our senior yearbook page we submitted a cute picture of us being silly, almost kissing, with a caption that read, "The rumors are true." Unfortunately, the yearbook staff deemed it inappropriate.

I still can't believe you never read that rumor about you and Michelle.
Sometimes I do have to check the gossip sites to see if, like, Jessica Simpson is pregnant again, but my days of Googling myself have long since passed.