If the Shoe Fits
BY

Diane Anderson-Minshall
July 09 2013 4:00 AM ET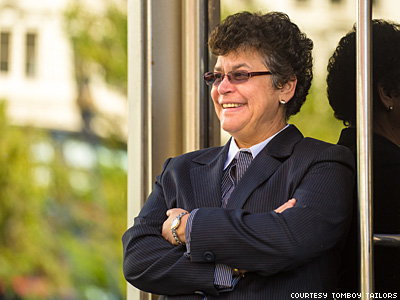 At Crocker Galleria in San Francisco, there's no wait to look dapper. In fact, Tomboy Tailors' small storefront is often filled with all sorts of women, men, and folks in between. And regardless of gender, everyone is interested in the shoes.
"No suit is complete without a great pair of shoes," says Anders. "We've made some arrangements with shoemakers, like Kenneth Cole, who has agreed to create new molds down to men's size 5 so they can provide us with their shoes in a wider range of sizes to better serve our clientele." Allen Edmonds and Carlos Santos are other shoemakers offering new sizes and widths for women's feet, and Allen Edmonds hosted a trunk show at the store this spring. It was a chance for yet another men's designer to blur gender and fashion and expand their market in a way that wouldn't have been thought possible 20 years ago, when companies were still allowed to demand female employees wear dresses and makeup.
Going gets academic, theorizing, "We are moving up on Maslow's Hierarchy of Needs, out of the 'food/shelter/safety' section and on to the more creative, self-actualization-related areas of the triangle. And, lest these endeavors around dress seem trivial, as we express ourselves in ways that undermine the gender binary, we are helping to create change around the world."
So while the mainstream fashion world is looking to Legler and de Brauw, asking whether men will really want to buy clothing modeled by a woman, it's clear that masculine lesbians, butches, bois, trans men, and genderqueer folks already know what they want. And they'll spend money to get it.