Op-ed: Our Families Are More Than Capable of Making the Grade
BY

Sharon Czerwinski
July 03 2013 4:15 AM ET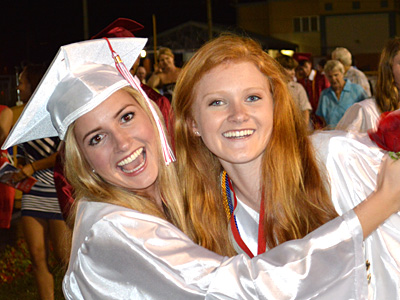 Left: Liz and Erin
Liz and Erin will be leaving Key West as they enter college and begin the next chapters of their lives. They have made subtle comments wondering if their new hometowns will be as embracing of others as the one they are leaving. The world currently seems to have great momentum toward love and compassion. Our hope is that every positive interaction and experience will continue to propel kindness and humanity to new heights.
Make no mistake, the lives of my family and other LGBT families have improved greatly over the past 17 years.
The Supreme Court struck down part of DOMA and California's Proposition 8. Changes in federal laws and policies ensure that same-sex couples and their families have hospital visitation rights. Many communities have passed laws protecting us against discrimination in housing or public accommodations. A few states have updated laws and policies allowing us to create families through joint adoption. Marriage equality is now the law in 13 states and the District of Columbia.
In many of these cases, the stories of our families and the voices of our children have helped change the hearts and minds of lawmakers and policy makers.
They have grown to understand that we are part of the diverse fabric of American families and that our children deserve the same legal and economic protections as their peers.
For opponents who have questioned the value of our families, there is now valid research, national advocacy groups like Family Equality Council, and yes, examples of families like mine who all are sharing the same evidence: that our kids are growing up with positive outcomes.
Now, as we send our twins off to school, I am proud, not only of their accomplishments but of the world I am sending them off into. It's a world where they will grow up and be distinguished not for who their parents are but for what they can contribute to the world.

SHARON CZERWINSKI lives with her partner, Caroline Bauer, and their daughters, Erin and Elizabeth, in Key West, Fla.