Person of the Year: Tammy Baldwin
BY

Julie Bolcer
January 04 2013 10:00 AM ET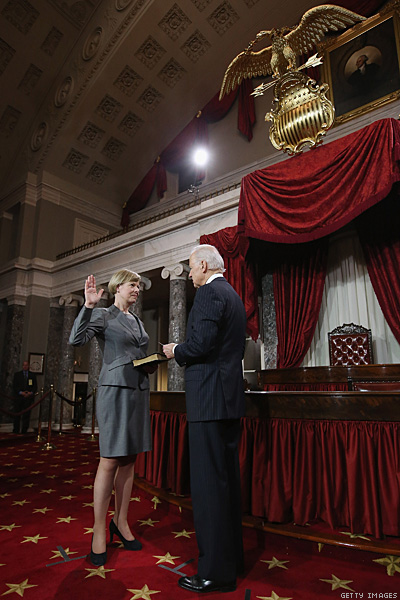 Left: U.S. senator Tammy Baldwin participates in a reenacted swearing-in with Vice President Joe Biden in the Old Senate Chamber at the U.S. Capitol Thursday in Washington, D.C.
Baldwin asked the Senate's Democratic leadership for committee assignments that would allow her to best serve her Wisconsin constituents while applying expertise and interests she nurtured in the House, such as in the health and human services areas. She says she's "thrilled" with her assignments, which include posts on the Health, Education, Labor, and Pensions Committee; the Homeland Security and Governmental Affairs Committee; the Special Committee on Aging; and the Budget Committee.

As the 113th Congress opens, Baldwin lists a mix of long-standing and more recent LGBT priorities on which she plans to play a leading role. In the Senate she will be part of the majority party, which improves her chances of advancing the agenda.
Marriage equality will continue to receive considerable attention this year with the Supreme Court set to hear challenges to the Defense of Marriage Act and Proposition 8, the California marriage ban. Legislation to repeal DOMA passed the Senate Judiciary Committee in 2011 but has yet to receive a hearing in the House, where the Republican majority continues to finance the court defense of the 1996 law. A total of three Republicans had signed on to cosponsor the repeal measure, known as the Respect for Marriage Act, by the close of the 112th Congress, but the bill will need to be reintroduced in the new session.

Baldwin says she expects proponents of repeal to engage in "careful coordination and communication" with the Supreme Court litigants. Some legal scholars have expressed concern that legislative action could bolster DOMA defenders, who argue that LGBT people are politically powerful and do not need the court to intervene on their behalf.

"One thing I would certainly push strenuously is early introduction of both the repeal bill in the House and the Senate and every effort possible to have a growing number of cosponsors that signal clear additional support in the direction of repeal of the Defense of Marriage Act," she says.

The new session offers an opportunity for "bold action" in the Senate on an inclusive Employment Non-Discrimination Act with protections against discrimination based on sexual orientation and gender identity, while the climate appears "very ripe" for laying more groundwork in the House, Baldwin says. Although she will have to step down from the LGBT Equality Caucus she cofounded with former congressman Barney Frank of Massachusetts in 2008, she hopes the group, which has expanded to more than 100 House members, continues its work on ENDA.

"A lot of education still needs to go on," she says. "I hope they grow that stronger but use it as the very strong vehicle it has been to educate on Capitol Hill, to provide briefings to make sure people still recognize the very significant need for this legislation in the areas of the country where there are no legal protections for people in the LGBT community."

While the Senate Health, Education, Labor, and Pensions Committee holds jurisdiction over ENDA, another of Baldwin's assignments, the Homeland Security and Government Affairs Committee, oversees the Domestic Partnership Benefits and Obligations Act, which she also lists as a priority. The legislation would extend benefits to the same-sex partners of federal employees, which remains relevant as long as the fight for marriage equality continues.

Baldwin also sees prospects for antibullying legislation, "perhaps as an element of a broader education bill," even with the House under control of a "majority of anti-equality Republicans."

"That's going to be an impediment to passing bills from both houses and getting them to the president's desk," she says. "That said, this might be one where we can get something through the House, and we're going to push to make that happen. I plan to be working very closely with the sponsors in each house on that."

The House now includes six openly LGBT representatives, a record high number. Baldwin, whose experience encompasses the passage of the Matthew Shepard and James Byrd, Jr. Hate Crimes Prevention Act and "don't ask, don't tell" repeal, looks forward to sharing lessons from the trenches with the group, which includes four freshmen. One of the new members, Rep. Mark Pocan, won her former seat in Madison and made Wisconsin the first state with two openly gay members of Congress.

"The newcomers have a huge learning curve ahead of themselves but also are all leaders already in their own rights, and I certainly see myself helping to mentor them to the extent that one can do so from across the Capitol," she says.

As the first openly gay senator, Baldwin can be relied on by media as a voice for LGBT Americans. Not every elected official embraces the work of spokesperson or role model, but Baldwin views the Senate's more prominent platform as a chief asset. She says the "gradual" trajectory of her 25-year political career, from local to state and federal office, helps reduce the pressure that would seem to come with the higher profile.

"It's a more visible accomplishment, more people are aware of it, but because it's happened gradually, I think it makes it easier to keep it real," she says. "I'm just a person. I'm just a woman from Madison."