Give Homeless LGBT Youth a 'Shred of Hope'
BY

Advocate.com Editors
June 20 2013 6:00 AM ET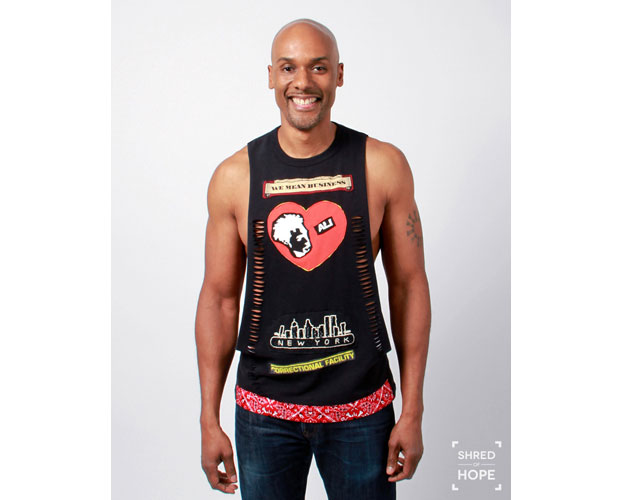 KEITH BOYKIN
"I wanted to participate in the Shred of Hope project for the Ali Forney Center to help raise awareness about the needs of LGBT homeless youth in New York City. I remember when I first moved to New York in 2001 and I used to see hundreds of LGBT youth on Christopher Street in Greenwich Village, and then over time they mostly disappeared. Many of those young people didn't have homes or supportive families and communities to help them, and so I'm glad the Ali Forney Center exists to provide services for them. As a writer, my last book, For Colored Boys Who Have Considered Suicide When the Rainbow Is Still Not Enough, deals with the crises facing LGBT youth of color. Supporting Ali Forney seemed like a great way to continue the outreach of the book and help raise money for a worthy cause."

Keith Boykin is a CNBC contributor, MSNBC commentator, BET columnist, and New York Times best-selling author. Each of Boykin's four books has been nominated for a Lambda Literary Award, including his most recent book, For Colored Boys..., which also won the American Library Association Stonewall Award for Nonfiction this year.

Educated at Dartmouth and Harvard, Boykin attended law school with President Barack Obama and served in the White House as a special assistant to President Bill Clinton, being at one time the highest-ranking openly gay person in the Clinton White House. He also helped organize and participated in the nation's first meeting between a sitting president and LGBT leaders.

Boykin has been actively involved in progressive causes since he worked on his first congressional campaign while still a student in high school. He is a veteran of six political campaigns, including two presidential campaigns, and he was named one of the top instructors when he taught political science at American University in Washington.

Boykin has traveled extensively across four continents, and in 1997 President Clinton appointed him, along with Coretta Scott King and the Reverend Jesse Jackson, to the U.S. presidential trade delegation to Zimbabwe.

After starring on the 2004 Showtime television series American Candidate, Boykin has since appeared on numerous national media programs, including Anderson Cooper 360, The O'Reilly Factor, The Tyra Banks Show, The Montel Williams Show, Judge Hatchett, and The Tom Joyner Morning Show.

A founder and first board president of the National Black Justice Coalition, Boykin has spoken to audiences large and small all across the world. He delivered a landmark speech to 200,000 people at the Millennium March on Washington, and he gave a stirring speech about the AIDS epidemic in front of 40,000 people in Chicago's Soldier Field in July 2006.

Boykin was an associate producer of the 2007 feature film Dirty Laundry and has recently taped a television appearance in an upcoming BET drama series.

His third book, Beyond the Down Low: Sex, Lies and Denial in Black America, spent four weeks on the New York Times best seller list. Boykin won the Lambda Literary Award for his second book, Respecting the Soul, and his first book, One More River to Cross, is taught in colleges and universities throughout the country.

Born and raised in St. Louis, Boykin now lives in New York City and Miami.