Give Homeless LGBT Youth a 'Shred of Hope'
BY

Advocate.com Editors
June 20 2013 6:00 AM ET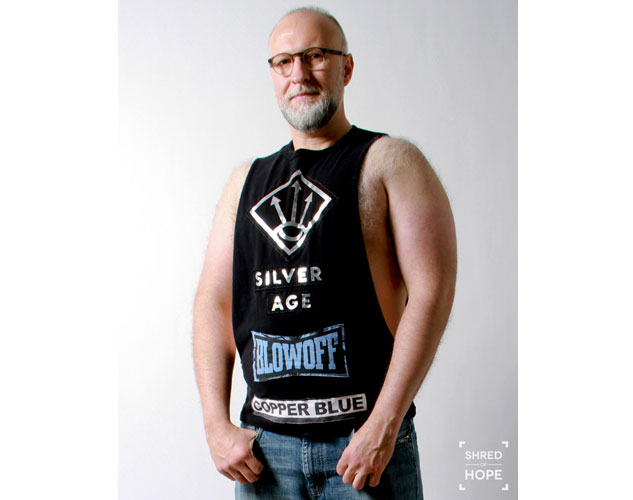 BOB MOULD
"I lived in New York City in the 1990s. I remember seeing homeless kids hanging out along the Hudson River near the Christopher Street PATH station. New York City can be a rough place, but growing up in a violent home is even tougher for LGBTQ teens.

"We need places like Ali Forney Center to help homeless youth safely find their way. When I heard about the terrible damage to the center due to Hurricane Sandy, I wanted to help. Blowoff helped to raise initial funds in November 2012. And now, with Shred of Hope, Nasty Pig is bringing greater awareness to Ali Forney Center.

"I am humbled and honored to be part of this campaign."

Bob Mould is an American guitarist, singer, and songwriter. Mould was the leader of influential 1980s hardcore punk group Hüsker Dü and has released several solo albums including 1989's acclaimed Workbook. In 1992, Mould created the alternative rock trio Sugar, yielding three Top 10 albums as well as several music videos that were featured on MTV.
Mould cofounded Blowoff, a D.C.-based DJ event, in 2003. After moving to San Francisco in 2009, Mould was part of the Zoo and Distortion+ parties. Mould was the DJ at Milton Keynes National Bowl outside London for 65,000 Foo Fighters fans. Mould also toured America with the Foos as both a DJ and guest vocalist-guitarist.

Mould's autobiography, See A Little Light: The Trail of Rage and Melody, was published by Little, Brown in June 2011. In late 2011, Mould's three-decade-plus songbook was honored at Walt Disney Concert Hall in Los Angeles, and the concert documentary was released in 2012.
September 2012 saw the release of rock album Silver Age, followed by worldwide touring as well as appearances on Late Show With David Letterman, Conan, and Late Night With Jimmy Fallon. Mould also performed on the world-famous PBS series Austin City Limits.
Mould and his band are currently performing at festivals, theaters, and clubs in Europe and North America.