Give Homeless LGBT Youth a 'Shred of Hope'
BY

Advocate.com Editors
June 20 2013 6:00 AM ET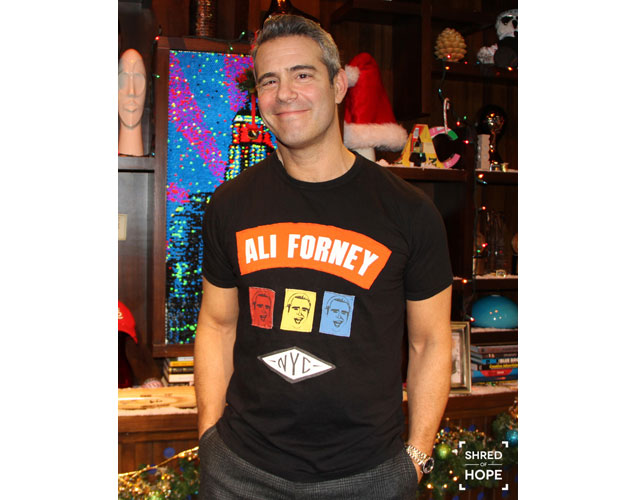 ANDY COHEN
"When I learned that 40% of all homeless youth are LGBTQ, I was shocked. These kids are among the most vulnerable members of our community and they need our help. I am glad to have the opportunity to help spread awareness of this ongoing tragedy and raise money for Ali Forney Center, who are doing such good work to get these kids back on their feet."
Andy Cohen is Bravo's executive vice president of development and talent, a position he has held since November 2011. He is responsible for overseeing the network's current development slate, creating original content, developing innovative formats and identifying new talent. He also serves as executive producer on Emmy- and James Beard award-winning Top Chef and the Real Housewives franchise.
In addition, Cohen is the host and executive producer of Watch What Happens Live, Bravo's late-night interactive talk show that features guests from some of Bravo's most popular series as well as from the worlds of entertainment, politics, and pop culture. The series includes lively discussions on everything from fashion to the latest on fans' favorite "Bravolebrities" to what celebrity is making headlines that week. Past guests have included Sarah Jessica Parker, Tina Fey, Liam Neeson, Jerry Seinfeld, Jimmy Fallon, Patti LaBelle, Molly Shannon, Kristen Chenoweth, Tracey Ullman, Anderson Cooper, Ellen Barkin, Kelly Ripa, Mark Consuelos, Diane Von Furstenberg, and Lance Bass as well as several Bravolebrities. Cohen also hosts the network's highly rated reunion specials and writes Andy's Blog, posted daily on BravoTV.com, where he covers pop culture, television, media, and his daily life.
Last December, GQ Magazine named Cohen one of the 25 best dressed men of the year, and in June 2012 Cohen became a New York Times best-selling author with the release of his first book, Most Talkative: Stories From the Frontlines of Pop Culture, published by Henry Holt.
Cohen received an Emmy Award when season six of Top Chef won outstanding reality competition program at the 2010 prime-time Emmy Awards, and has been nominated for 12 additional Emmys as executive producer of Project Greenlight, Project Runway, Top Chef, and Queer Eye for the Straight Guy.
Born in St. Louis, Cohen is a graduate of Boston University, where he received a BA degree in broadcast journalism. Cohen is currently on the board of directors for charity Friends in Deed and resides in New York City.