The RIAA's Joel Flatow Marries Music and Politics for Your Benefit
BY

Neal Broverman
January 20 2013 6:29 PM ET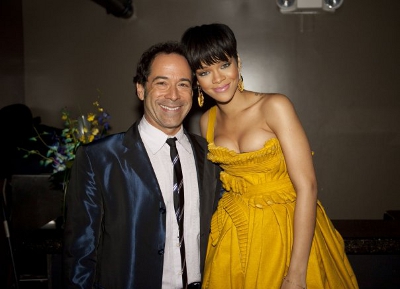 So usually these performances benefit charity?
The charities are the focus, in fact. When you have critical mass and the eyes of the nation to bring attention to worthy causes, it makes sense. In my personal time, I'm really honored to be on the Trevor Project's board and AIDS Project Los Angeles. And be involved in the NOH8 campaign. Those are labors of love.
Have you helped hook up organizations like the Trevor Project with artists?
Yes, and it's such a great honor. Trevor, because of their cause and the space they occupy in suicide prevention and crisis intervention, taps into a lot of feeling and emotion. It's a beautiful ask to make and a reflection of the artists' themselves who get involved. Recently, we had an event in New York that honored MTV and having just read the most incredible statement and treatise on gay rights advocacy by the band fun., by Jack Antonoff, specifically, they really felt like a perfect fit for Trevor. Their manager said it took them 30 seconds to decide to do the event. They are definitely one of my heroes right now. They articulate that you can't be passive about this as straight allies.
Are there some artists who are reticent about lending their name to political events or causes?
Yes. I think it's actually become a smaller proportion, and there's a difference between getting involved in the pure politics and getting involved in a cause. I think you'll see from the artists that they want to get involved in something they believe in and they see they have a bully pulpit. It's a beautiful thing; you see the great majority of artists getting involved in causes. The pure politics; that's very personal, some do and some don't.
Artists like Beyoncé and Jay-Z don't hide their support of President Obama.
Yeah, last year was a highly political year, and artists on both sides saw a lot of stake.
You helped make the Fleetwood Mac moment happen at Clinton's 1993 inauguration happen, right?
I was very honored to help make the Fleetwood Mac moment and assemble the group on the White House lawn [watch the group's performance below]. That song ["Don't Stop (Thinking About Tomorrow")] really became the anthem of that race.
Working for the RIAA, can you outwardly support the Democrats or the Republicans?
No, I cannot. But in my personal life as a gay man, I feel we're at a watershed moment with the mix of politics and culture. I've been really lucky my career has been where the two meet and it's really a study of which has more influence — policy and politics or culture and entertainment — and it's really both. We're at this incredible moment where we have a president who embraced gay marriage and is advocating for it actively, but you have a cultural moment with Frank Ocean and his really personal statement, and a hip-hop community that's embracing that and looking ahead. It's not to say we're there yet that and there isn't a lot to overcome in that community. But people like Jay-Z and Russell Simmons support Frank. It's a cultural moment; it's cool now to support gay rights and gay marriage. That's important. But it wouldn't have been possible without heroes like Melissa Etheridge, who we can never underappreciate. As well as Madonna, Cher, and Gaga.
So you don't think Frank Ocean is an anomaly?
That's a fair question. I think it was such a personal moment [when he wrote about a same-sex relationship] and because it was so personal and raw and honest, that's why his whisper caused a ripple. It was a singular moment but also a resonant one in that others immediately tweeted about it and embraced it. I think that will embolden others.