22 Russians Who We Won't Let Vladimir Putin Forget Were LGBT
BY

Christopher Harrity
August 06 2013 6:00 AM ET
The latest wave of Russians on the cutting edge are making their statements — in spite of oppression from the mother country — in photography, publishing and music, all with a focus on activism.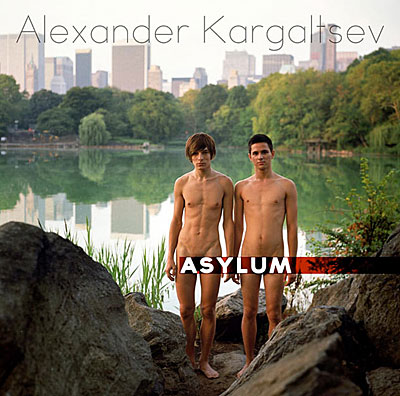 Alexander Kargaltsev
Alexander Kargaltsev's photographic project "Asylum" explores the lives of gay men who fled Russia for the United States due to the violence and hatred they have encountered in their motherland.
Kargaltsev's portraits expose the dire situation of the LGBT community in Russia. They contain a poignant message of hope for a life free of fear in the New World. The models, in their nakedness, reveal their courage in shedding many layers of fear, emerging from their harrowing past, bare and vulnerable, yet proud.
For more on this previous exhibit: Advocate.com and Kargaltsev's website, Kargaltsev.com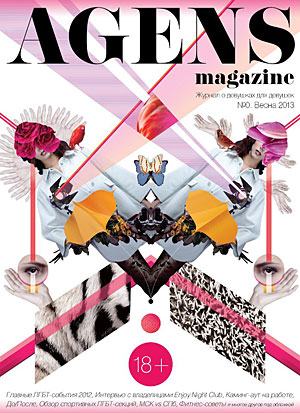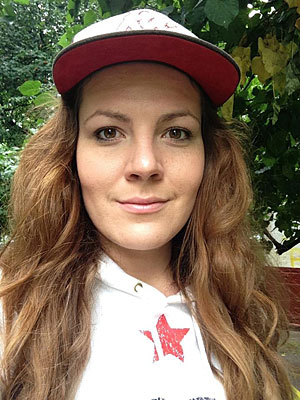 Agens editor Milena Chernyavskaya
Agens, which translates from Latin to mean "driving force," describes itself as "A Magazine About Women for Women," and carries a disclaimer warning that the magazine is only for those aged 18 and older. RIA Novosti reports the magazine's claim that it is the only printed, glossy publication for lesbians in the country, and the magazine's editor in chief says it intends to help balance the lack of information available to Russia's LGBT community.

"The LGBT community has to deal with an information blackout," said Milena Chernyavska, the editor in chief and a graduate of Moscow State University's journalism program. "Russian gay men and lesbians don't know each other and think that they cannot be happy, because everyone around them abuses them."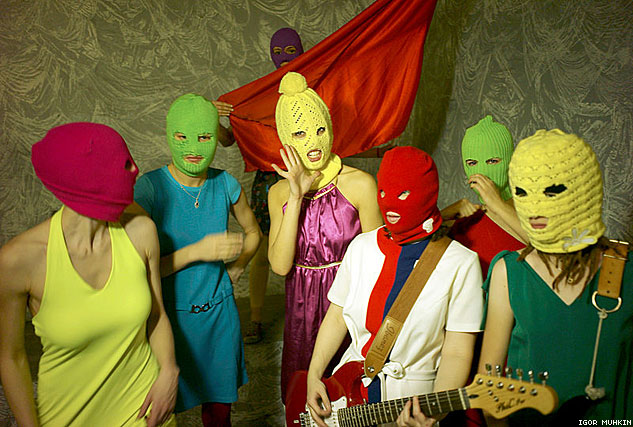 Above: Some of the rotating members of Pussy Riot
Pussy Riot
Pussy Riot is a Russian feminist punk rock protest group based in Moscow. Founded in August 2011, it has a variable membership of approximately 11, women ranging in age from about 20 to 33, who wear brightly colored balaclavas and use only nicknames during interviews. They stage unauthorized, provocative guerrilla performances in unusual public locations, which are edited into music videos and posted on the Internet. Their lyrical themes include feminism, LGBT rights, opposition to the policies of Russian President Vladimir Putin, whom they regard as a dictator, and links between the leadership of the Russian Orthodox Church and Putin.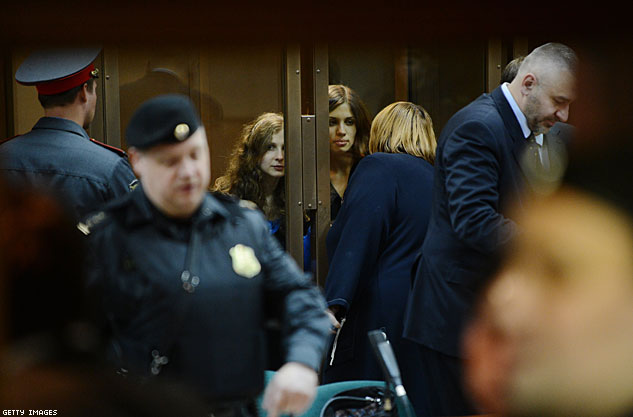 In October 2012 two members of Pussy Riot, Maria Alyokhina (back left) and Nadezhda Tolokonnikova (back center) were jailed and sentenced to serve two years in a prison camp. And as late at this month, they were still denied parole. According to the New York Times, Nadezhda Tolokonnikova was told by a court in Saransk that she had not sufficiently repented for her act of "hooliganism" in performing at a Moscow Orthodox cathedral last year. Maria Alyokhina received similar news from a court in Perm. Both are being held in prisons near their courts, and are not expected to be released until next year. )Source: Wikipedia, Getty Images, and The New York Times.)