Seat Filler: The Advocate's Guide to the 2011-12 Broadway Season
BY

Brandon Voss
May 09 2012 9:37 AM ET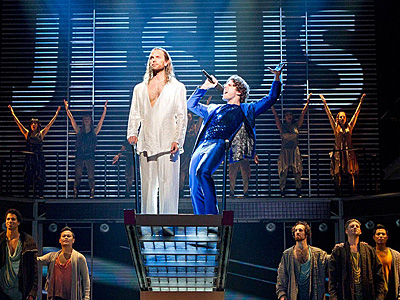 Jesus Christ Superstar
What's the buzz? Arena-rocked by a Broadway orchestra, Andrew Lloyd Webber and Tim Rice's biblical score still gives the goosies, but I don't know how to love Des McAnuff's semimodernized, schizophrenically costumed revival. The appealing Paul Nolan and Josh Young are unevenly electric as Jesus and Judas, but Bruce Dow's showstopping King Herod is as gay as the harnessed, codpiece-clad temple go-go dancers.
Neil Simon Theatre, open-ended.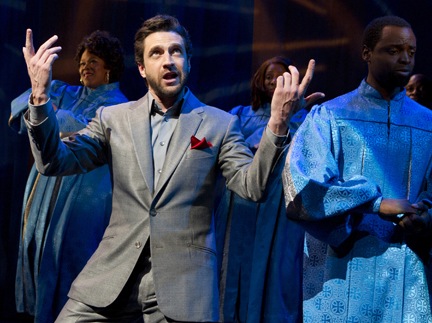 Leap of Faith
Though he fails to truly catch the holy spirit like Steve Martin in the 1992 film version, Taboo's Raúl Esparza gives a cool, confident performance as comely evangelist con man Jonas Nightingale, who learns lessons in life and love when his traveling ministry is stranded in small-town Kansas. Audience interaction and modern technological updates feel forced and desperate, but Alan Menken's rousing revival numbers leap off the stage.
St. James Theatre, closed May 13.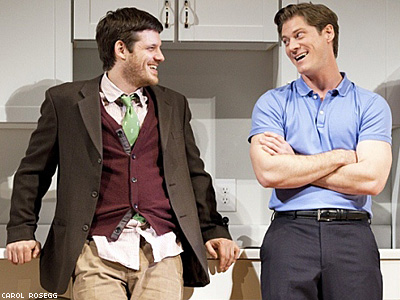 The Lyons

A patriarch's death propels this swift, satisfying dysfunctional family comedy about human disconnection by gay playwright Nicky Silver. With priceless reactions and line readings, Linda Lavin milks every possible laugh from Rita, the unappreciated mother of two emotionally damaged grown children. Michael Esper, who recently played a gay escort in iHo, is a standout as Rita's gay son, a loner obsessed with his hunky neighbor.
Cort Theatre, open-ended.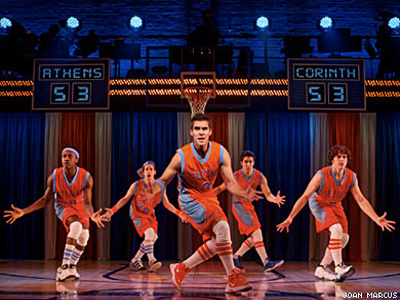 Lysistrata Jones
With High School Musical and Xanadu as muses, Transport Group scores big with a bouncy hip-pop confection by life partners Douglas Carter Beane and Lewis Flinn that slam-dunks an update of a 411 B.C. Aristophanes comedy onto a college basketball court. Patti Murin channels Elle Woods as Lyssie, who dares her gal pals to withhold sex until their lazy boyfriends win, but two hot teammates would rather play ball with each other.
Walter Kerr Theatre, closed May 12.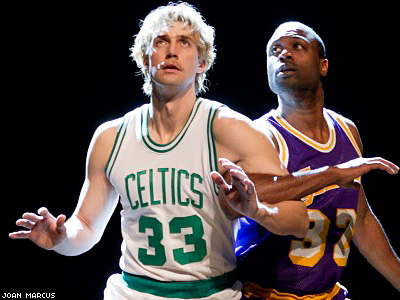 Magic/Bird
Following the success of his superior sports bio-play Lombardi, Eric Simonson admirably explores the fierce rivalry and eventual bromance between two living basketball legends, gregarious Earvin "Magic" Johnson (Kevin Daniels) and laconic Larry Bird (Tug Coker). The action is bookended by the revelation that Magic has contracted HIV, but there's not enough drama, conflict, nor excitement to match the real game clips projected onstage.
Longacre Theatre, through May 12.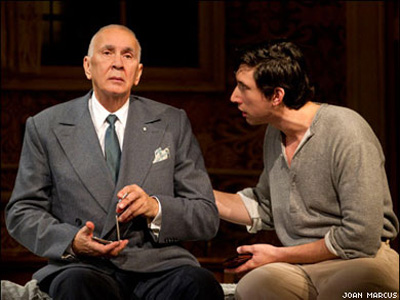 Man and Boy
Roundabout Theatre Company's stately revival of closeted playwright Terence Rattigan's 1963 daddy drama stars a mesmerizing Frank Langella as a Madoffian businessman on the edge of financial ruin in 1934. Seeking refuge in the Greenwich Village apartment of his estranged son Basil (Angels in America's hunky Adam Driver) to close a deal, he slyly pimps Basil out in order to coerce and dupe a secretly gay tycoon (Zach Grenier).
American Airlines Theatre, closed November 27.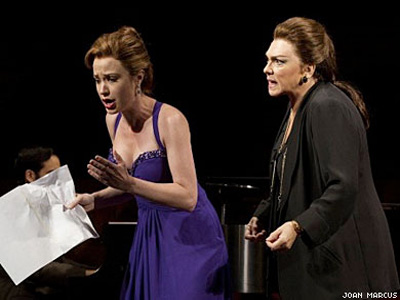 Master Class

In Manhattan Theatre Club's clean, engrossing revival of Terrence McNally's 1995 play, the chameleonic Tyne Daly of Cagney & Lacey fame seems to have been possessed by the bitchy, witty, and self-absorbed soul of legendary opera diva Maria Callas, seen here reflecting on her life and art while teaching a master class in the '70s. As an unexpected treat, the selections sung by her students are powerful enough to raise goose bumps.
Samuel J. Friedman Theatre, closed September 4.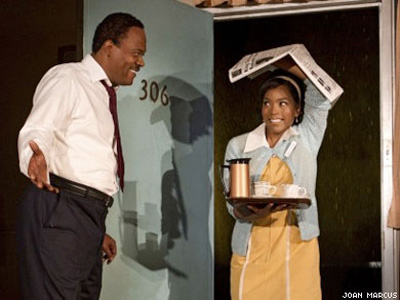 The Mountaintop
Katori Hall's powerful Olivier-winning drama stars a transformative Samuel L. Jackson as Dr. Martin Luther King Jr. on the night before his 1968 assassination in Memphis, and Angela Bassett is a sassy hoot as an enigmatic maid at the Lorraine Motel, where the civil rights leader rests after a legendary speech. This Dr. King supports "fruits" as "God's children," and — spoiler alert! — Stonewall even gets a shout-out in the magical climax.
Bernard B. Jacobs Theatre, closed January 22.