Seat Filler: NYC Theater Guide for November 2012
BY

Brandon Voss
October 30 2012 9:00 AM ET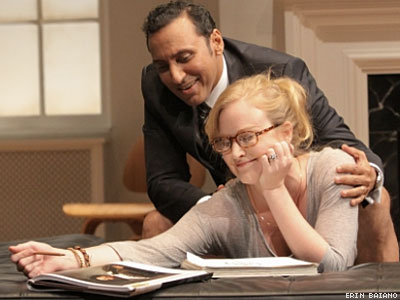 Disgraced
At the racially and religiously diverse Manhattan dinner party thrown in Ayad Akhtar's smart, snappy drama, the claws come out before the fennel salad is finished. Leading this exceptionally strong cast with a powerful performance that will startle and impress fans who know him only from The Daily Show With Jon Stewart, Aasif Mandvi plays an ambitious Pakistani-American lawyer unhealthily distancing himself from his cultural roots with disastrous results.
Claire Tow Theater, through December 2.


Grace
Faith and reason clash in this tense, taut little thriller by Dirty Sexy Money creator Craig Wright. Starting with the literal bang of a murder-suicide, this beautifully acted black comedy eerily backtracks to reveal how a likable evangelical Christian like Steve (Paul Rudd) could become so dangerously unhinged while his wife comforts a disfigured neighbor (Michael Shannon). Ed Asner is also a treat as an exterminator and Holocaust survivor.
Cort Theatre, through January 6.