Seat Filler: Holidays 2012 NYC Theater Guide
BY

Brandon Voss
December 06 2012 10:46 AM ET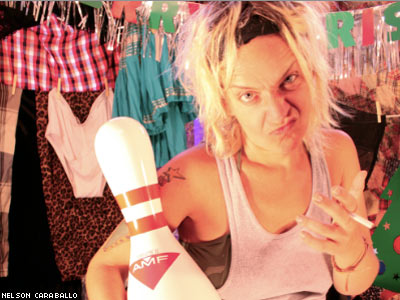 Chris March's Butt-Cracker Suite!
Project Runway's Chris March shows off his cheeky costuming skills in this enjoyable dance-musical that reimagines The Nutcracker in a trashy trailer park. Channeling Honey Boo Boo as Clara, our plus-sized heroine, March also wrote and directed the largely dialogue-free fantasy, in which eight appealing dancers — embodying beer cans, pink flamingoes, and more — interpret everything from Tchaikovsky to Bow Wow Wow. And yes, there's butt-crack.
HERE, through December 29.
Moisty the Snowman Saves Christmas
Step aside, Frosty, because a new holiday icon has come to life in Bradford Scobie's comedy. There must've been some magic in that old traffic cone, because when two hipsters ironically placed it on their dirty snowman's head, Moisty began to mince around with wickedly clever malaprops — "Phylicia Rashad" in lieu of "Feliz Navidad" — and a major Joe Jonas crush. The goofy plot also involves a trans Santa and Jaggedy Ann, a toxic lesbian doll from the Island of Recalled Toys.
Abrons Arts Center, through December 15.