Seat Filler: NYC Theater Guide for February 2013
BY

Brandon Voss
February 05 2013 10:00 AM ET
Manilow on Broadway
Bouncing back from the flu, Barry Manilow returns to Broadway for the first time in more than two decades. Sure, the legendary singer-songwriter sometimes sounds like he's in a tin-lined public restroom, his banter's overly complacent — "I was the Justin Bieber of the '70s!" — and the projections are as cheesy as his velvet jacket is magenta, but he still effortlessly moistens his Fanilows with timeless hits that, to be fair, are worthy of self-congratulation.
St. James Theatre, through March 2.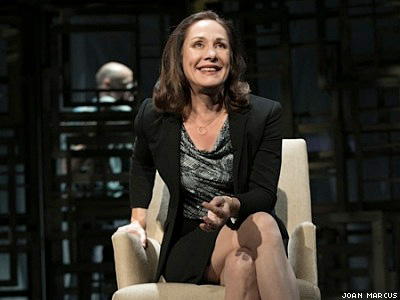 The Other Place

There are many plays in which a strong female deteriorates before our eyes, but that theme has rarely proven so affecting as in Sharr White's taut and terrifying new drama. Helmed by omnipresent out director Joe Mantello, MTC's flawless mounting is a must-see for the fierce, fearless performance by Roseanne's Laurie Metcalf as a guilt-ridden pharmaceutical rep who may be hallucinating her runaway daughter due to what she believes is brain cancer.
Samuel J. Friedman Theatre, through March 3.