Meet the 2013 Point Foundation Scholars
BY

Advocate.com Editors
June 19 2013 6:00 AM ET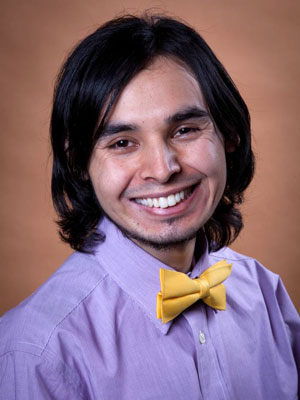 Saidzhan Abdul
Growing up in a former Soviet republic and belonging to a minority ethnic group, Saidzhan has experienced poverty, discrimination, homophobia, and racism. This made him determined to turn his challenges into opportunities and to motivate young people to participate in the social justice activities.
Saidzhan founded Youth for Peace Initiative, which conducts empowerment programs such as peace camps, leadership trainings, diversity development, and social entrepreneurship. He successfully coordinated more than 30 social
projects and has helped implement more than 300 local, national, and international programs on topics including LGBT rights, international volunteer exchange, youth advocacy, social partnership, fundraising, inclusive systems of education, human rights, United Nations millennium goals, genocide, peace building, and diversity. Moreover, he has worked as an international youth trainer consultant, which allowed him to develop a variety of human rights projects and to conduct multiple peace-building seminars and training.
Saidzhan has traveled extensively to work on humanitarian projects in Thailand, Egypt, Kazakhstan, Uzbekistan, Turkey, France, Germany, Switzerland, and other countries. He has received multiple of accolades and recognition from the United Nations, UNESCO, UNDP, Three Dot Dash, U.S. Presidential Service, Clinton Global Initiative, Jane Goodall Institute, Hesselbein Leadership Academy, Youth Service America, MCW, the president of Kyrgyzstan, U.S. State Department, and many others.
Saidzhan is pursuing his degree in international relations at the University of Pennsylvania, and with the help of the Point Foundation, he is the first member of his family to attend an institution of higher education. Saidzhan aspires to use his rich experience in human rights development and passion for peace building to one day become the U.N. secretary-general.
What Saidzhan hopes his scholarship will help him accomplish:
First, it would allow me to accomplish the dreams of my parents of becoming the first member of my immediate family to be able to go to the university. This scholarship will also give me an opportunity to acquire more skills and knowledge on boosting my passion for social justice and peace across the world via youth empowerment projects.
What Saidzhan is most excited about in being named a 2013 Point Scholar:
I am excited about the networking opportunities, which would allow me to meet amazing leaders who challenge the status quo and are not scared to take a stand for what needs to be changed and improved in the direct opposition to the established norms. I am excited to meet my fellow scholars and together develop new partnership projects and initiatives to turn the message of social justice into a reality. I am also super excited to learn from mentors and adults who invest their resources, time, and energy to help us to develop out vision plans, draft new projects, and support us in the journey toward greatness.
Saidzhan's words of advice to LGBT youth struggling with familial rejection, educational difficulties, or other hardships:
The best advice for youth who are struggling with hardships is to start getting involved in community service projects and design volunteer initiatives. The best way to turn challenges and hardships into opportunity is through service for others, because when we immerse into someone else's world, we automatically discover our own. Also, I always use my favorite quote that says, "Be who you are and say what you feel, because those who matter don't mind and those who mind don't matter."