One Night With Janis Joplin: A Project From the Heart
BY

Trudy Ring
April 04 2013 6:00 AM ET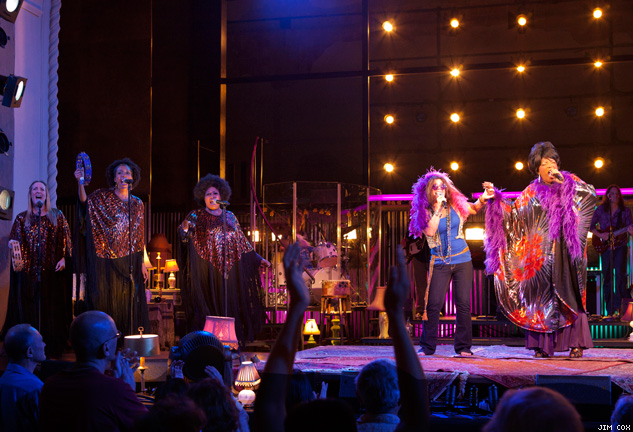 Tricia Kelly, Shay Saint-Victor, Kimberly Yarbrough, Mary Bridget Davies, and Sabrina Elayne Carten.
Johnson started out as an actor, then was recruited for behind-the-scenes jobs, such as producing and serving as assistant director of the West Coast premiere of Larry Kramer's The Normal Heart, starring Kathy Bates and Richard Dreyfuss, in Los Angeles in 1985. "I loved being on the other side of the table," Johnson recalls. Outside of theater and TV, his credits include producing, with Bernie Taupin, the Commitment to Life benefit for AIDS Project Los Angeles for several years, and producing events for Howard Dean's presidential campaign in 2004. He received the Crystal Apple Award for his work on behalf of APLA and was named Volunteer of the Year by AIDS support group L.A. Shanti.
The never-closeted, currently single Johnson lives in West Hollywood with his beloved Scottish terrier, Symon, who has accompanied him to many hotel rooms during the travels of One Night With Janis Joplin. After the Pasadena run, the show is scheduled to be staged at the Milwaukee Repertory Theatre, the Zach Theatre in Austin, and the San Jose Repertory Theatre in California, and to have an encore production at the Arena Stage in Washington, D.C.
Johnson stresses that the show is a team effort, thanking Jampol, the Joplin family, and his producers, Daniel Chilewich and Todd Gershwin (he's the great-nephew of George and Ira). "This dream and vision of mine would not have come to life without those people," he says.
Johnson has a few more visions to realize; he's working on a memoir, titled Adventures in Hotel Crazy, and he's going to direct Smokey Joe's Café, the musical based on the songs of Jerry Leiber and Mike Stoller, next spring at the Arena Stage.
In the meantime, he's happy to help Janis Joplin live on. While she accomplished a great deal in her short life, she had much more to give, he says: "I do believe that she would have gone on for many years changing the shape of American music."

One Night With Janis Joplin runs through April 21 at the Pasadena Playhouse; click here for tickets and information. For more information on Johnson, go to RandyJohnson1.com.