The 10 Cattiest, Craziest Antigay Comments of 2013
BY

Jase Peeples
December 24 2013 7:00 AM ET
From the U.S. Supreme Court's historic rulings on Proposition 8 and the Defense of Marriage Act to athletes like Jason Collins, Brittney Griner, and Robbie Rogers who kicked down the closet door and changed the game for LGBT visibility in sports, 2013 has been an incredible year for the LGBT community.
However, our progress has also been marked by the ravings of religious leaders, right-wing politicians, and even reality television stars who took antigay bigotry to a new level of insanity in 2013.
The following is a list of 10 homophobes whose antigay comments proved they aren't simply a litter of bigots — they're crazier than a bag of cats.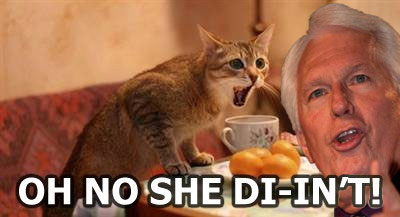 Bryan Fischer: DOMA's Death Is a Bigger Tragedy Than Trayvon Martin's
Bryan Fischer, the noted homophobe, conservative radio host, and director of issues analysis for the antigay American Family Association, is no stranger to outlandishly antigay statements. But in July the right-wing pundit managed to connect recent progress toward LGBT equality with the controversial "not guilty" verdict delivered to George Zimmerman in his murder trial for the shooting death of 17-year-old Trayvon Martin. Fischer tweeted, "For example of injustice, don't look at Zimmerman. Look at what Supreme Court did on DOMA."