Meet Rep. Brian Sims: Philly's Brains and Brawn With a Cause
BY

Roman Feeser
August 30 2013 7:00 AM ET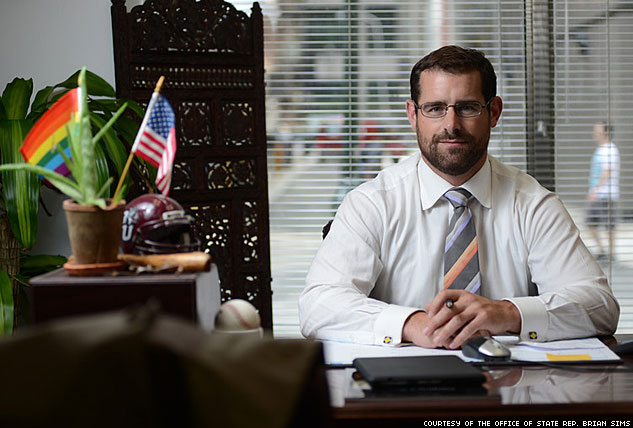 What are your feelings about Russia's recently approved anti-LGBT bill that makes "propaganda of nontraditional sexual relations" accessible minors punishable by jail time and fines up to $16,000?
First of all, I wouldn't want to be gay in Russia right now for anything. Unfortunately, it's not unique to Russia. There are currently 70 to 80 countries in the world that have outlawed homosexuality in some form or another. That being said, I have a degree in international law and know that countries around the world, including the United States, quite frankly view LGBT civil rights as a human rights issue.
There are a number of human rights conventions we adhere to. More importantly, the general values of the [International Olympic Committee] are about friendly competition; you build respect for a nation, you build respect for a people, by having respectful competition.
The Russian government recently sent a letter to the IOC claiming it won't punish athletes who make political statements during the Winter Olympics in Sochi. What is your take on that?
Like throwing a glib "fist in the air?"
Exactly.
These laws are clearly a violation of international standards for human rights. Listen, I think that LGBT athletes know their way around civil disobedience. I'd be excited to see the kind of tension would be drawn to that. I'd love to see them try to suppress a Johnny Weir. Good luck!
What would be the best approach for America regarding the Olympics in Sochi?
The idea of asking the U.S. or other countries to pull out of the Olympics, I think, is more hurtful than helpful. I think a boycott only hurts athletes who have been training their whole lives to compete at that level. I'm reminded of a quote by Barney Frank. He said, "If you don't have a seat at the table, you're probably on the menu."
What's next for you in Pennsylvania?
I'll tell you what: It's not just the marriage discussion. Pennsylvania is the only state in the Northeast not to recognize LGBT relationships in some form or another. We actually don't have basic LGBT civil rights in Pennsylvania. We're an island. An enigma. But right now there are more pro­‐LGBT legislators in Pennsylvania than at any time in its history. Our goals are simple.
We are looking to pass a bill that provides teachers and school districts with tools to curb bullying, including anti-­LGBT bullying. And relationship recognition. Damn it, marriage equality is going to be the law of the land one day, and I join the million or so Pennsylvanians in that state who are sick of being told to wait for their civil rights.
***
ROMAN FEESER is a playwright, writer and producer. He is currently finishing his first book, a memoir titled A Stranger at the Table: Why God Hates Gay Mormons, about his year undercover in Salt Lake City. He currently works as the director of corporate productions at Scholastic in New York City.