Whedon's World
BY

Tom Lenk
June 21 2013 8:00 AM ET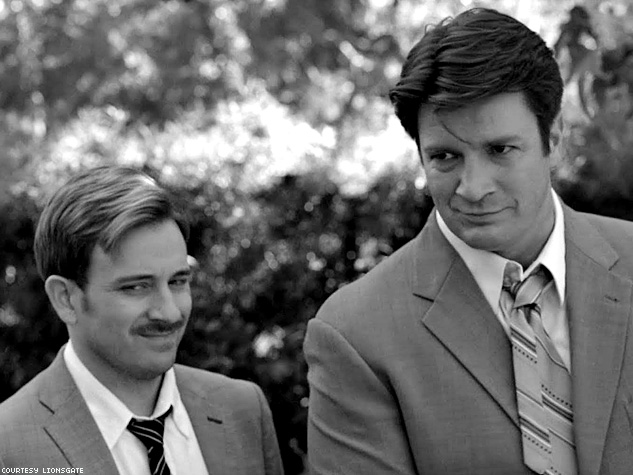 Above: Tom Lenk and costar Nathan Fillion as Verges and Dogberry
[Blushing.] Well, thank you. I wasn't going to mention it—
When I say some, I mean one, and I'm talking to the 'Stache.

Do you think there are gay themes in the play?
There are a number of characters that you could interpret as being gay. Reed [Don Pedro, played by Reed Diamond] was number 1. There was a moment where I considered playing his character as openly gay, because he really doesn't woo for himself; he just sort of likes to play the game. I did notice Verges' [Lenk] hand lingering on Dogberry's [Fillion] shoulder…

That may have been less Verges and more actual Tom Lenk coming through, due to my everlasting mancrush on Nathan Fillion. Did you have any mancrushes [on set]?
Well, my mancrush on Reed is not small.

The man does like to take his shirt off.
Yes bless his heart. When we start talking about Sondheim or Shakespeare, I'm just like, Oh, he's dreeeeeaaamy.

Is there a Shakespeare play that comes to mind that you feel is ripe for a gay adaptation?
There are so many. First of all, there's a lot of cross-dressing going on…Like Twelfth Night, the woman falling in love with the other woman because she thinks she's a boy. Oh, really? Hamlet doesn't exactly have the most fulfilling relationship with a girl. And he's all about the classic teen existential alienation — part of why Shakespeare works now is that he's so open to interpretation. It all comes from a time when men could talk about their feelings and love each other, which has sort of fallen out of the vernacular.

So you're back in college. You decide to star in your own self-produced, one-man production of Shakespeare's…fill in the blank.
Sorry, first of all I'm just playing with all of my hair. So exciting, whee, so much hair! OK. I'm done. And it's Hamlet.

I just can't believe you decided to "relax" and make this movie. Is there anything you do to actually wind down?
I don't know how to relax. It is an actual bad thing, because I have trouble relating to the world when I'm not creating something. It was a great vacation — I was never happier than when I was shooting Much Ado — but that was partially because I was creating something. It was the same thing with the readings [Whedon hosted backyard and living-room readings of Shakespeare's plays]; I couldn't just have had Sunday brunches where everybody comes over and we hang out and then they leave. That never occurred to me.

I'd just delivered a draft of The Avengers 2. And to celebrate that same night, I go on Twitter and get my own account, because I think I can get some followers and drive some business to the movie, and it'll be fun. And then the moment I went on — a wave of incredible panic. Oh my God. People are going to read not only what I say, but the first draft of what I say?

I remember getting a signed permission slip to watch the Zeffirelli Romeo and Juliet in my freshman year English class. I'm excited that there may be some permission slips for future English classes to see [Much Ado]. The sexual charge that the film has — was that a conscious decision?
It was a very conscious decision. There's a great deal of sex and innuendo, and it's tied up in romance — it's not all about love, it's also about sex. I wanted to evoke one of those debauched weekend we-can-do-anything-we-want parties that I never seem to get invited to.