The A-List Interview: Leslie Bibb
BY

Brandon Voss
September 05 2013 4:00 AM ET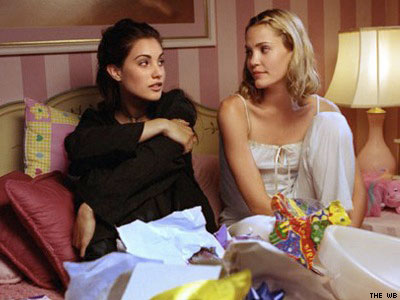 Carly Pope with Bibb in Popular.
After Popular was canceled, Ryan Murphy revealed that, had the show been renewed, he planned to have Carly Pope's character, Sam, come out as a lesbian. Did you know that was the plan?
Yeah, I had heard rumblings of that. As an actor, I just thought it was going to be a really fun and interesting arc for Carly to explore. I knew it would be provocative for that time.
You later reunited with Ryan on an episode of Nip/Tuck. Have you stayed in touch?
Yeah, I always run into him at the Chateau. Speaking of staying in touch, I actually helped organize a Popular cast reunion last year for us to do the AIDS Walk in West Hollywood. It was the first time we'd all been together since the show ended, and we raised something like $30,000 in two weeks. We kicked ass and took names. You know, a lot of people will show up to the opening ceremony and won't walk the walk, but not the Popular kids!
GCB was developed by gay Steel Magnolias scribe Robert Harling. Did you know it would appeal to the gay audience?
I knew from the get-go, especially with Blake and Cricket's marriage. Blake was gay, so that marriage was the most quote-unquote unorthodox, but in a weird way it was also the most Christian, because they had so much love and respect for each other.

Your character, Amanda, knew Blake's secret, and they had a special friendship.
I loved it, and I wished that had been explored even more. I understood their connection.
Following backlash from Christian groups, GCB was canceled after one season. Were you as crushed as I was?
I'm so proud of that show, so it was really sad. I'm still sad. It's so absurd to me, but you see how powerful the religious right wing can be, especially when they start affecting the ad money. It's scary. I thought Popular was way more provocative, but we got so much heat on GCB just for putting those three words together — Good Christian Bitches. Some people really missed the point. I'm really close to Bobby Harling, and I always tell him how many people all over the world still tweet and Facebook me to this day, asking why there wasn't a second season.