The Big Ideas of 2013
BY

Michelle Garcia
December 18 2013 1:47 AM ET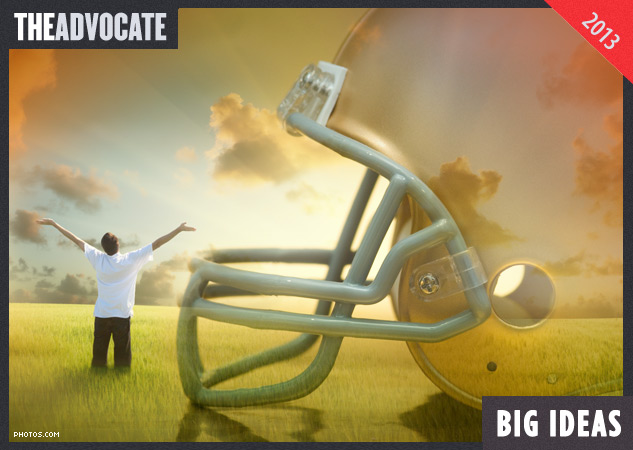 Professional Sports Leagues Can Learn From the Entertainment Industry
At first glance, some of the arguments to keep professional athletes closeted mirror arguments made to establish "don't ask, don't tell." Some worried that having gay players in locker rooms (or gay soldiers in barracks) would dampen team (or unit) morale. Others worried that having an openly gay member of the team or unit might distract from the mission at hand, whether it be winning the game or the war.

But the sports establishment is over it, and like the military, it is dropping its own version of "don't ask, don't tell." Every major league has joined an initiative like You Can Play or It Gets Better to show solidarity with players and fans who may be LGBT. Slinging antigay slurs on the field or court will get an athlete fined and typically shamed on social media and in the news.

This spring, the sentiment was that the wait for an openly gay male athlete was about to hit a tipping point, whether it was one of these rumored NFL players who was planning to come out, or a supposed "someone in the NBA." Jason Collins, whose coming-out thrust him onto the radar of more casual fans, undoubtedly shattered a barrier that held up for so long. Brian Kitts, the cofounder of You Can Play, says Collins should be the first in a wave of athletes that will eventually make being gay in a professional league a nonissue.
"I do think there are a number of players who will become more public with their orientation and, once the first handful of 'name' players comes out, I think sports will mirror the entertainment industry where there's now a collective shrug when someone identifies their orientation," Kitts says.
But before professional sports can mirror the entertainment industry, basketball courts and locker rooms have to be places where people feel comfortable being themselves.
"Athletes respect their teammates as competitors and friends," Kitts adds. "We've had several athletes tell us it's time to change the stereotype of the homophobic athlete. Most athletes aren't homophobic, but no one has ever asked them. You Can Play provides the mechanism for athletes at all levels to start the discussion — to let others know that they're respected and welcome as teammates based on skill, gay or straight. It's a message that's easy to understand at the high school level, and it's easy to talk about from the professional and league level."