Valentine's Dinner Idea: Recipes From Dead Gay Celebrities
BY

Frank DeCaro
February 13 2013 7:00 AM ET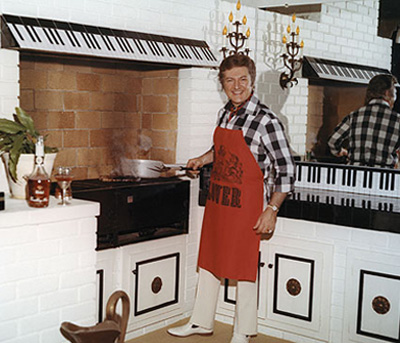 Liberace 1919–1987
Renowned as Mr. Showmanship, Liberace was a rhinestone's best friend, a highly paid (and highly worth it) Las Vegas entertainer, and television personality whose luxurious lifestyle and extravagant wardrobe defined showbiz excess. "Too much of a good thing can be wonderful," the Paderewski-worshipping pianist liked to say, quoting his friend Mae West. When critics were cruel — usually lambasting his flamboyance, not his talent — Liberace coined the phrase, "I cried all the way to the bank." In his four books and in the media, Liberace was very much in control of his image, being coy about his effeminacy so that the women who adored him — and they were legion — wouldn't be disappointed that he was a confirmed bachelor, ahem. Lee (his nickname to friends, his full real name was Wladziu Valentino Liberace) broke box office records, gave command performances for Queen Elizabeth, had an audience with Pope Pius XII, played twin villains on Batman in the 1960s, and delighted millions during his long career. And while the Las Vegas museum dedicated to his legacy, once described by the New York Times as "a tourist attraction on par with Hoover Dam," closed in 2010, no less than Lady Gaga acknowledges his undying influence, dropping his name into her hit "Dance in the Dark." The following recipe, one of many Liberace left behind, is my favorite in this book, and not just because of the name.

Liberace's Sticky Buns
Preheat oven to 325°. Spray two muffin pans with non-stick baking spray. Combine raisins and rum in a small bowl and warm in microwave on high for 45 seconds. Set aside. In a saucepan, melt butter and then stir in spices and brown sugar. Cook, stirring frequently, until it becomes a bubbling syrup. Put a teaspoon of syrup and a few whole pecans in each muffin cup. Unroll one package of crescent rolls on a piece of parchment paper. Pinch seams together to form one flat piece. Drizzle a quarter of the syrup over the dough. Sprinkle a third of the raisins and a third of the chopped pecans on it. Roll it jelly roll style. Cut into 1-inch thick pieces. Place one slice of dough, cut side up, in each muffin tin. Repeat with each package of crescent rolls. Bake 13–15 minutes or until golden brown. Remove from oven and immediately flip the buns onto a cookie sheet covered with parchment paper. Replace any nuts that may have stuck to the pan and serve warm.

1 cup white raisins
1⁄4 cup light rum
11⁄2 cups brown sugar
2 sticks unsalted butter
1⁄2 teaspoon cinnamon
1⁄4 teaspoon nutmeg
1⁄4 teaspoon allspice
1⁄4 teaspoon cloves
1⁄4 teaspoon ginger
3 packages refrigerated unbaked crescent rolls
1 cup chopped pecans
1 cup whole pecans
Non-stick baking spray with flour for greasing pan

Makes 2 dozen.