LGBT Highlights From Comic-Con International 2013
BY

Jacob Anderson-Minshall
August 15 2013 2:59 PM ET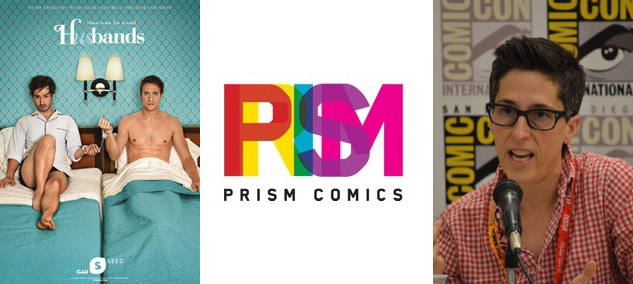 Husbands Gets a New Home
At the Husbands panel, creators Jane Espenson (Buffy the Vampire Slayer) and Brad Bell (who plays Cheeks on the show) revealed that the digital studio CW Seed had ordered a six-episode third season of the same-sex marriage sitcom, which premieres today. Like Comic-Con attendees, you can get a sneak peek — in which Cheeks learns Brady's shocking secret — here.
LGBT Authors Take Home Awards
Two LGBT titans, Alison Bechdel (Dykes to Watch Out For and Fun Home) and Andy Mangels (Startac, Star Wars, Star Trek, and editor of the award-winning Gay Comics anthology), were honored with Comic-Con International Inkpot Awards,which recognize individuals for their contributions to the worlds of comics, science fiction/fantasy, film, television, animation, or fandom services.
Prism Celebrates 10-Year Anniversary
Prism Comics is a nonprofit organization that supports LGBT comics, creators, and readers. In addition to publishing its annual resource guide, Prism Comics: Your LGBT Guide to Comics, Prism sponsors panels, parties, a silent auction and a booth where fans can interact with their favorite authors and artists, get autographs, or even have notables like Phil Jimenez (New X-Men, Invisibles, Wonder Woman) and Bob Schreck (Legendary Comics) review their portfolios.
This year Prism Comics celebrated its 10-year anniversary with a panel moderated by Justin Hall (No Straight Lines) where Prism cofounders Charles "Zan" Christensen (Northwest Press) and Andy Mangels joined Prism board members in reflecting on the group's history and projecting where it will go in the future. Prism also produced The Gay Agenda, a handy guide to all things queer at Comic-Con, and hosted an art reception featuring fan favorite Joe Phillips.