Meet the 2013 Point Foundation Scholars
BY

Advocate.com Editors
June 19 2013 6:00 AM ET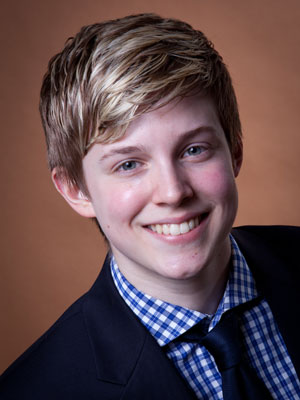 Rachael Stein
Rachael Stein was born and raised in Beverly Hills, Mich., which is a predominantly Catholic Detroit suburb. When she came out in eighth grade, she quickly realized that her conservative community did not tolerate her gay, gender-nonconforming identity. Nevertheless, she wanted to change hearts and attitudes about LGBTQ people through proving herself as a local leader. Beginning her freshman year, she got involved with her high school gay-straight alliance. Through the GSA, she connected with a local chapter of the Gay, Lesbian, and Straight Education Network. When she was a sophomore, she worked with fellow GLSEN students to found a youth advocacy board, which connected GSA leaders in order to plan summits, educational trainings, and social events. Affiliating with this GLSEN chapter allowed her to eventually engage in national GLSEN programming as a media ambassador, Jump Start programming coordinator, and safe schools lobbyist. During her junior year, she received a $30,000 grant from the State Farm YAB to found the Breaking the Silence Initiative, which is a youth-directed antibullying program. She led about 20 high school leaders in making media appearances, conducting educator trainings, planning advocacy events, creating social media campaigns, providing school presentations, and more. The initiative currently has its own office space and plans for long-term sustainability.
Rachael is currently pursuing her BS at Harvard College. She plans to study social sciences, including economics and international relations. She hopes to use her degree to continuously increase awareness of LGBTQ issues on a worldwide platform.
What Rachael hopes her scholarship will help her accomplish:
This scholarship will not only financially enable me to attend college but will also connect me to LGBT mentors and service opportunities. At Harvard next year, I hope to get involved with LGBTQ advocacy, social, and athletic groups, and I know that Point will be an incredible resource in my college journey.
What Rachael is most excited about in being named a 2013 Point Scholar:
I am excited to be a part of such an incredible network of LGBT people! The LGBT community near me is small, so to be a part of such a strong, vocal group is amazing.
Rachael's words of advice to LGBT youth struggling with familial rejection, educational difficulties, or other hardships:
My advice to struggling LGBT youth is to find something to keep you going. I turned to sports, LGBT advocacy and academics, and next year I will be a Harvard Point Scholar playing Division I athletics. Dreams can come true. Things may not "get better" on their own, but you can try to make things better through following your passions and never giving up. Don't wait for someone else to change the world — you have more power than you think!