PHOTOS: We Asked The Stars, Who Is Your Hero?
BY

Nicholas Cimarusti
December 10 2013 7:30 AM ET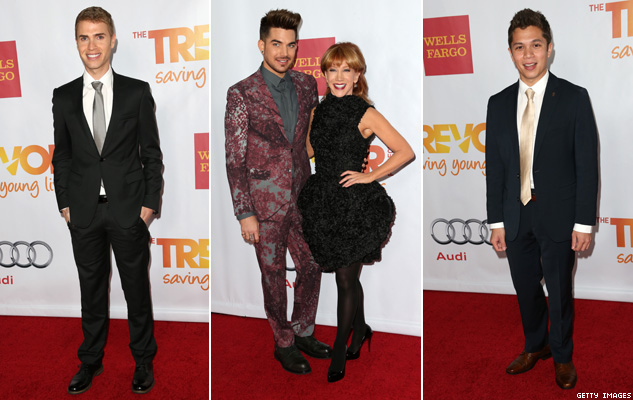 Shane Bitney Crone, Bridegroom filmmaker
"George Takei is one of my heroes," said Shane Bitney Crone, standing next to his mother and sister on the red carpet. "It's amazing what he's done and how he's made a name for himself on social media and how he's using that to help so many people."
"Adam Lambert is another," added the filmmaker, whose award-winning documentary Bridegroom was recently picked up by Redbox. "He's inspired me and showed me it's OK to be who you are and [being gay] is something to be proud of. And my mom!"
Kathy Griffin, comedian and TrevorLive host
For Kathy Griffin, Jane Lynch was an obvious choice for a Trevor Hero Award. "She's the perfect spokesperson for all that Trevor represents, which is when you're hurting, reach out, get a laugh, hear a song, feel a little better," she said.
Adam White, youth advocate and Trevor Youth Innovator Honoree
"I'm so excited and so humbled to be recognized and I am proud to represent the enormous potential of LGBTQ youth who identify as religious — and of all unlikely things, as a Mormon," said White upon accepting the Trevor Youth Innovator Award at the ceremony.