Op-ed: 10 Pro-LGBT Religious Women You Should Know
BY

Joseph Ward
March 19 2013 4:06 AM ET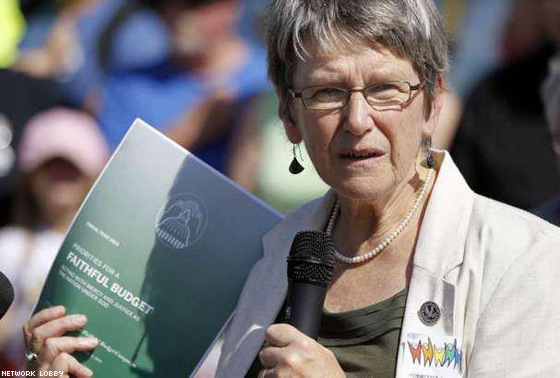 9. Sister Simone Campbell
In 2012, Sister Simone Campbell and a group of American nuns were issued a Vatican reprimand for not speaking out against LGBT rights and women's causes. As the executive director of Network, a Catholic lobbying group in Washington, D.C., she led a group of Catholic sisters on a nine-state bus tour called Nuns on the Bus to talk about the morality of decision-making in Congress and the Roman Catholic Church.
In a recent interview with Believe Out Loud, she discussed why she supports LGBT rights and modernizing the Roman Catholic Church. "The Catholic hierarchy has done very poorly at engaging the issues of sexuality, period—their own, or anybody else's," she said. "I have said that what we need is a real spiritual renewal among our leadership because for me, following the gospel means be not afraid—welcome everyone, hug them, welcome them close, and live and love."
In a recent CNN feature, she and fellow sisters talked about their continued work to modernize the culture of the male-dominated Catholic hierarchy to better reflect the diversity of our democratic culture.