The Big Ideas of 2013
BY

Michelle Garcia
December 18 2013 1:47 AM ET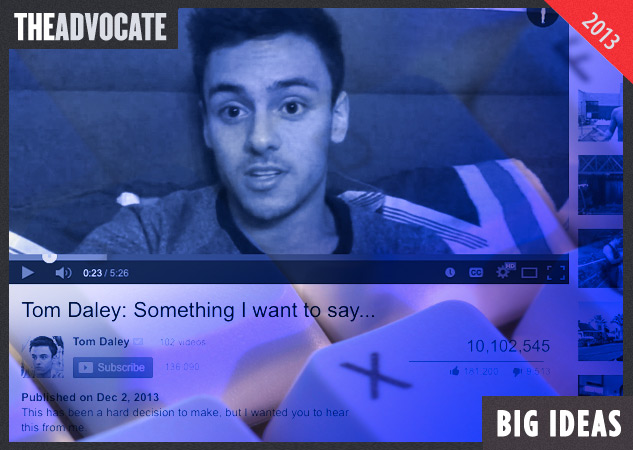 Coming Out Has Become a Social Experience
There were plenty of notable comings-out this year; most prominent was that of Jason Collins, the NBA player who came out on the cover of Sports Illustrated in a lengthy piece that he penned to share his journey. While every coming-out is an important and personal journey, not every one has the cachet or the desire for such an announcement. In some cases, celebrities, athletes, and regular Joes and Janes took to social media to announce to loved ones and the world to come out. About a month after the Supreme Court ruled on the Proposition 8 and DOMA cases, Raven-Symoné tweeted that she was proud of the government for allowing her to get married. And then, of course, Olympic diver Tom Daley hopped on YouTube to share that he was dating a man (who turns out to be Oscar-winning screenwriter Dustin Lance Black).
However, there was also Michael Drougas, who tweeted his coming out to tennis teammates and the rest of the world, as well as Michael Gorlick, who filmed a 45-minute documentary capturing every moment he told a friend or family member, for the first time, that he is gay. He is not the only one. In fact, as of Tuesday, there were 442,600 videos on YouTube that were labeled as "coming out" and either "lesbian," "gay," "bisexual," or "transgender."
Sure, one could make a cynical point about young people being raised on reality TV and Facebook. But there is another side; for instance, Gorlick says he felt motivated to document his coming out to create a resource for others who need encouragement to come out.
"I wanted to create something for those who are suffering in silence and feel like an anomaly," he wrote earlier this month. "There are people out there who feel depressed, and don't feel good about who they are. I know, because I was in that space for so long. I am so grateful that thousands of people cared to see my journey out of the fogginess of depression and into the light of self-acceptance. Change is never easy, but if I can be that friend who shows that you can get through it, I am happy to be him."